'Riverdale': K.J. Apa and Charles Melton Are Roomies
The CW series, Riverdale, is a salacious drama that revolves around a tight-knit group of young people in a small town. Like their characters, some stars of the show find time to hang out when the cameras aren't rolling. And it seems that K.J. Apa and Charles Melton have a particularly fraternal bond that's much different than the relationship between their alter egos, Archie and Reggie.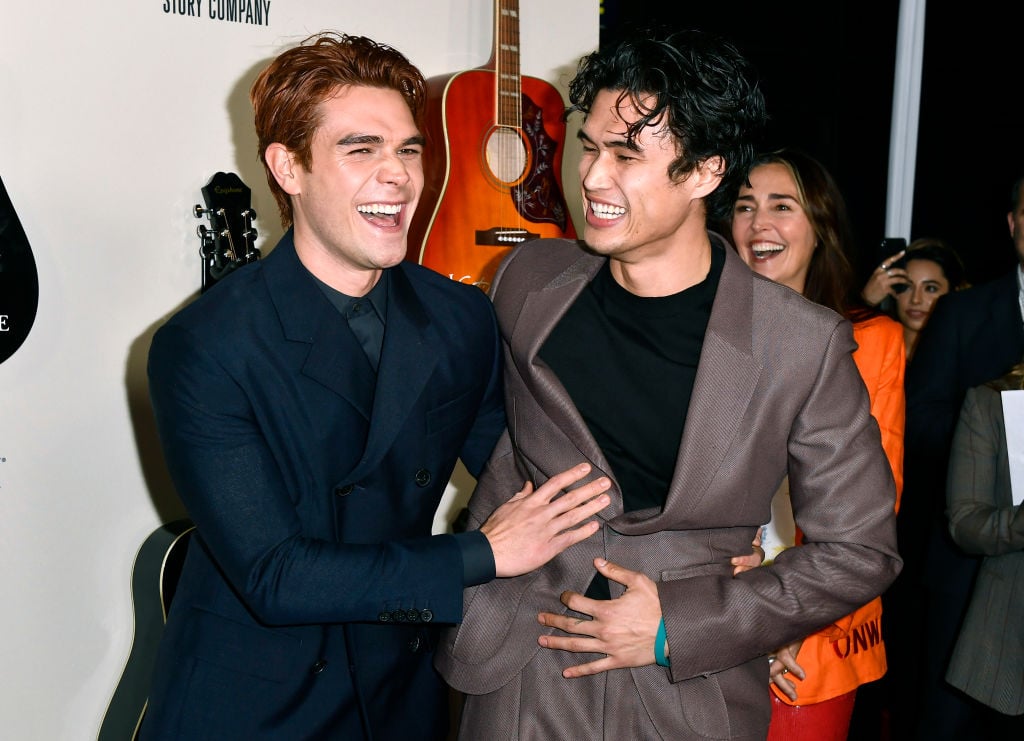 Riverdale rivals, Archie and Reggie
Riverdale is inspired by Archie Comics characters that have been around since the early 1940s. In the classic stories, Reggie is Archie's rival, and the on-screen adaptation reflects that theme, albeit with a modern spin.
On Riverdale, the characters often compete against one another in various arenas. From football team captain, to student body president, to Veronica Lodge's beau, Arch and Reg have a long history of conflict.
The boys have also been on opposing sides of school-wide and town-wide issues. Archie and Reggie often have trouble seeing eye-to-eye. But when it comes to important matters, such as the death of Fred Andrews, Archie's dad, the frenemies find a way to work together and support each other.
Off-screen pals, K.J. Apa and Charles Melton
Apa and Melton, the actors who portray Archie and Reggie, appear to have a much friendlier relationship off-camera. Recently, Entertainment Tonight caught up with Apa at the premiere of his new movie, I Still Believe.
During the interview, Melton, who was at the event in support of Apa, stopped by to say hello. The guys chitchatted a bit, exchanged a bro hug, and parted ways, but not before they shared an interesting tidbit.
"We're living together right now," Apa shared after telling Melton he'd be home later.
Melton chimed in, "We're roommates. It's great." He smiled, and just before moving on, the actor looked straight into the camera and sent a special message to his aunt.
Melton clutched a green bracelet and declared, "I love you."
From 'Riverdale' rivals to big-screen stars
Apa has enjoyed success on Riverdale and will continue his work on the show for at least one more season, according to TVLine.com. But the actor is also pursuing projects outside of his main gig, including the aforementioned film, I Still Believe.
As seen in the ET video above, the red carpet for Apa's new movie was buzzing with excitement. I Still Believe, the biopic based on the life of Christian musician, Jeremy Camp, has garnered positive reviews so far. But it's not the first big-screen project Apa has completed during his breaks from shooting Riverdale. Apa has starred in four feature-length movies and one short film since Riverdale premiered.
Melton has also kept busy with other projects. The actor began his career with guest-starring television roles and short films before being cast as Reggie on Riverdale in 2017. After that, he scored several movie roles, most notably, a part in the Will Smith and Martin Lawrence action comedy, Bad Boys for Life.
In addition to his previous work, Melton has at least one film in production, plus the upcoming Season 5 of Riverdale. Time will tell if Reggie and Archie's relationship will evolve to be more like that of Melton and Apa. With any luck, the characters' rivalry will continue to provide loads of entertainment for viewers.
Those who want to check out the latest projects featuring Apa and Melton have a few options. Fans catch Bad Boys for Life in theaters or preorder the film on streaming platforms. Apa's I Still Believe hits theaters on Friday, March 13. And the first three seasons of Riverdale are currently streaming on Netflix.
Read more: Lucy Hale's Musical Roots: Before 'Katy Keene' and 'Fantasy Island,' She Won a Reality Singing Competition