'Riverdale:' KJ Apa Is Still Following Luke Perry's Advice
In March 2019, Luke Perry died after suffering a massive stroke. Perry was best known for his roles as Dylan McKay in Beverly Hills 90210 and, more recently, Fred Andrews on The CW series Riverdale. 
Perry's death struck many of the actors he worked with throughout his career. That was especially true for KJ Apa, who plays Perry's son, Archie, on the comic-inspired series. 
Apa shared a few of the lessons Perry taught him that he'll never forget.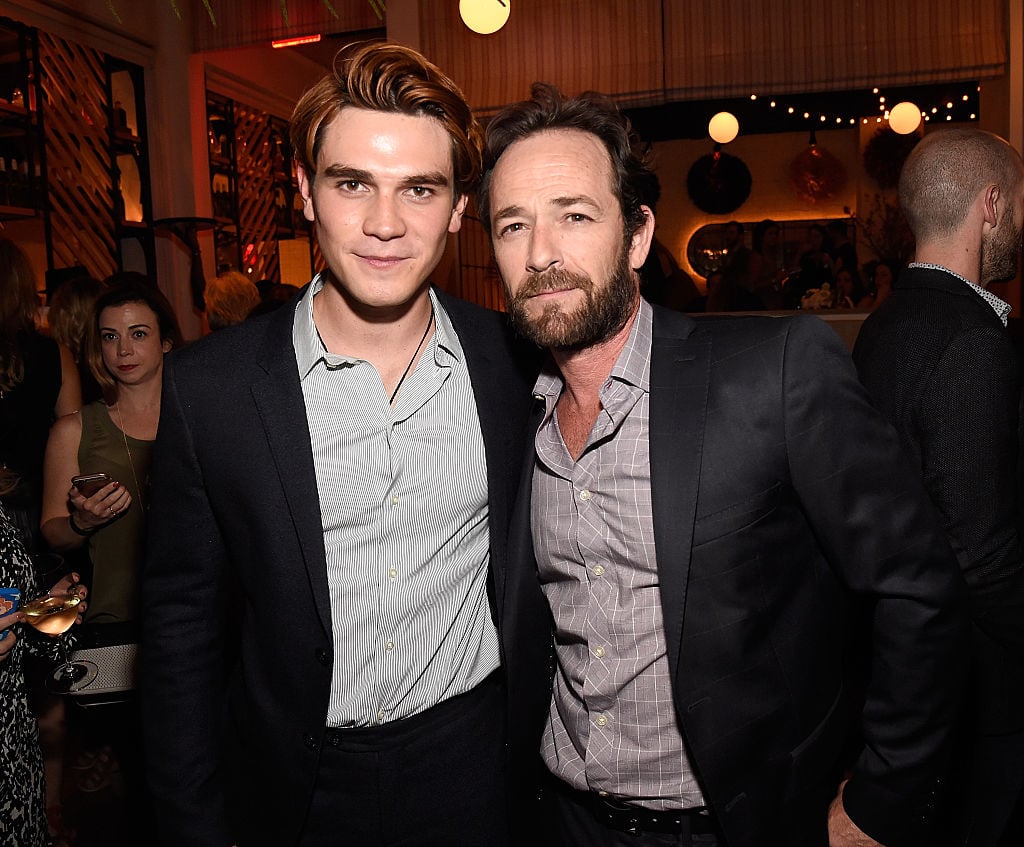 'Riverdale' mourned the loss of Luke Perry
Riverdale acknowledged Perry's death with a tribute episode titled "In Memoriam." The episode revealed that Perry's character, Fred, was killed in a hit and run accident. Perry's former Beverly Hills 90210 co-star, Shannen Doherty, was a special guest who played the woman Fred stopped to help before he was struck by a car. 
Nearly every cast member was featured during the tribute episode, which also happened to be the Season 4 premiere. For the characters of Riverdale and the cast members who play them, the episode was a beautiful tribute to Perry's life and a way for everyone — including fans — to find some semblance of closure. 
KJ Apa remembers Luke Perry
In an interview with Mr. Porter's The Journal, Apa explained how fortunate he was to have never lost anyone close to him before Perry died. "It was a really hard time," Apa admitted. "It's still hard." After Perry's death, Apa mentioned the shift on set and how his loss impacted the cast of Riverdale. "[Luke] was just kind of a guy that kept us — especially me — grounded because he'd been through all of this stuff," he said. 
Riverdale is a coming-of-age series about high school students, but the actors on the series aren't much older. Having seasoned actors like Perry, Molly Ringwald, and Skeet Ulrich on set has allowed the up-and-comers to see what works in the business, both personally and professionally. Perry's death forced Apa to think about his own life and consider "What kind of man [does he] want to be?"
"I was so blessed to have him in my life to say, 'Maybe don't do that,' or, 'This is a good idea,'" Apa continued. "Just giving me advice. I miss him. I just miss talking to him. I miss listening to him."
One of the most important things Apa learned from Perry was the importance of privacy. "I think privacy is everything," Apa said. In discussing photos of his girlfriend published on Instagram, Apa conceded: "I really do work hard on protecting my privacy, my home, my family, the people I love. Luke taught me that." 
KJ Apa remains private
To this day, Apa observes Perry's sage advice. While he's not very active on social media, Apa does have an Instagram account where he shares glimpses into his personal life with fans.
Until recently, Apa kept his relationship with French model Clara Berry very much under wraps. In February 2020, the two started being more open about their relationship and sharing photos on social media.
Despite being a bit more open, it seems like Apa is still following Perry's advice. Little is known about Apa's relationship with Berry — which is the way Perry would probably advise Apa to keep things.