'Riverdale': Could Sabrina Spellman's Visit Lead to a 'Chilling Adventures' Revival? Kiernan Shipka Says 'There's Room'
'The Chilling Adventures of Sabrina' came to an end in 2020, but could the 'Riverdale' crossover make way for a revival?
You can't kill a witch — or her TV show. Nearly one year after Netflix brought Chilling Adventures of Sabrina to an end, many fans have new hope that the teenage witch will get the revival she deserves. It's all thanks to Sabrina Spellman's recent appearance on Riverdale, which seemed to prove that her story wasn't over. Sabrina's actor, Kiernan Shipka, feels the same way. Here's what she said about the potential for more Chilling Adventures.
[Spoiler alert: The following story contains spoilers for Riverdale Season 6 Episode 4, "Chapter Ninety-Nine: The Witching Hour(s)."]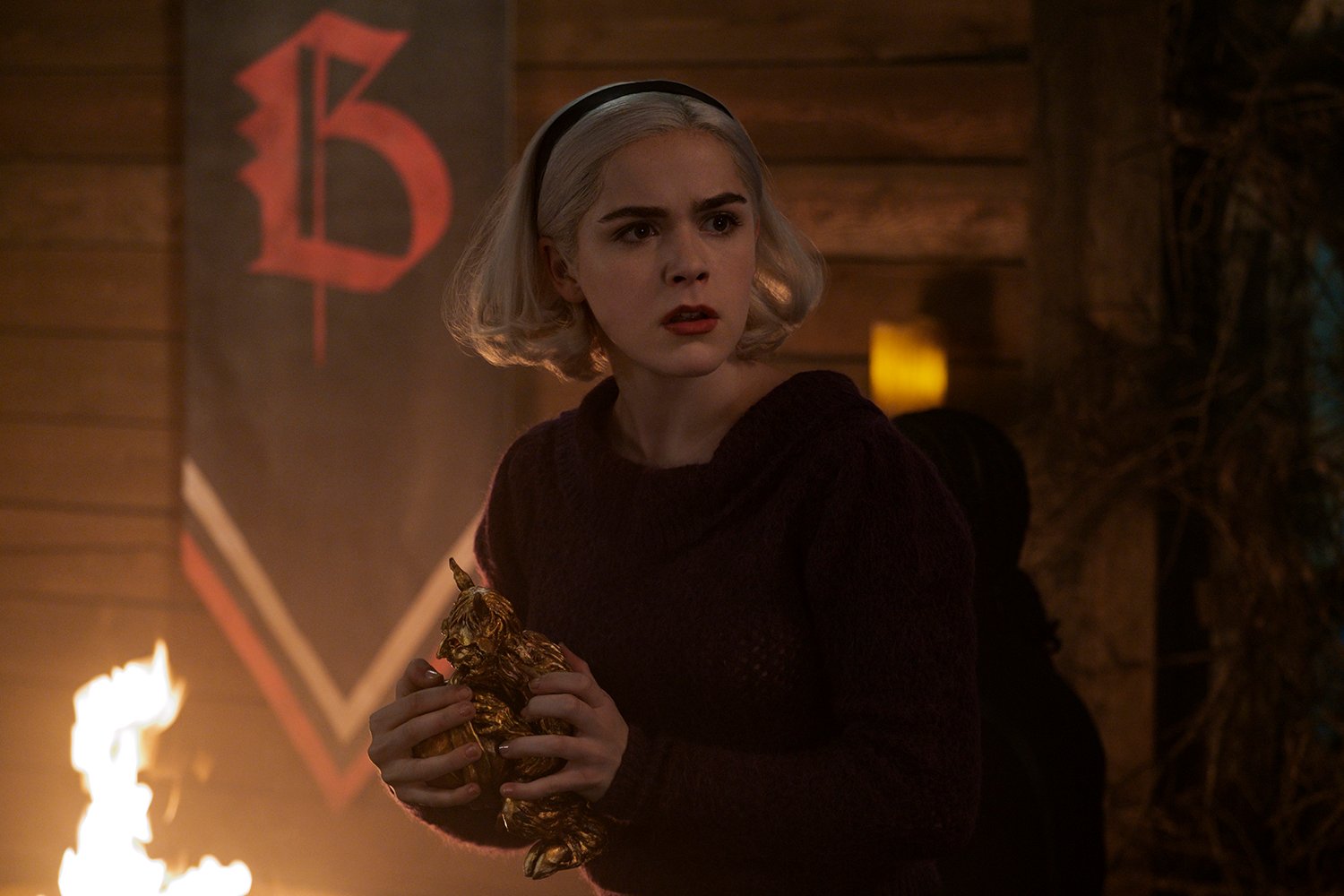 Sabrina Spellman helps Cheryl Blossom with witchcraft in 'Riverdale'
Sabrina's visit to Riverdale — well, its alternate universe called Rivervale — might be shorter than fans hope, but it impacts the story in a big way. Nana Rose Blossom (Barbara Wallace) falls ill, and Cheryl Blossom (Madelaine Petsch) calls on Sabrina's witchcraft to save Rose's soul.
The episode takes place in three different eras, following three different Blossom women: Abigail in 1892, Poppy in 1957, and Cheryl in the present day. Cheryl tells the tragic stories of Abigail and Poppy, which both end with the women leading lonely and unloved lives.
Viewers learn that Abigail, Poppy, and Cheryl are all actually the same person; a warlock cursed Abigail with immortality, so she created new personas to hide that. Now, Cheryl wants to end the curse by swapping hers/Abigail's/Poppy's soul with Rose's. For that, she needs Sabrina, who is apparently a longtime friend of Cheryl's.
Sabrina also drops the bomb that Cheryl/Abigail/Poppy herself is a witch, too. Given all the supernatural happenings in Rivervale, that checks out.
Abigail's soul passes on through Rose's body, and Rose can relive her youth via Cheryl's body. And as for Sabrina? Fans don't quite know what's next for her.
Kiernan Shipka thinks 'there's room' for some sort of 'Chilling Adventures of Sabrina' revival or reunion
Sabrina showing up in Rivervale is proof that she somehow survived her fate at the end of Chilling Adventures. With that in mind, could fans see her journey continue as a twenty-something witch? Shipka said there's no guarantee right now, but she thinks the potential exists.
"I think there's always a potential for a reunion in some iteration," the actor told Decider. "I don't know if the show would ever come back in a series, but I think that there's room for something to happen."
She added that the cast members would love to reunite, and they're all "pitching to do something."
Shipka also addressed the Chilling Adventures deleted scene that showrunner Roberto Aguirre-Sacasa shared ahead of the Riverdale crossover. The clip showed Sabrina's aunt calling on an old friend for help in bringing Sabrina back from the dead, no matter the cost.
"At the time we were optimistic that it could [come back], but also knew that it might not," Shipka explained. "So obviously [we] shot it in such way where we could have an ending that felt like an ending. And then also had that additional scene, in case we decided to journey on in any kind of way or shape or form."
Kiernan Shipka is also eager to see more of Sabrina in 'Riverdale'
Even if Sabrina's journey doesn't continue in a Chilling Adventures revival, it would still be nice to see more of the witch in Riverdale. Shipka told TV Insider that she loved stepping back into Sabrina's shoes and hoped her time in Rivervale/Riverdale would not be a one-time deal.
"There's a lot of unanswered questions, but I would like to think that this is not the only crossover. I would like to think that this is more of a taste of what is possibly to come with Sabrina's involvement in Riverdale," she said. "It's not meant to answer everything."
Riverdale Season 6 airs on Tuesday nights at 9 p.m. ET on the CW. All episodes of Chilling Adventures of Sabrina are available on Netflix now.