The 'Riverdale' Season 4, Episode 18 Promo Teases Betty and Archie's Romance When the CW Series Returns
The 'Riverdale' Season 4, Episode 18 reveals the new release date on The CW and hints Betty and Archie might get together next.
[Spoiler alert: Riverdale Season 4, Episode 17.] Let the stan wars begin. The April 15 episode of Riverdale Season 4 revived hope for a Betty (Lili Reinhart) and Archie (KJ Apa) romance, despite being in relationships with Jughead (Cole Sprouse) and Veronica (Camila Mendes), respectively. But whether you're a fan of Bughead or Barchie, just know the storyline is just beginning. In the Riverdale Season 4, Episode 18 promo trailer, Betty and Archie pick up where they left off. So viewers should probably prepare themselves for the next episode, which will be released after another brief hiatus.
Betty and Archie kiss in 'Riverdale' Season 4, Episode 17
The Riverdale episode titled "Wicked Little Town" attempts to take on Hedwig and the Angry Inch. Principal Honey (Kerr Smith) shuts down Kevin's (Casey Cott) idea to do the show for the spring musical. So his classmates decide to perform songs from Hedwig at the variety show. The song lyrics also bleed into everyone's real lives. 
When speaking with TV Guide ahead of the episode's release, Apa teased Betty and Archie's potential romance. "There's a really cool song that me and Betty have together that's pretty nice," Apa said. "It's nice to see them as friends again and singing with each other. And maybe a little bit more."
The scene in question happens after fights between Archie and Veronica as well as Jughead and Betty. Archie tells Veronica that Hiram (Mark Consuelos) may not be going to the doctor as regularly as he claims. She doesn't understand why Archie hasn't said anything until now. "This is my life, Archie. My father's life. How could you be so short-sighted?" she says.
Meanwhile, Betty confronts Jughead about his schoolwork and falling behind. She wants him to graduate on time so they can stay together and have a future. Betty is leaving for Yale in a few months and doesn't see where he is headed, even calling him "dead-end Jughead." Then the four characters go at it while singing "Exquisite Corpse."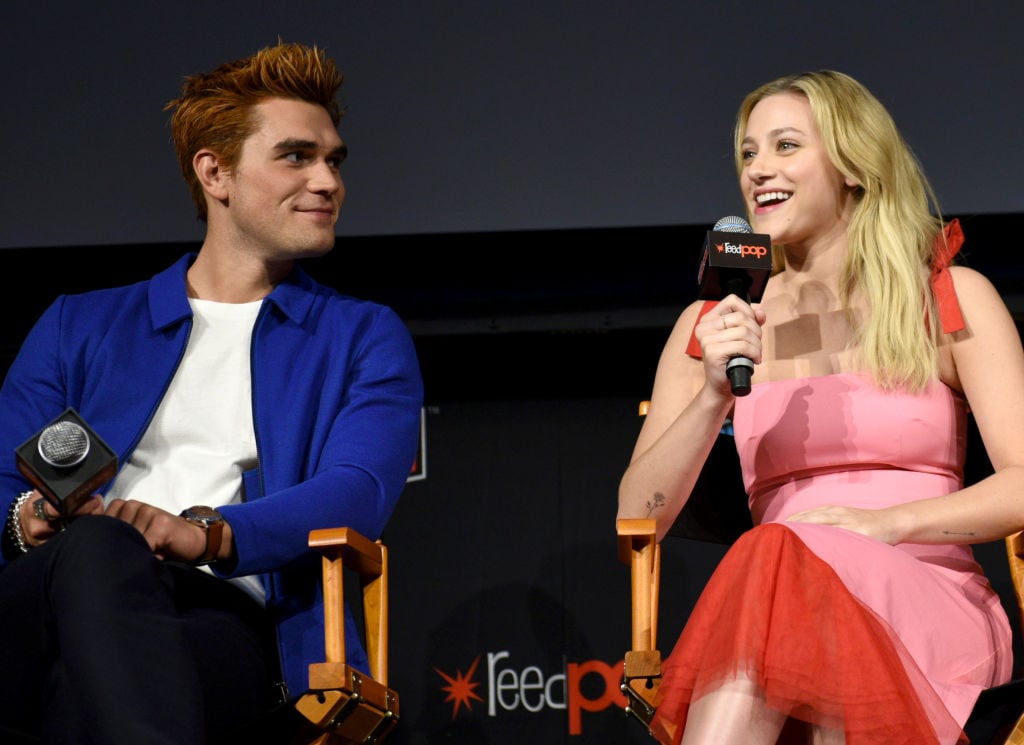 At the start of the episode, Archie signs everyone up to perform as a band — called The Archies —  for the variety show. But the fights leave Betty and Archie alone at practice. They rehearse "The Origin of Love" and in a turn of events, Betty and Archie kiss. There are also a few flashbacks to highlight their relationship from the beginning. 
Later, both Jughead and Veronica apologize to their respective partners. But there's a spark lingering between Archie and Betty. They sing "Wicken Little Town (Reprise)' to each other from their bedroom windows. It then turns into a dream sequence of the couple dancing in Betty's bedroom, echoing the scene from the Riverdale series premiere. 
When the song ends, Betty and Archie walk away from each other. However, both parties hold up their hand to the widow. Then the final "Midnight Radio" performance is filled with stolen glances. So yeah, it's definitely not over yet.
The 'Riverdale' Season 4, Episode 18 promo trailer hints Betty and Archie get together and reveals the new release date
The Riverdale Season 4, Episode 18 promo is so cryptic, it's almost frustrating. In the preview, Betty and Archie are in bed together with candles lit around them. It's meant to appear intimate. 
Meanwhile, the two friends who shared a kiss — with people who are not their significant others — stare at the ceiling. And basically, they have the words "guilt" plastered on their faces. But that doesn't seem to stop them from continuing.
"Archie, why are we here?" Betty asks. Then Archie replies, "I don't know. But it's nice." He then reaches for her hand. She follows. And that's it, that's the whole thing. So what's going on? Is this another dream sequence or are Betty and Archie really going to get together while they're still with Jughead and Veronica? Only time will tell.
Regardless, fans will have to hold on a little longer before the answer is out. The Riverdale Season 4 episode titled "Lynchian" will be released on Wednesday, April 29. That's two weeks from the musical episode on April 15. So stay tuned.