'Riverdale' Season 4: Everything We Know About the Musical Episode
All season, Riverdale fans have been worried about Jughead (Cole Sprouse). But now that the show has put the question of his murder to rest, viewers can enjoy the upbeat aspects of the series. This includes seeing Archie (KJ Apa) and the gang hit the stage for the school's annual theater production. Here's everything you need to know about the upcoming musical episode.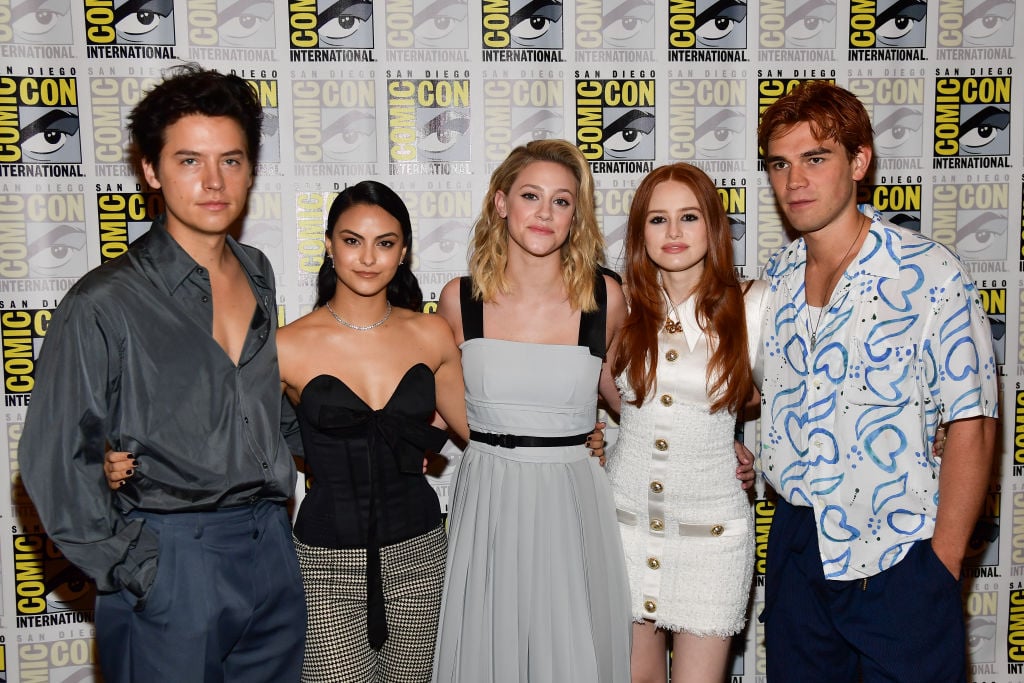 When does 'Riverdale' return from hiatus
Viewers may have noticed that Riverdale isn't airing any new episodes this week. Aside from revealing the show has halted production due to coronavirus precautions, The CW hasn't explained why the series is on a break.
However, the network did announce that the next new episode of Riverdale will air on April 15. Soon enough, fans will be able to dive back into the turmoil and drama with their favorite teen sleuths. 
Where did the show leave off?
When viewers last saw Betty (Lili Reinhart), Veronica (Camila Mendes), Archie, and Jughead, the crew was exposing the Stonewall cronies for their part in trying to kill Jughead. Apparently, Mr. DuPont (Malcolm Stewart), Donna (Sarah Desjardins), Joan (Doralynn Mui), and Bret (Sean Depner) were working together to get him out of the way.
As it turns out, Mr. DuPont was friends with Jughead's grandfather. And in an effort to keep the million-dollar Baxter Brothers series under his control, the teacher forced his students and colleagues to kill innocent students before becoming the next ghostwriters.
Mr. DuPont jumps out of the window, and Donna is revealed as the granddaughter of one of his victims. Before Donna leaves, Betty gives her a stern warning to never come back.
When does the 'Riverdale' musical episode air?
Now that the Stonewallies are out of the way, the Riverdale four have time to focus on more important things, like their high school musical. And luckily for fans, the episode is well on its way.
The musical episode, titled "Chapter Seventy-Four: Wicked Little Town," will air on April 8, when the show returns from its hiatus. According to a CW synopsis via TV Line, Riverdale students are taking on Hedwig and the Angry Inch this year.
'After the previous debacles of Carrie and Heathers, Kevin has decided to revive Riverdale High's tradition of hosting a variety show," reads the episode's synopsis. "But when Mr. Honey forbids him from performing a number from Hedwig and the Angry Inch, Kevin and our gang rally against their principal — by each performing a number from Hedwig, turning the variety show into a full-fledged musical that, as always, reflects our characters' inner lives and struggles. Amidst the drama, one forbidden 'showmance' begins to blossom."
In a statement, showrunner Roberto Aguirre-Sacasa said that he wanted to "try something different" with this season's musical episode.
"When we heard that Stephen Trask was a fan of Riverdale, we thought, 'Is there a way we can do Hedwig and still have it tie into the stories we're telling,'" revealed Sacasa. "Doing a deep dive, we figured out a cool way to use classic songs like 'Wicked Little Town' and 'Midnight Radio' that made total sense and are just amazing and iconic. And bonus, Hedwig is literally Cole's favorite musical!"