'Riverdale' Season 5: Betty and Archie Could Make a Comeback Before the Finale
Some 'Riverdale' fans are disappointed with the lack of interaction between Betty and Archie in season 5. According to the showrunner, they'll get some screen time together before the finale.
Riverdale Season 5 has taken fans on a bumpy ride, especially the ones who were rooting for certain ships to sail. The CW series implemented a seven-year time jump several episodes into the season, and it upended the dynamics between the show's main characters. Whether you ship Betty (Lili Reinhart) and Jughead (Cole Sprouse), Betty and Archie (KJ Apa), or Veronica (Camila Mendes) and Archie, the new episodes of Riverdale have thrown obstacles at every potential couple. However, it looks like they'll all have a moment to shine before the finale.
[Spoiler warning: This article contains mild spoilers for Riverdale Season 5.]
'Riverdale' Season 5 breaks up the 'Core Four'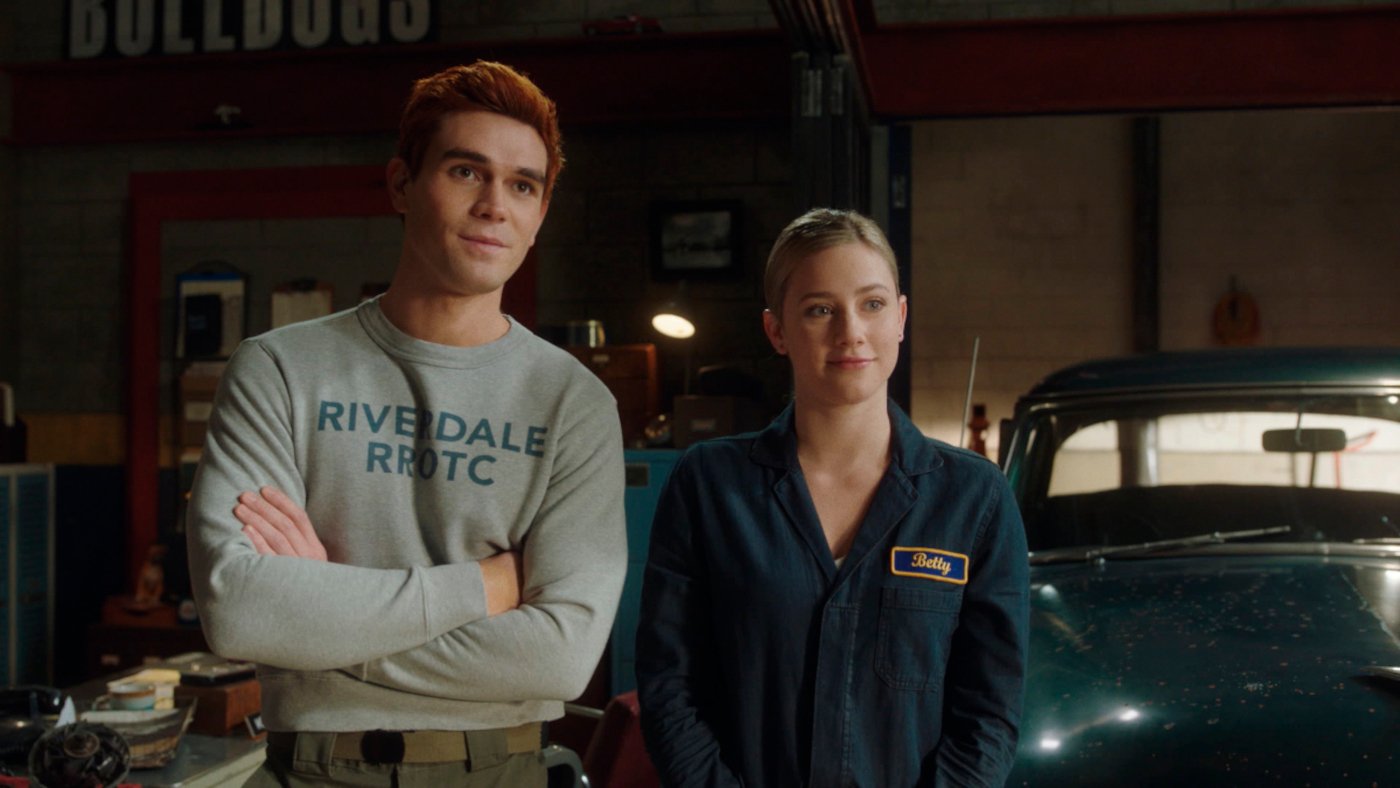 Perhaps the most surprising twist of Riverdale Season 5 is the fact that the "Core Four" don't keep in touch after high school graduation. All of them go their separate ways post-time jump, and they only find themselves together again when they're drawn back to Riverdale.
Even then, certain characters have gotten more screen time together than others. Veronica and Archie rekindled their relationship during Riverdale's recent episodes. And Betty and Jughead tackled a mystery together, just like old times. However, Betty and Archie haven't spoken much since their steamy moment before graduation.
Naturally, Betty and Archie — or "Barchie" — shippers are disappointed with their lack of interaction. However, there's a strong chance they'll share another moment before the new season is through.
'Barchie' will make a comeback before the season 5 finale
Although things currently seem to be leaning toward "Varchie" and "Bughead" romances, Riverdale showrunner Roberto Aguirre-Sacasa suggested "Barchie" could make a comeback before season 5 is through. Betty and Archie haven't interacted much recently, but that hasn't stopped fans from rooting for the pair.
Aguirre-Sacasa told TVLine that Betty and Archie will do "more than just glance at each other" during the remaining episodes of Riverdale Season 5:
"In our minds, Betty and Archie's story didn't end in episode 8, when they decided they just were going to be friends. That story isn't over, and we do pick back with it before the end of the season."
From his words, it sounds like Betty and Archie will at least address the romantic tensions between them. That doesn't mean they'll get together. However, it does leave the possibility on the table.
Will Betty and Archie end up together on 'Riverdale'?
Even if Betty and Archie get another moment to shine before season 5 ends, there's no telling which Riverdale couples will wind up together. Archie seems more concerned with Veronica at the moment, and Betty and Jughead are just as likely to rekindle things. With The CW renewing the show for a sixth season, it's likely to keep fans guessing.
No matter which way the pendulum swings, it'll be nice to see the main characters spending more time with one another. It just isn't Riverdale without the "Core Four," romantic relationships or not.
New episodes of Riverdale air on The CW on Wednesdays at 8 p.m.