'Riverdale': There's an Intense Reddit Theory About the Season 5 Time Jump
Like many TV shows that were still filming as the coronavirus (COVID-19) began spreading across the globe this past spring, Riverdale ended abruptly. Though The CW had given the hit drama a full series order, it ended with a cliffhanger after 19 episodes.
The cast and crew were sent home to shelter in place as Hollywood began to grapple with how they could proceed safely with getting shows and movies back in production. Since Season 4 ended so quickly and there was a delay with Season 5, the season premiere won't be until 2021.
However, we do have some serious hints about what Riverdale fans can expect to see next. In fact, some Reddit users have conjured up an intense theory about the forthcoming season, and it makes so much sense.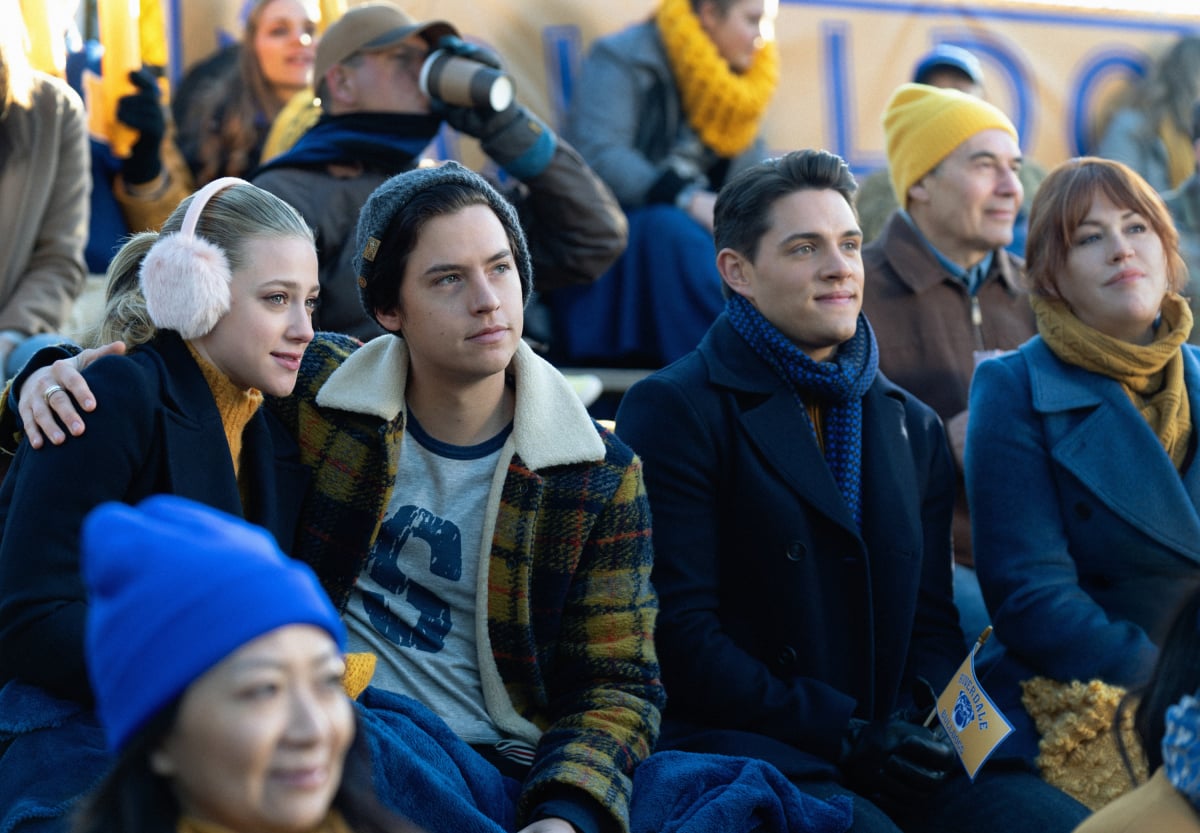 Here's what we know about 'Riverdale' Season 5
Season 4 of Riverdale was not supposed to end as it did. However, the pandemic left many things up in the air when it comes to some of our favorite characters and their storylines. If you recall, the students of Riverdale High took down Mr. Honey. Unfortunately, Mr. Honey has set his sights on Stonewall Prep.
Also, the mystery surrounding those videotapes is still hanging in the balance. The last videotape featured a murder that actually only happened in Jughead's mind. Riverdale Season 5 will finally be released on Jan. 20, 2021, on The CW.
KJ Apa, Cole Sprouse, Lili Reinhart, and Camila Mendes will return as Archie Andrews, Jughead, Betty Cooper, and Veronica Lodge. We can also expect to see their classmates, Kevin Keller (Casey Cott), Toni (Vanessa Morgan), Cheryl Blossom (Madelaine Petsch), and Reggie Mantle (Charles Melton).
'Riverdale' will jump ahead in time 7 years
If you're expecting to see your Riverdale favs as you left them, then you may be disappointed. It has been confirmed that there will be a seven-year time jump. This has happened in previous teen dramas like One Tree Hill, Dawson's Creek, and The O.C.
"It's kind of our way of revamping, I guess. I get to play someone who's my age now and not a teenager," Reinhart said during an appearance on Late Night with Seth Meyers. "I'm going up in the world… I don't want to be 30 playing an 18-year-old."
Riverdale showrunner Roberto Aguirre-Sacasa has promised a Riverdale and Katy Keene crossover in addition to the time jump.
'Riverdale' fans have an intense Reddit theory about Season 5
However, Riverdale fans are convinced the time jump is just the tip of the iceberg. Fans on Reddit are convinced that Archie, Betty, Veronica, and Jughead will join the faculty at Riverdale High, and this is where we will see them in their mid-20s.
Since Seasons 4 hinted the friends were headed off to separate colleges, a return to Riverdale High could be a way to get the gang back together again. Also, Mendes recently posted a video of Apa wearing a Riverdale High coaches outfit on her Instagram stories, so it may confirm the theory.
A leaked video suggests that Betty may become a shop class teacher, while Archie becomes an English teacher. There is no word yet on what Veronica might be up to, but if this theory is true, things will only going to before intense with the foursome back in the same place.