'Riverdale' Season 5 Trailer Suggests Veronica Finds Out About Betty and Archie's Kiss
'Riverdale' just dropped the exciting new trailer for season 5. And in it, Veronica seems to be in tears over Betty and Archie's brief romantic tryst.
Betty and Archie have been keeping their romantic tryst a secret from Jughead and Veronica. But in the Riverdale season 5 trailer, it looks like Veronica will finally discover how deeply she was betrayed.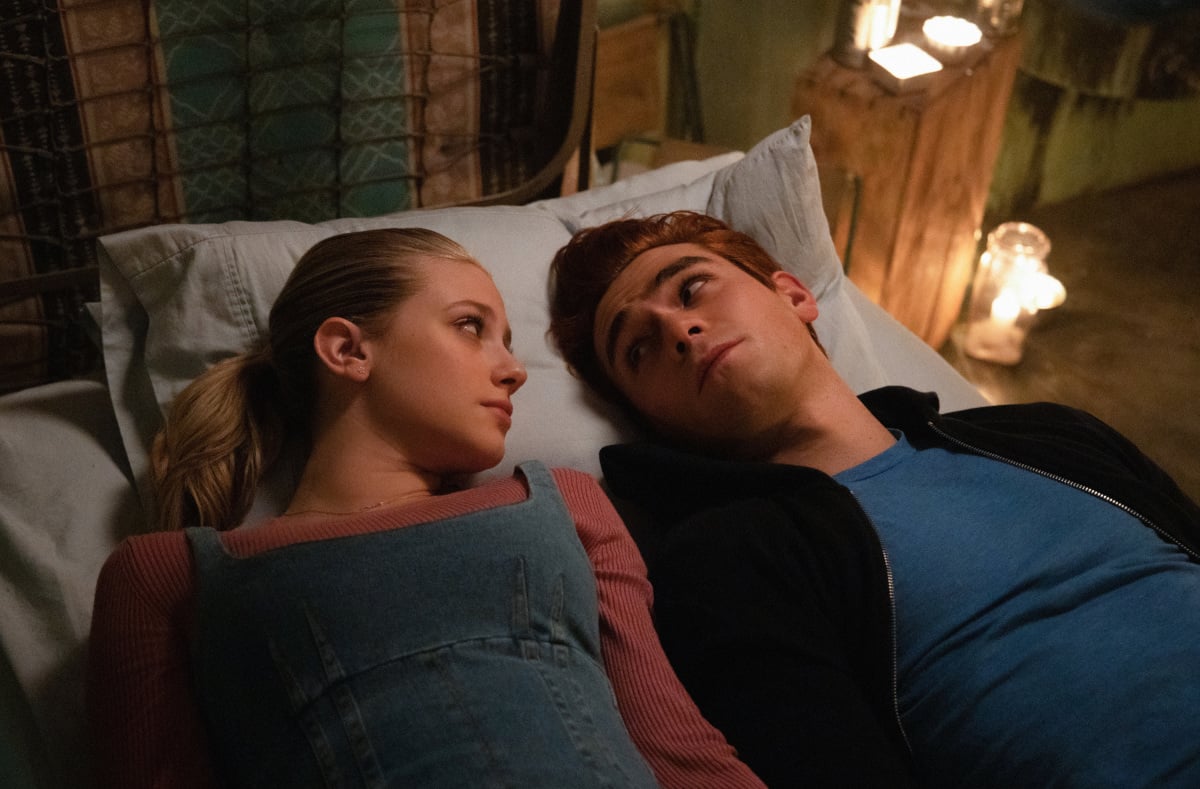 Archie and Betty kissed in season 4 of 'Riverdale'
Archie (KJ Apa) and Betty (Lili Reinhart) have been neighbors and best friends since they were kids. The two never got together romantically, but they were always there for each other when it counted.  And by the end of season 1 of Riverdale, it was clear that Betty was in love with Jughead (Cole Sprouse), and Archie found a deep, passionate connection with Veronica (Camila Mendes). 
But fast forward to season 4, and everything is thrown for a loop. In the musical episode, "Wicked Little Town,"  Betty and Archie get into separate fights with Jughead and Veronica. Betty is frustrated Jughead isn't taking graduation seriously. And Veronica is angry with Archie for keeping Hiram's (Mark Consuelos) health issues a secret.   
Annoyed with their significant others, Betty and Archie meet in the music room to rehearse for the school's production of Hedwig and the Angry Inch. While they sing "The Origin of Love," their sweetest childhood moments are shown in a montage. Overwhelmed by the weight of the moment, Betty and Archie finally kiss. 
They didn't tell Veronica and Jughead
In season 4, episode 19, "Killing Mr. Honey," Betty and Archie cozy meet in the bunker. As they lie on the bed, they're tempted to rekindle their music room moment. But ultimately, the two decide to remain good friends. 
However, rather than come clean about their kiss, Archie and Betty hide the details of their brief tryst from Jughead and Veronica. Not only did they betray their partners, but they each also betrayed their best friends. 
The 'Riverdale' season 5 trailer suggests Veronica finds out about 'Barchie'
Season 4 of Riverdale ended prematurely due to the COVID-19 shutdown. So season 5 will pick up with the gang immediately after the events of the season 4 finale. 
And in the new trailer, it looks like Veronica will find out that music room kiss. "Something happened between Betty and Archie," she tearfully says in the clip. 
Veronica is still wearing her prom dress in the scene, which hints she might find out about the affair at the dance. And as showrunner Roberto Aguirre Sacasa teased earlier this year when talking to ET, the Riverdale prom will feature pivotal moments for all four of the show's main characters. 
"A lot of stuff comes out at prom," he said. "You know, we haven't heard or seen the last of the song that Archie wrote for Betty, and right at this moment where they should be celebrating everything, a lot happens. It's pretty dramatic what happens at prom with Varchie."
Season 5 of Riverdale premieres on Jan. 20 at 8 p.m. EST on the CW.