'Riverdale' Season 5: Who Will Betty, Archie, Veronica, and Jughead End Up With in the Future?
With the Riverdale Season 5 time jump just around the corner, fans are itching to find out who Archie Andrews (KJ Apa), Veronica Lodge (Camila Mendes), Betty Cooper (Lili Reinhart), and Jughead Jones (Cole Sprouse) will end up with in the future. Recent episodes have shaken up the core four. And of course, everything is expected to change after graduation. So, here's what to expect moving forward.
Will Archie and Betty's kiss impact Veronica and Jughead in 'Riverdale' Season 5?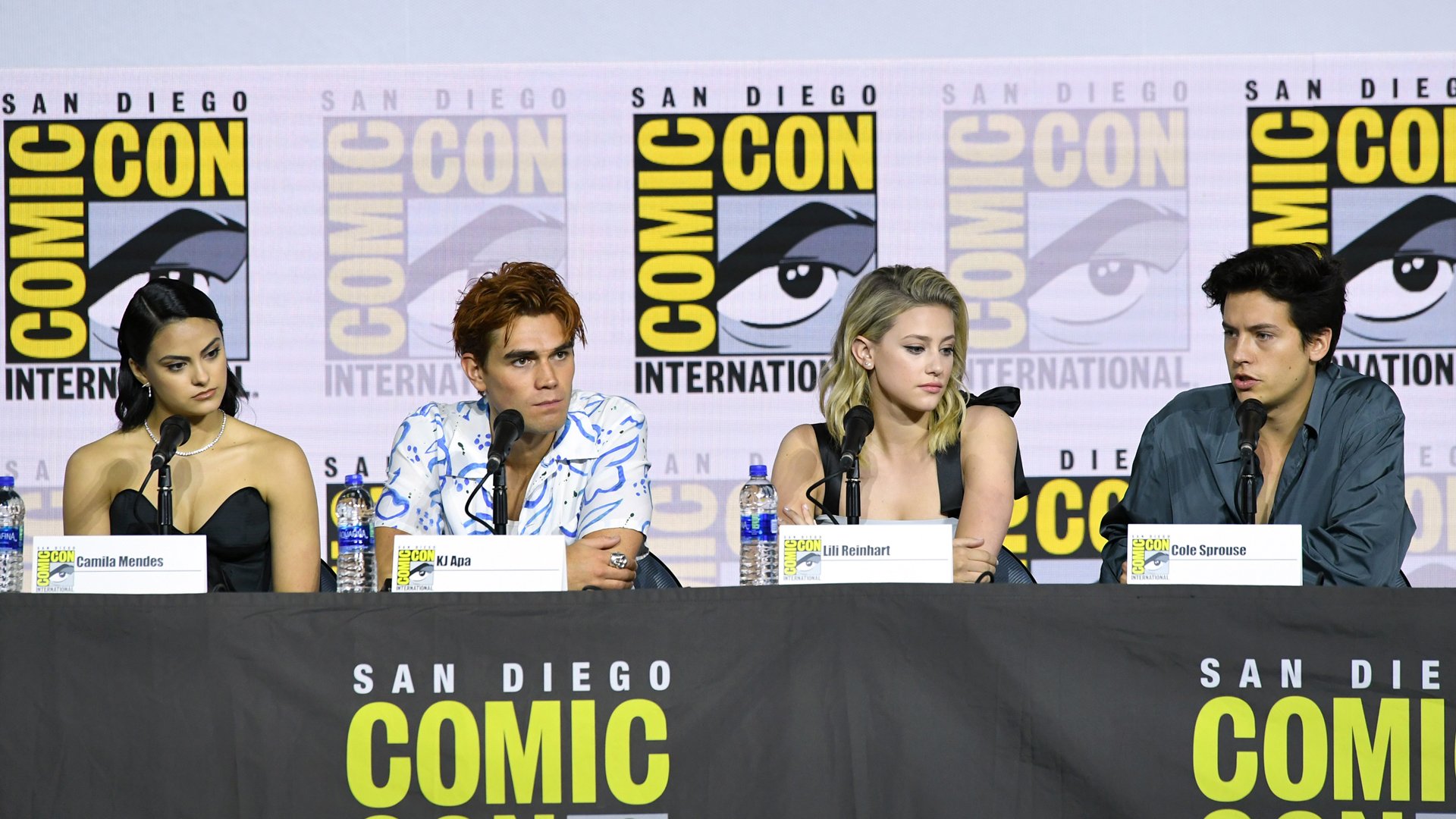 In Riverdale Season 4, fans were worried Varchie and Bughead were headed toward splitsville. Veronica and Archie fought over Hiram Lodge's (Mark Consuelos) health. Meanwhile, Betty and Jughead argued over their future together after graduation. Then, in a sudden turn of events, Betty and Archie kissed.
Later, Archie and Betty admitted that they couldn't stop thinking about each other. However, Betty stopped the relationship from moving forward. She realized that she was leaning on her friend because he felt safe during an uncertain time. Betty and Archie also acknowledged their feelings for Jughead and Veronica. So, in the end, Barchie never progressed past the kiss.
That said, Archie came clean to Veronica in the Riverdale Season 5 premiere. At prom, Veronica revealed her plan to stay in town for her boyfriend. So, Archie fessed up to the kiss, not wanting to keep Veronica from going to Barnard College. Then Veronica and Archie broke up, deciding to go their "separate ways" after graduation. They also decided to keep the kiss a secret from Jughead.
What to expect from Veronica, Archie, Betty, and Jughead after the 'Riverdale' Season 5 time jump
While Veronica and Archie broke up at the start of Riverdale Season 5, Betty and Jughead are still together — for now. At this point, Jughead is the only one who doesn't know about Betty's kiss with Archie. So, it seems likely the secret will come out eventually. 
Meanwhile, in an interview with Entertainment Tonight from January 2021, Apa hinted that Betty and Jughead are on different paths after the Riverdale Season 5 time jump. The actor shared Betty will become an FBI agent in the future. Then he described Jughead as "an author and a drunk and somewhat homeless." 
A call sheet for Riverdale Season 5 also revealed Jughead was getting a new girlfriend, a "train-wreck-y hipster" named Jessica (Phoebe Miu). So, it's likely Bughead breaks up at some point. However, there's a chance for Jughead and Betty to get back together. The call sheet hinted that Jessica is "done with the relationship" because Jughead's too focused on "the book he's not writing."
Now, Jughead isn't the only one who finds someone new in Riverdale Season 5. According to Entertainment Weekly, Veronica will be married to a "controlling and jealous" man named Chad Gekko (Chris Mason). And in the above interview with Entertainment Tonight, Apa teased how Archie reacts to Veronica's husband.
"He just handles it with so much grace," Apa said of his character. "Archie knows exactly what is going on and what this guy's deal is. [Chad] is just like this jealous guy who can't handle the fact that his wife has a better — or a more healthy — relationship with another guy than with him."
KJ Apa discusses Archie's relationship with Veronica and Betty in 'Riverdale' Season 5
For now, Riverdale fans will just have to wait and see where Veronica, Archie, Betty, and Jughead end up in season 5. But, it seems both Varchie and Bughead will not be together through the time jump.
Nevertheless, it's still possible an endgame couple will rise out of the core four. When speaking with TVLine in January 2021, Apa hinted that Archie will always be "back and forth" between Betty and Veronica. But, it seems Archie's relationship with Betty will be the one that's explored in the fifth season.
"I feel like with Betty and Veronica, on one hand, it's his best friend that he's been best friends with for his entire life and neighbors with his entire life," Apa said. "And then there's this other, completely new girl who came into town, and he fell in love with."
He continued, "He'll always be really close with both of them, just because of the nature of the relationship he has with both of them. But, I do really feel like a lot of his relationship with Betty, and where that goes and how they feel about each other, is something that we explore in the time jump."
Meanwhile, in the above interview with Entertainment Tonight, Apa teased that he's been filming many scenes with Reinhart. But, whatever happens, Riverdale Season 5 will challenge what it means to be endgame.
"We'll see what this season brings because there's a lot of sh*t going on this season that might change people's minds," Apa said.
Riverdale Season 5 airs Wednesday nights on The CW.