'Riverdale' Season 6 Will Address Sabrina Spellman's 'Chilling Adventures of Sabrina' Ending
'Riverdale's creator has revealed that the 'Chilling Adventures of Sabrina' crossover will address the end of Sabrina Spellman's journey.
Rivervale has a special visitor. Riverdale Season 6's five-part special event, "Rivervale," which began on Nov. 16, will soon bring in Sabrina Spellman for a Riverdale x Chilling Adventures of Sabrina crossover. Many fans of both series are thrilled to finally receive their crossover wish, but it has caused some confusion.
Those who have watched the Chilling Adventures of Sabrina finale on Netflix can likely see why the teen witch's visit to Rivervale doesn't quite seem canon. However, Riverdale and Sabrina creator Roberto Aguirre-Sacasa has assured that everything will make sense in due time.
[Spoiler alert: The following story contains spoilers for Chilling Adventures of Sabrina Season 4 Episode 8, "Chapter Thirty-Six: At the Mountains of Madness."]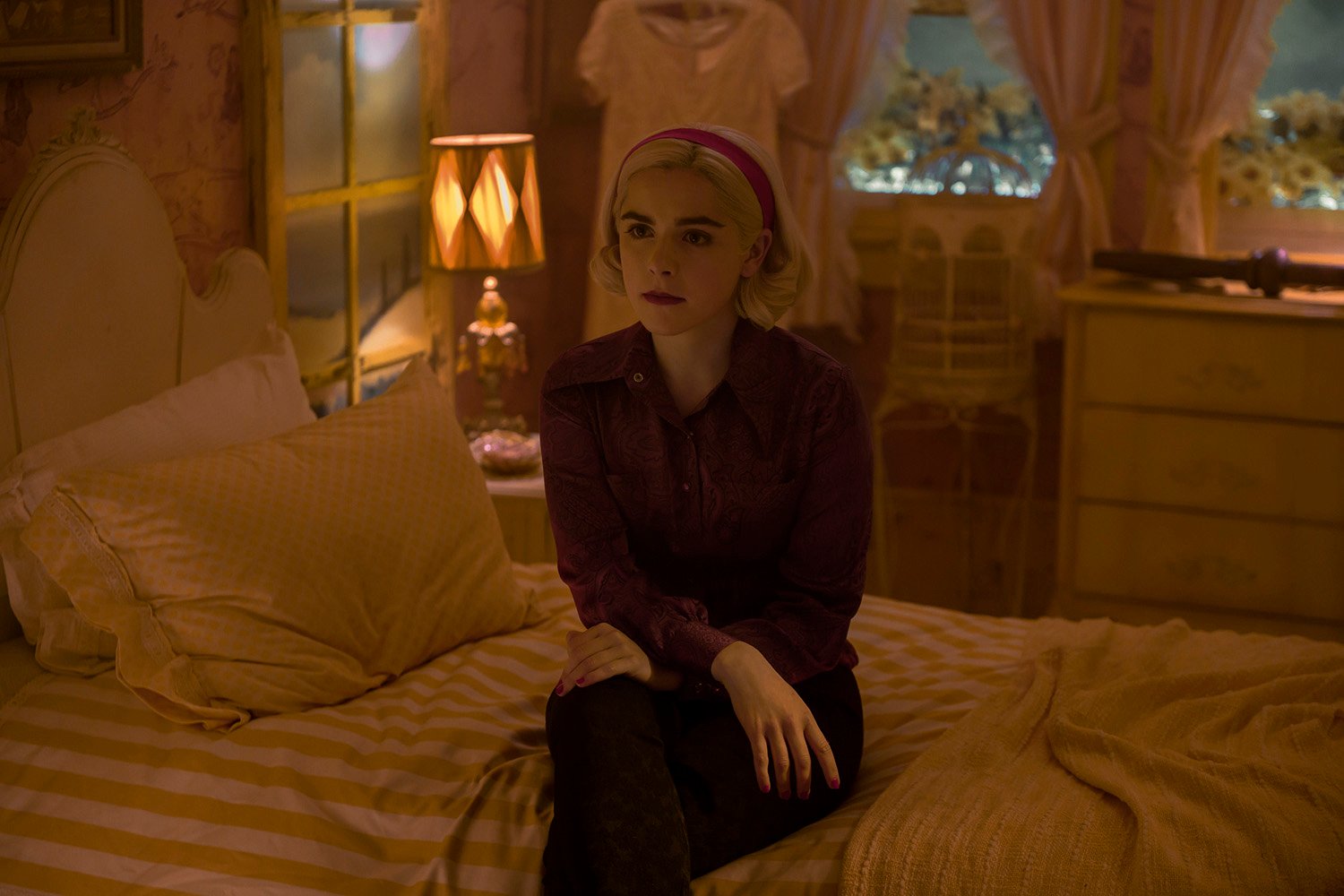 How did 'Chilling Adventures of Sabrina' end?
Chilling Adventures of Sabrina Part 4 saw Sabrina (Kiernan Shipka) battle the eight Eldritch Terrors — supernatural entities that could destroy reality. She managed to defeat most of them, but things became very dangerous when Sabrina encountered the final entity, The Void. This powerful terror threatened to devour every part of reality, including an alternate realm caused by Sabrina Spellman and Sabrina Morningstar's time warp.
In order to save reality, Sabrina sacrificed herself to The Void. Much to fans' shock, that meant she died for good. Her final scene showed her with her "endgame" boyfriend, Nick Scratch (Gavin Leatherwood), in the Sweet Hereafter. And so ended Sabrina Spellman's story — or did it?
Roberto Aguirre-Sacasa says 'Riverdale' will follow up on Sabrina Spellman's death
Sabrina Spellman's arrival in Riverdale creates quite a few questions. Is she really alive? If so, how did she come back to life? Is it Sabrina in the flesh or some other form of her soul? Some fans have feared that Riverdale would gloss over the detail of Sabrina's death, but Aguirre-Sacasa said that wouldn't be the case.
In an interview with Entertainment Weekly about the "Rivervale" event, the showrunner was asked if viewers would receive an "update on Sabrina's life." Thankfully, it seems closure is on its way for Chilling Adventures of Sabrina fans.
"Yes! We definitely refer to the end of Chilling Adventures, and we own how that ended and how she's back," Aguirre-Sacasa said.
The creator couldn't provide any details on Sabrina's updates, but he did explain how the crossover finally came to be. Aguirre-Sacasa said "Rivervale's" lean into the supernatural provided the perfect opportunity for a witch to come in.
"We all really wanted to make this happen, but it didn't feel 100 percent right, and we hadn't cracked it," he added. "When this came about, we thought, 'If we're going to make this an event and lean into that, what would be the single most meaningful thing we could do?' And we thought, 'Sabrina!'"
Aguirre-Sacasa said that the crossover felt "natural" during filming. So natural, in fact, that he might even consider bringing Sabrina back later.
"It took so long to get here but also felt like this was so great, and hopefully we can do it again, and it won't be five years before we do it again," he said.
When is the 'Riverdale' and 'Chilling Adventures of Sabrina' crossover?
So, when can fans expect to see Sabrina in action? The Riverdale x Chilling Adventures of Sabrina crossover arrives in Riverdale Season 6 Episode 4. As of now, that episode will air on Tuesday, Dec. 7.
Fans already have a general idea of what to expect, thanks to the episode synopsis. Per TV Insider, the description reads:
As Bailey's Comet passes over Rivervale, Cheryl (Madelaine Petsch) and Nana Rose (guest star Barbara Wallace) revisit the tragic stories of the Blossom women through the years. Meanwhile, the once-in-a-lifetime celestial event prompts Cheryl to summon a familiar face to Rivervale — Sabrina Spellman.
Riverdale's five-part "Rivervale" event airs on Tuesday nights at 9 p.m. on the CW.