'Riverdale': TBK's Identity Was Already Revealed Earlier in Season 6
Many 'Riverdale' felt disappointed they didn't get to see TBK's identity, but his face was actually revealed earlier in season 6.
Ever since Riverdale Season 5, many fans have asked the same question again and again: Who is the Trash Bag Killer? The twisted serial killer, also known as TBK, taunted Betty Cooper for weeks until their final confrontation in the most recent episode of season 6. But Riverdale fans have yet to see the true identity behind TBK's mask — or do they? His face was quietly revealed in an earlier episode.
[Spoiler alert: The following story contains spoilers for Riverdale Season 6 Episode 17, "Chapter One Hundred and Twelve: American Psychos."]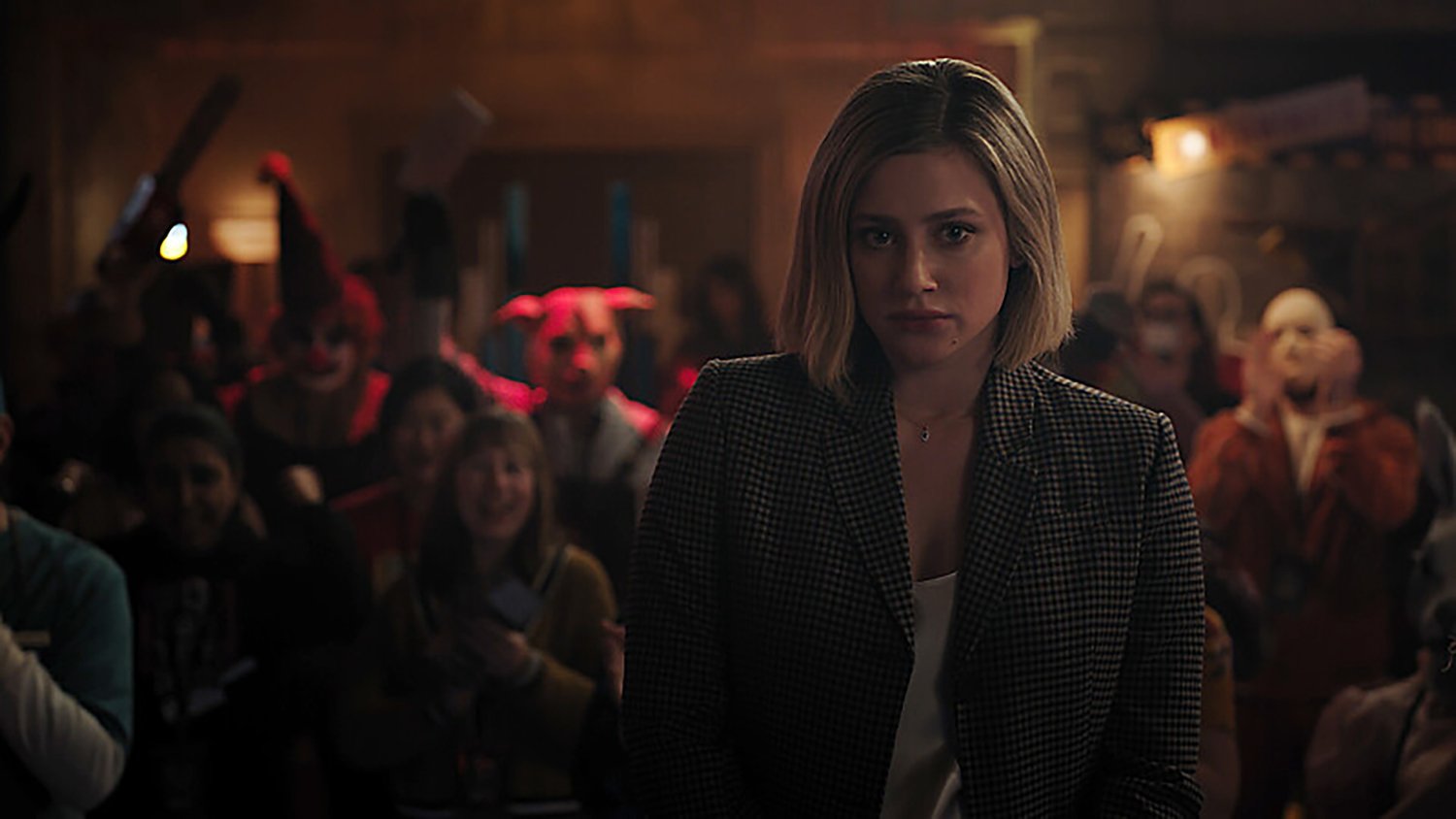 Betty Cooper had a final face-off with TBK in 'Riverdale' Season 6 Episode 17
Sunday, June 12's episode of Riverdale, which happened to be the American Psycho musical episode, took place mostly at a convention for fans of serial killers. Betty (Lili Reinhart) hoped to lure TBK to the convention so she could finally stop him. And while she did receive a phone call from TBK at the convention, their final showdown actually took place in her childhood home.
Betty saw TBK in the window of her bedroom, so she rushed over to her house, where the killer held Alice Cooper (Mädchen Amick) and Charles (Wyatt Nash) hostage. Betty found TBK setting up a dinner table in the garage. He tried to convince her they were soulmates and that she could be a killer just like him. However, she refused to become his partner and shot TBK with the same gun her father once used.
Unfortunately, TBK never unmasked himself before his death, and Betty didn't bother taking his mask off postmortem. Many fans were disappointed that Riverdale wouldn't reveal TBK's identity after so many weeks of mystery and theories.
"So we're really not going to find out TBK's identity? Like, that's not a mystery we were supposed to care about? What a major letdown," one fan wrote on Twitter.
"I know it's more interesting to play with the psychological impact of these big bads on the characters, but not revealing TBK's identity is a COP OUT," another person added.
'Riverdale' Season 6 quietly revealed TBK's identity in an earlier episode
It wasn't quite the reveal fans wanted, but Riverdale did already show TBK's face in season 6. As viewers may recall, in episode 7, a construction worker in Archie Andrews' (KJ Apa) home approached Archie with a piece of palladium. The worker, who identified himself as Dennis (Doug Chapman), then knocked Archie out and tied him up in the attic. TBK had found out that palladium weakened Archie's invincible superpowers.
When viewers next saw TBK, he was back in his mask, wearing the same outfit as the construction worker. But for a brief minute, Riverdale exposed TBK's identity: a random guy who may or may not be named Dennis. Hopefully, future episodes will dive into the now-deceased killer's background.
Why the writers chose to leave TBK masked in his final moments
It's an age-old trope often found in Scooby-Doo and other mysteries: The good guys always unmask the bad guys when they get caught. So why did Riverdale choose to keep TBK's face hidden in his final moments with Betty? According to series creator Roberto Aguirre-Sacasa, the writers debated whether to unmask him.
"We talked about this in the room a lot. We talked about that last scene with TBK and Betty, and if TBK should wear his mask," Aguirre-Sacasa told TVLine. "Ultimately, we felt like that's the truest representation of who TBK is and what he represents for Betty. So it was very conscious to not reveal his face there. But remember, we did see it when he was working construction for Archie."
Riverdale Season 6 airs on Sundays at 8 p.m. ET on the CW.