'Riverdale': Twitter Erupts Over Tease From the Show's Creator About Archie and Betty
After vanishing from The CW for several weeks, Riverdale will return with a music-driven episode. Fans have been eagerly anticipating the Riverdale High variety show, inspired by Hedwig and the Angry Inch. But, based on a few clues that the show's creator Roberto Aguirre-Sacasa revealed on Twitter, some disharmony could follow the events of the musical. Here's the scoop on what to expect in the upcoming episode, where the plot could go next, and how fans are responding to a possible Riverdale relationship shake-up.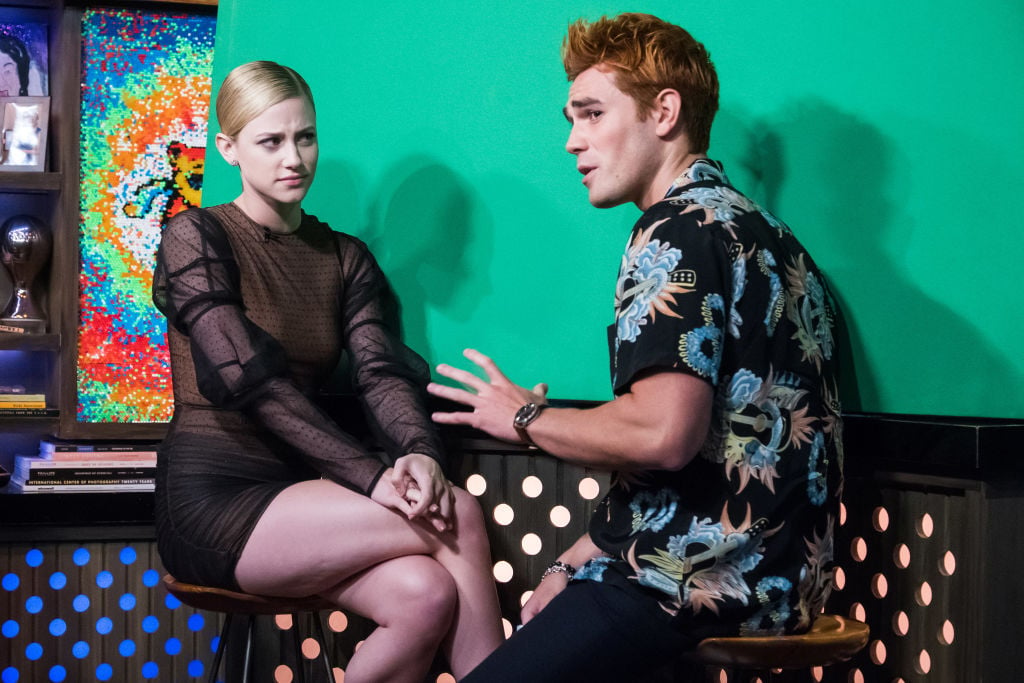 What will happen next on 'Riverdale'?
The CW has not aired a new episode of Riverdale since March 11, but the drought will soon be over. On April 15, a fresh episode of the show, titled "Chapter Seventy-Four: Wicked Little Town," will hit the airwaves.
"Wicked Little Town" is not only the episode title, but it is also the title of a song from Hedwig and the Angry Inch. The episode promo teases a planned production of a school variety show led by Kevin. Conflict ensues when Principal Honey, who says the show is "not appropriate," aims to squash the students' vision. The student body pushes back in a "peaceful protest" full of glitz, glamor, and gusto.
Will Honey succeed in halting the production, or will the teens prevail? Viewers will have to tune in to see how it all plays out.
'Lots of soul-searching after this week's 'Riverdale,'' says Aguirre-Sacasa
In a Twitter post, Aguirre-Sacasa teased that the events of "Wicked Little Town" would cause some characters to look inward for answers. Aguirre-Sacasa wrote, "Lots of soul-searching after this week's Riverdale."
The showrunner also added images of Archie and Betty, each in solitude, but Aguirre-Sacasa kept mum about what the besties are contemplating. However, in a May 2019 interview with US Weekly, he teased that Barchie could happen.
The outlet quoted him as saying,"I think that that's one of the dynamics we haven't played is the idea that Archie and Betty together romantically. I think in a teen show that if we somehow went seven years in that and never saw that, I think it would be a failure…So 'maybe' is what I'll say." In July, he followed up, telling US Weekly, "My hope is that this season we'll [be] playing a lot more of the high school stuff and more of the love triangle stuff."
Barchie fans versus Bughead and Varchie lovers
Fans have strong opinions about what could be a new romantic chapter for the gang. In response to the potential Betty and Archie coupling, one fan tweeted, "Barchie will rise!"
"We love soulmates," wrote another.
While a large camp of fans is rooting for Archie and Betty to get together, others aren't buying it, like this fan who beefed, "What the actual? What is this show going to? Don't bring them together through cheating and dead fathers. Are you serious?"
"Both Betty and Archie have been in loving relationships for the past two years. This is so sudden, and there's no development," griped another about the storyline.
"Betty and Jughead are meant to be," proclaimed a Bughead shipper. And another fan wrote, "Varchie and Bughead are ENDGAME!" But only time will tell which Riverdale relationships will last. Riverdale airs on Wednesdays at 8 p.m. on The CW.
Read more: 'Riverdale': Camila Mendes' Moving Cover Version of 'Circles' by Mac Miller