'Riverdale': Vanessa Morgan Teases Potential Cheryl and Toni Moments in Season 6 — 'I Don't Think the Chapter's Closed'
There may still be hope for fan-favorite Riverdale couple Cheryl Blossom and Toni Topaz — a.k.a "Choni." The two split in season 5, leaving many viewers heartbroken as a rift formed between the characters. Cheryl and Toni weren't on great terms by the end of the season, but it might not stay that way forever. According to Toni's actor, Vanessa Morgan, Riverdale Season 6 might include some sweet moments between Cheryl and Toni.
[Spoiler alert: The following story contains spoilers for 'Riverdale' Season 5.]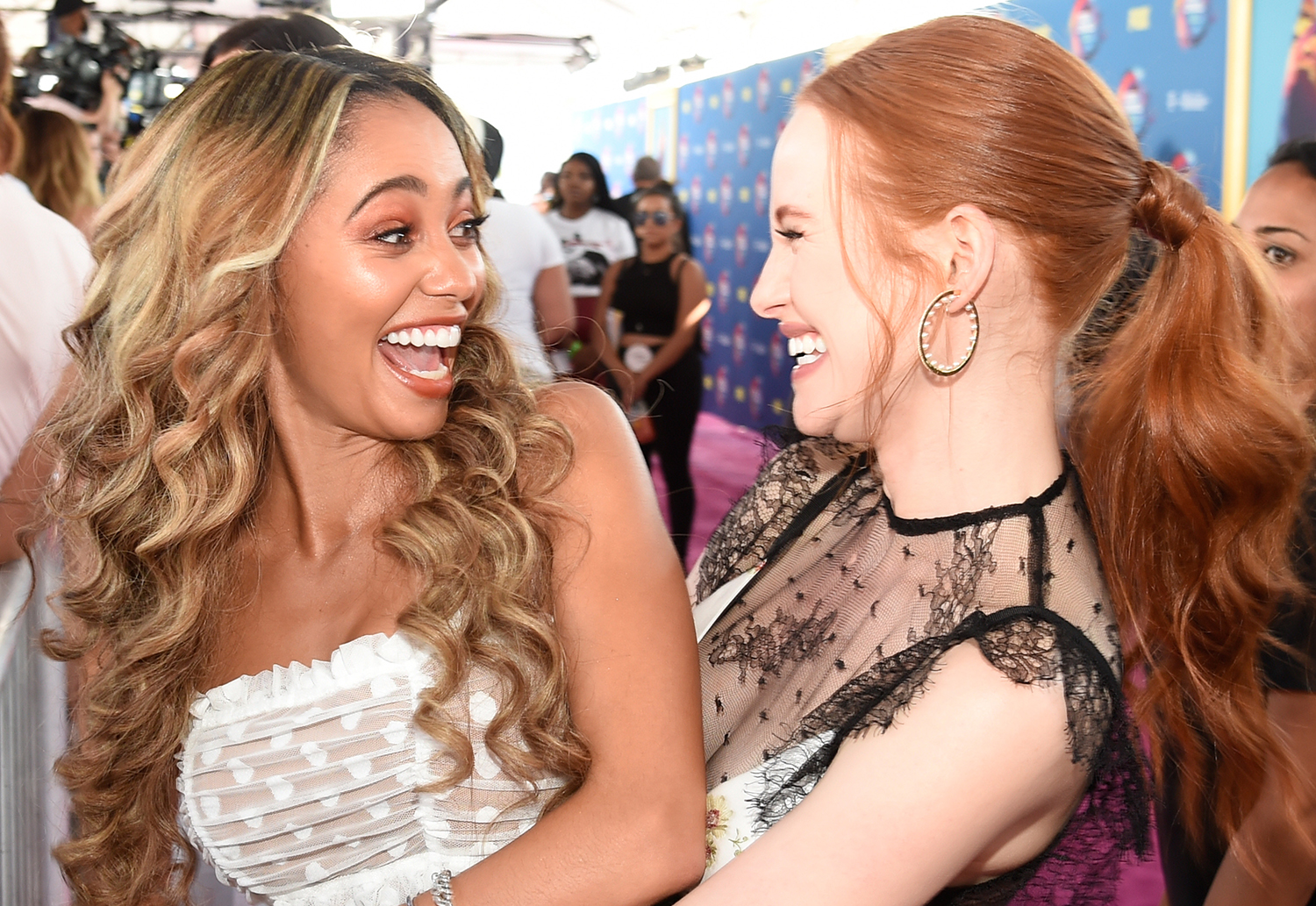 Cheryl Blossom and Toni Topaz ended their romance in 'Riverdale' Season 5
Cheryl (Madelaine Petsch) and Toni had been a Riverdale power couple since season 2. Unfortunately, their romance came to a crashing halt in season 5 with the infamous 7-year time jump. Apparently, Cheryl and Toni parted ways after high school. Seven years later, Toni was in a relationship with Fangs Fogarty (Drew Ray Tanner) and pregnant with his child.
To make matters worse for Choni fans, the former couple seemed to end things on poor terms. Season 5 featured tension between Cheryl and Toni as the two coached the Riverdale Vixens together. Cheryl still had feelings for Toni and devised a plan to get some alone time with her. However, Toni made it clear that she wanted to raise her baby with Fangs. By the end of the season, Cheryl had developed a budding romance with an art appraiser named Minerva (Adeline Rudolph).
Vanessa Morgan says season 6 might hold a reunion between Cheryl and Toni
Before Riverdale gets into the heart of season 6, it's airing a five-part special set in an alternate universe called "Rivervale." However, after that, fans might see more of Cheryl and Toni, Morgan teased. She told Us Weekly that she doesn't believe the couple's story is over, especially given how madly in love they once seemed. Toni and Fangs have started their relationship, but will that last forever?
"[Toni and Fangs are] an item. They are loving being parents to baby Anthony," Morgan said. "Now who knows, I know people are really rooting for Choni and there could be that element this season as well. I think it would be really interesting to see how things play out."
Morgan added that she recognized the tension between Cheryl and Toni in season 5. The couple never seemed to receive much closure, and neither did fans.
"I think there's a lot of built-up things that were left unsaid and tension there," she continued. "I don't think the chapter's closed, but we'll see."
Madelaine Petsch wants to see Choni get back together
Likewise, Petsch is rooting for Choni. In an interview with Elle, she spoke about Cheryl and Toni's falling out and teased what fans might see in season 6.
"I think people know I am like the world's biggest Choni-shipper … I want them back together more than anybody. Who can say they're not already, you never know," Petsch said. "Until you watch season 6."
Later, Petsch clarified that she wasn't implying Cheryl and Toni would definitely get back together, but they "might."
"I said that they might, and they might not. You never know … just know that I am pushing for it," she added. "That's all you need to know."
Riverdale Season 6's five-episode 'Rivervale' event airs new episodes on Tuesdays at 9 p.m. ET on the CW. The rest of the season will continue in March.
RELATED: 'Riverdale': We Finally Know What Happened to Betty's Cat, Toffee, in Season 5