'Riverdale': What Happened the Night Jughead Died
At the conclusion of Riverdale's "Chapter Seventy: The Ides of March," it seems like Jughead is dead, but is he truly gone?
Riverdale is a show with plenty of plot twists, and this season has been no different. Since the beginning of the fourth season, the show has been teasing Jughead's (Cole Sprouse) death. Each week, fans received more insight as to when and how Jughead supposedly dies, but it wasn't until "Chapter Seventy: The Ides of March" episode that we learned who might be responsible for his death.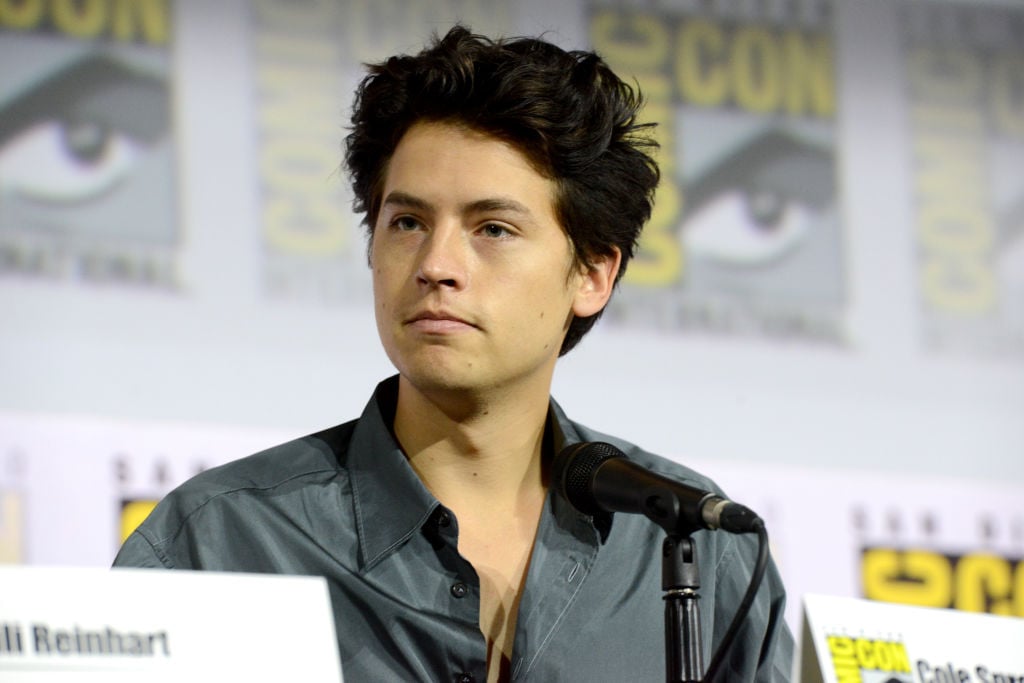 A quick Jughead recap
Jughead no longer attends Riverdale High. Instead, he attends Stonewall Prep, a private school that recruited him for his outstanding storytelling ability. Jughead learned that his grandfather also attended the prep school for a brief time before dropping out. 
Upon Jughead's arrival at Stonewall, his colleague and roommate Bret (Sean Depner) made it known that he wasn't welcome. Hazing ensued, per Bret's instruction, but in later episodes, Bret welcomed Jughead into the Skull & Quill, a secret society of writers at the school.  
What happened to Jughead in 'Chapter Seventy: The Ides of March'?
Earlier in the season, Weston filmed Jughead and girlfriend Betty (Lili Reinhart) being intimate with each other. During "Chapter Seventy: The Ides of March," Betty roots through Bret's belongings in an attempt to find that tape. When Bret finds Betty snooping, he kicks Jughead out of the Quill & Skull. 
Later in the episode, Jughead is accused of plagiarizing his Baxter Brothers story and learns that his contract is in jeopardy. Professor Dupont explains that Jughead's contract will be terminated if he can't produce a unique draft by the end of the week, which happens to be the Ides of March. 
Jughead returns with a story about a character, Jarhead, and his classmates who committed a murder. Jughead's characters are eerily similar to his real-life classmates, who may or may not have murdered someone. 
Once again, Jughead is accused of plagiarizing. Professor Dupont explains that he can withdraw himself quietly from the school or choose to fight his battles publicly.  
The Ides of March party 
Jughead shows up to an Ides of March party in the woods wearing his Serpent jacket. He replaces his signature crown beanie for a bunny mask and approaches Bret looking for a fight. Bret concedes and the two enter deeper in the woods to settle their differences. 
Once Betty arrives, she looks for Jughead but can't find him. Instead, she spots Donna, another Quill & Skull member, sneaking into the woods. Donna explains that she knows how to control Betty's mind per cult-member Evelyn Evernever. 
Donna utters the code word that puts Betty into a fugue state and the scene cuts to Betty holding a rock in her hand, looming over Jughead's still body. Veronica (Camila Mendes) and Archie (KJ Apa) catch up with Betty, only to find that Jughead has no pulse. 
Is Jughead dead? 
While Jughead seemingly has no pulse, it's hard to say whether or not he's truly dead. Riverdale is known for misleading the audience to create suspense, so it's likely we don't have all the pieces to the puzzle. 
Fans have a few questions when it comes to Jughead's death, including Bret's location at the time Veronica and Archie arrive and what happened between Bret and Jughead prior. 
Jughead has been trying to get ahead of the evil at Stonewall Prep for some time. Maybe feigning his death is all part of that plan.