'Riverdale': Why You Won't See Archie and His Friends Graduate Anytime Soon
For four seasons, Riverdale followed Archie (KJ Apa) and his friends navigate murder mysteries, gang feuds, and deadly love triangles — you know, basic high school drama. Now that they're high school seniors, the gang is finally getting ready to graduate and put it all behind them. But unfortunately, it doesn't seem like fans will get to see them in caps and gowns anytime soon.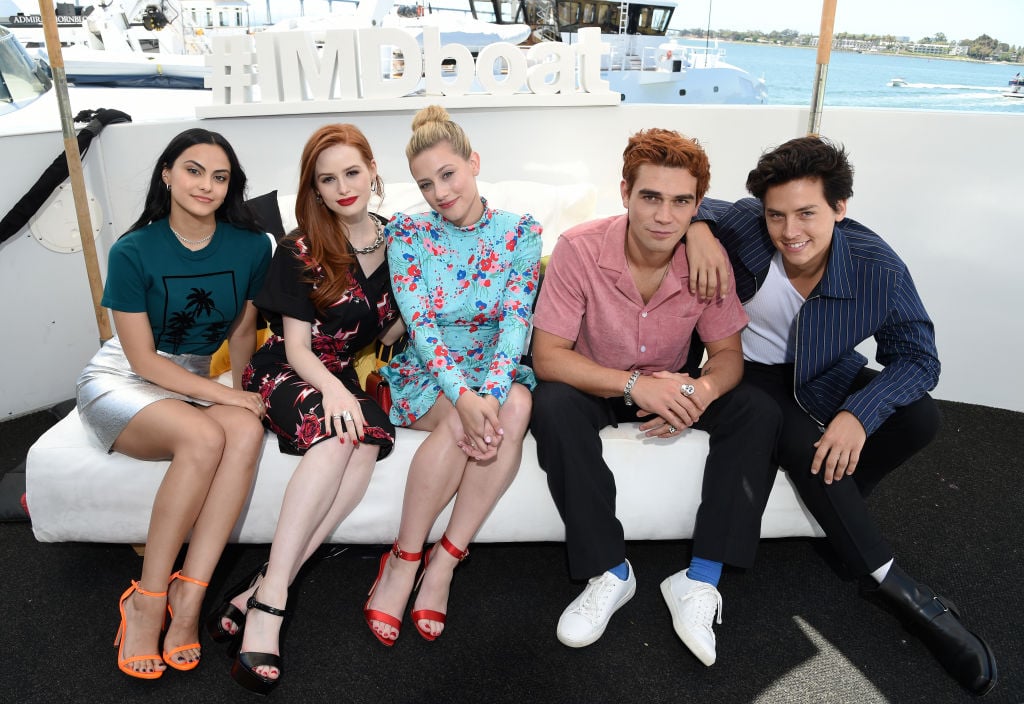 'Riverdale' is getting a shorter season
The last two seasons of Riverdale aired with 22 episodes each. And originally, season 4 was slated to have the same number of installments. But due to COVID-19 safety measures, the show was forced to temporarily shut down production.
In mid-march, just as quarantine measures began to take hold, the series took a one-month hiatus and did not return until April 19. Around the same time in March, Warner Bros. TV revealed at least one crew member on the show had tested positive for the novel coronavirus.
Now, as reported by TV Guide, The CW is changing it's Riverdale production schedule and will end season 4 early. Episode 19, "Chapter Seventy-Six: Killing Mr. Honey," airs on May 6, and it will serve as the season finale. This means season 4 will be short three whole episodes.
The new season finale of 'Riverdale' won't feature a graduation
On Riverdale, Archie, Betty (Lili Reinhart), Jughead (Cole Sprouse), and Veronica (Camila Mendes) are all gearing up to graduate and move on into their adult lives. But, in a preview for "Killing Mr. Honey," it doesn't look like fans are getting a graduation ceremony.
The episode is centered around Jughead's college admission story in which he suggests that the crew take revenge on Principal Honey (Kerr Smith) for messing up their senior year. The obvious solution for this group of high schoolers, is, of course, murder. "The one thing that would stop Mr. Honey is if we killed him," Betty says in the trailer.
So, with murder on their minds, the crew isn't going to have time to graduate in the final episode. This means fans will have to wait until season 5 to finally see them move on from Riverdale High.
The season finale was directed by Mädchen Amick
Mädchen Amick plays Alice Cooper on Riverdale, and she'll be making her directorial debut with 'Killing Mr. Honey." In an interview with Entertainment Weekly, Amick talked about the episode, and how it's going to serve as the season finale.
"Since it's [episode] 19 of 22, you are getting to the end, so there's usually a lot of climactic things happening," she said. "That's a lot of responsibility, just because I want to get it right. I know we're getting toward the end, and those last few are really important to start tying up loose ends or building to a cliffhanger. You want it to be exciting and climactic and really building its energy, so I wanted to honor that."
Amick also revealed that production was halted in the middle of filming episode 20, while she was editing her episode. She added that there were no special adjustments made to make it feel like a finale, which is why it will leave fans with more questions than answers.
"Now knowing my episode will serve as the finale for this season, obviously we'll pick up back up next season," she said. "They'll have to adjust some storytelling with what they had planned at the end of this season. As far as my episode, it pretty much stayed intact the way it was written. There was a new layer that came into the story that now serves as an interesting cliffhanger."