RM Just Revealed the Members of BTS Are Preparing a New Album
On April 17, RM held a livestream on the BANGTANTV YouTube channel. During the livestream, RM revealed that BTS plan to release a new album. The Korean band released their most recent album Map of the Soul: 7 on Feb. 21, 2020.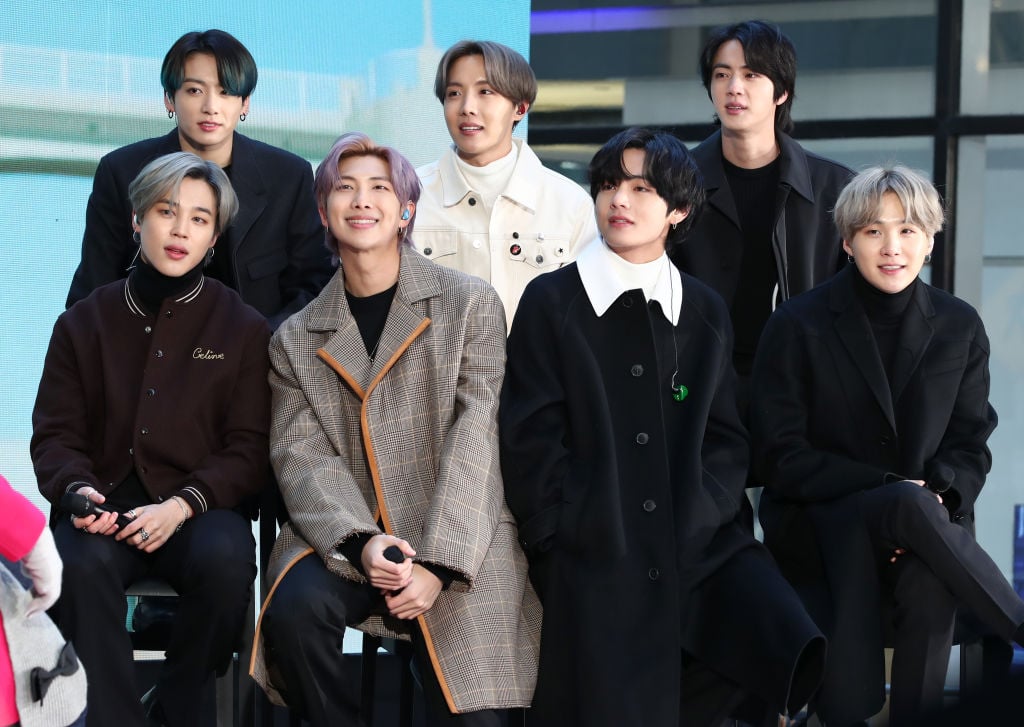 What RM revealed about BTS's new album
During the livestream, RM told fans that the members of BTS planned to check in and interact with fans about once a week going forward.
"So from now on, around once a week or so? We're planning to turn on a livestream and share the way we're living and so on… Everyone— they designated me as the first batter so…" RM said.
The BTS rapper then revealed that the group plans to release another album.
"To be honest, I'm not sure if I'm supposed to be talking so casually like this but— As many of you probably expected, our album is going to come out. We've decided to prepare for a new album, so we've started preparations… We've kicked it off," RM said.
He continued, "We'll be sharing the process of preparing and stuff, which is a first. I'm a bit torn about how much we should show— But we'll be trying to show you some of the processes that we go through together, from now on… The album will come out, but since we only just kicked off, we don't know what songs we will sing, what the title song will be, what kind of music we'll talk about. None of that has been decided in detail yet since we only just started talking about it."
BTS fans did not know a new album was coming
While BTS often release multiple albums a year, their promotion of Map of the Soul: 7 just ended. Because of this, some fans were shocked by RM's announcement even though he assumed fans expected a new album.
One fan tweeted, "THIS IS NOT A DRILL. NAMJOON SAID THEY ARE PREPARING FOR A NEW ALBUM THIS YEAR BUT HE DOES NOT KNOW WHEN IT IS COMING YET!!!"
"namjoon really came on live and said 'new album coming' and left like ???&))? WHAT DO YOU MEAN NEW ALBUM," wrote a Twitter user.
A fan tweeted, "NAMJOON CASUALLY GOES LIVE AND TELLS US THEY ARE WORKING ON A NEW ALBUM???? NOW WHAT DO WE DO WITH THIS INFORMATION???? NOW WHAT???"
The group has a Japanese single coming out
In March 2020, it was announced BTS would release a song called "Stay Gold" for the Japanese drama Rasen no Meikyū (Helical Labyrinth). "Stay Gold" will be the theme song for the drama, which was set to release in April 2020. However, due to the coronavirus (COVID-19) outbreak, the release of the song and series has been postponed.
BTS typically release a Japanese album every two years, and they frequently release Japanese versions of their Korean-language songs. In 2019, BTS released their Japanese single "Lights" along with Japanese versions of their songs "Boy With Luv" and "IDOL."
Their last Japanese studio album, Face Yourself, came out on April 4, 2018. Before that, they released Youth on Sept. 7, 2016 and Wake Up on Dec. 24, 2014. Given that it's been two years since their last Japanese album, it seems likely that BTS could release a new Japanese studio album in 2020.