RM's Twitter Post Confirms That Yes, He Was Actually Surrounded by Animals for BTS' 'On' Music Video
What's better than the members of BTS? The members of BTS hanging out with animals. Recently, RM shared a picture of himself on the set of the "On" music video. Yes, there were actual alpacas standing beside him. Here's what we learned about Map of the Soul: 7 and "On," thanks to an interview from RM and a few of his tweets.
BTS posted the music video for their song off of 'Map of the Soul: 7,' titled 'On'
This new decade brings a darker and introspective era for BTS. Before the premiere of Map of the Soul: 7, the k-pop group dropped songs like "Black Swan," "Interlude: Shadow," and "Outro: Ego." Then, on Feb. 21, 2020, BTS dropped the "On" Kinetic Manifesto Film, earning over 100 million views.
A few days after the debut of Map of the Soul: 7, the k-pop group dropped the "On" music video, earning over 90 million views. Although BTS first posted a video highlighting their choreography, and later a live performance inside New York City's Grand Central Terminal, the boy band released a music video complete with fire, magical birds, and a few live animals.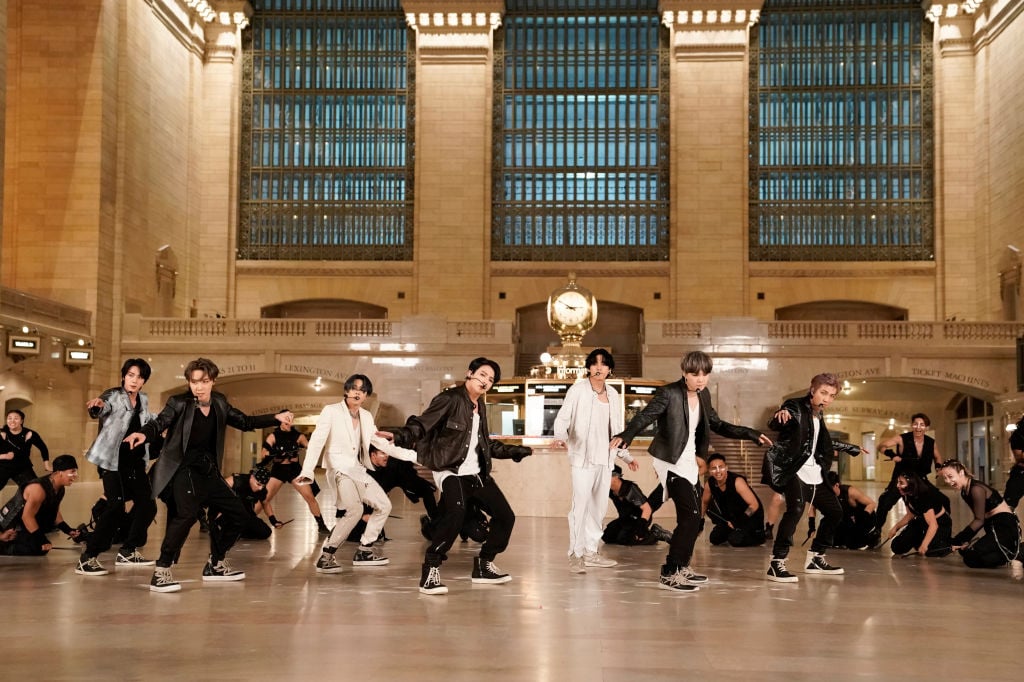 RM posted a picture to Twitter of him on the set of the 'On' music video
Some animals appeared alongside rapper and leader, RM. Unfortunately, there weren't actual giraffes, zebras, and elephants keeping RM company. He was, however, standing alongside a few fluffy alpacas.
The k-pop idol posted a few pictures to Twitter with the caption "Seokjin-ssi, look at here," according to one fan translation. RM's picture earned over a million likes in a matter of weeks. A few other BTS members posted pictures and videos from the music video. That includes Jimin, who shared a handful of selfies while on the set.
RM discussed the meaning behind songs off of 'Map of the Soul: 7'
According to Variety, this K-pop idol reflected on songs off of Map of the Soul: 7, some of them mentioned other songs released by BTS. That includes "On," which RM stated is a nod to one of their earlier songs, "N.O."
"Many things were not intended as far as our career. We didn't know we would ever reach this kind of position. Of course, we dreamed, we wanted to get big, we wanted to go as high as we could, but we never expected this kind of energy, this kind of reaction all over the world," RM said.
"One day, we woke up and we were like, 'Where are we?' When you don't know where to go, I think the best way is to walk down the road you have been walking on," he continued. "So, the reboot [songs] is the best way to reflect ourselves and figure out ourselves again: Where are we? What are we doing? Who were we in the past? And [who are we] right now? That's how it happened."
Music by BTS, including their recently released album, Map of the Soul: 7, is available for streaming on Spotify, Apple Music, and most major platforms.