'Roar': Merritt Wever Says THAT Duck Scene Wasn't Even Her Most Challenging
Merritt Wever and Liz Flahive discuss the 'Roar' episode 'The Woman Who Was Fed By a Duck' which is the most talked about episode of the series for good reason.
If you've been watching the Apple TV+ series Roar, Merritt Wever's "The Woman Who Was Fed By A Duck" may be the most shocking of all. All the episodes have a surprising twist, but "Duck" really pushes boundaries. Showbiz Cheat Sheet spoke to the star and creators of that episode to find out what really went on when they filmed that Roar duck scene. 
[Warning: This article contains spoilers for the Roar episode "The Woman Who Was Fed By A Duck" starring Merritt Wever.]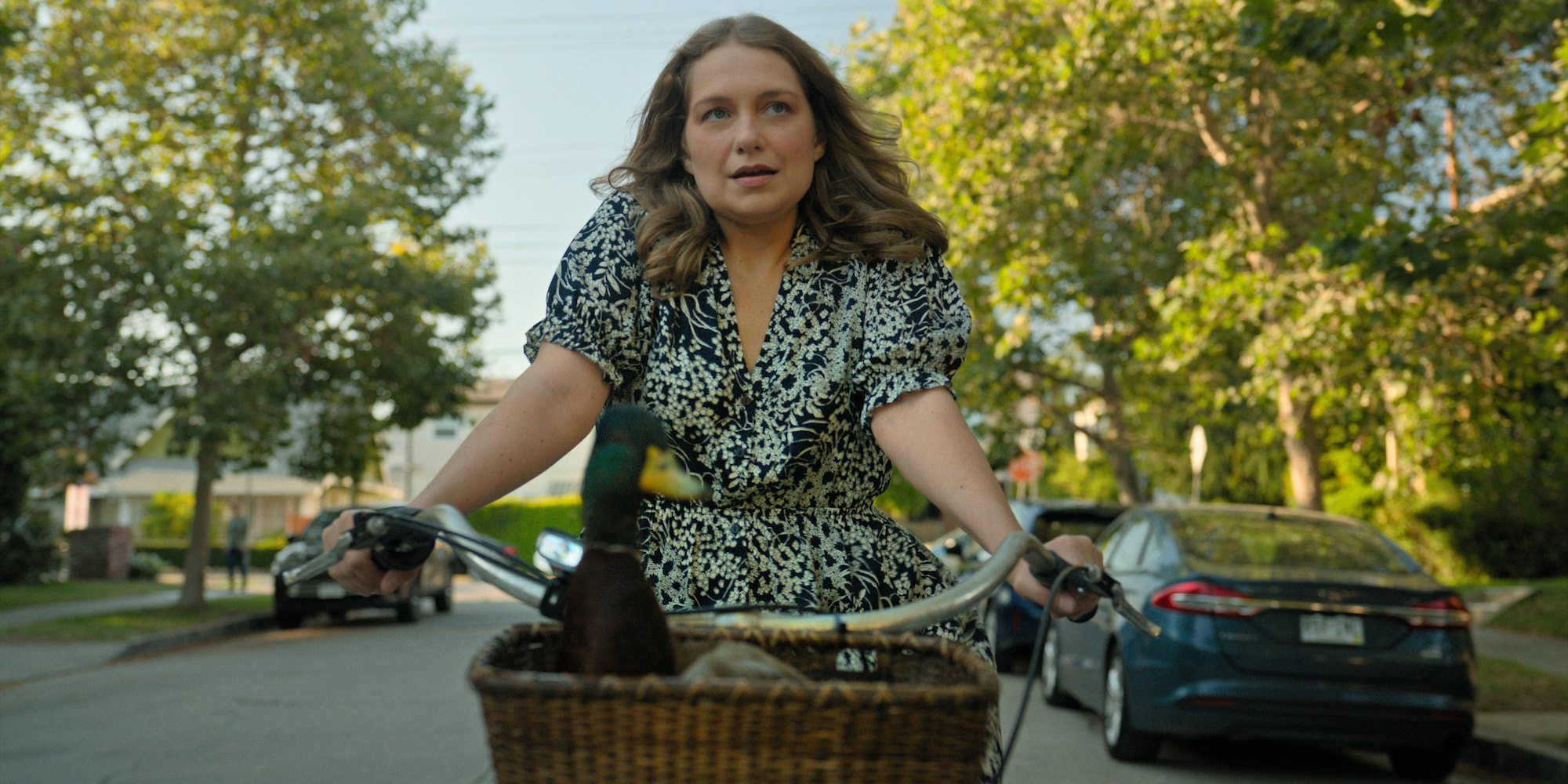 Wever and Roar co-creator Liz Flahive spoke with Showbiz Cheat Sheet by Zoom on March 31. Wever said the most shocking Roar duck scene wasn't even her most difficult one that day on set, and Flahive explained the title of the episode. Roar is now streaming on Apple TV+.
'Roar' duck scene wasn't Merritt Wever's biggest worry
In her Roar episode, Merritt Wever plays a single woman struggling with dating apps. She meets a talking duck in the park and brings him home. They actually consummate their relationship in a tasteful scene. Wever acknowledged it was challenging, but said she had even bigger things to worry about that day, though she couldn't remember what else she shot that day.. 
"I don't remember but I remember the thing of oh, this may not even be the hardest thing I do today," Wever told Showbiz. "It wasn't like my favorite day at work but it was part of the job. I understand why it was there so you just do it and move on. I think there were other challenging scenes in the day. So I may have been more concerned with the scenes coming up.
Both the duck and Wever remained safe and cared for when filming that scene.
"That sex scene was actually approached just like we'd approach any other sex scene which is like a closed set, an intimacy coordinator, a lot of very detailed shot listings so everybody knew what we were doing," Flahive said. "The crew was super respectful. Our DP actually took over operating at one point because she was a woman and Merritt felt more comfortable. So there was a lot of sensitivity even though it was a sex scene with a duck and a woman that we really put together in post. But it was handled with the same sort of rigor and respect that I think we handled all of those scenes."
The title 'The Woman Who Was Fed By a Duck' never changed
Some viewers might think of a different title for the episode given what the duck eventually does to Wever's character. However, Flahive said they never considered naming the episode something more explicit. 
"I didn't at all because I think that would just sort of defeat the point of the episode," Flahive said. "I think that's incidental to the episode but I do think there's something about the fact that the duck was feeding her some very toxic stuff about her own life that felt like it developed into a toxic relationship that then the duck used sex as manipulation just like you would if you were stepping out of a relationship between an emotionally abusive partner and a woman. So we really did talk about it in a very grounded way. We didn't want to make it a gag."
On 'Roar' Merritt Wever worked with the Backstreet Boys, sort of 
Wever discussed her feathered co-star, who was a real duck on the set, not a CGI visual effect. She remembers the names of all the duck actors. 
It was a real duck there every day named Justin after Justin Timberlake. There were several ducks to work with and they were all named after members of the Backstreet Boys. I anticipated that being the challenge of the episode, working with an animal. I figured we'd be capturing a sentence here or there  while the animal stayed still or looked at me. It ended up going really smoothly so I was grateful. And I would look at and talk to the duck and then I would have Justin Kirk, the actor who voices Larry just off camera every day take after take, really generously acting the scene with me which was very helpful, very, very helpful. I also think it would've been weird to be using takes where I was speaking to an actor who then had different inflections and stuff when they went to lay down their tracks. So I'm glad that it worked out that he could be there in person. 

Merritt Wever, interview with Showbiz Cheat Sheet, 3/31/22