Rob Kardashian Once Revealed Kim Kardashian West Was His Childhood Crush
It's normal to grow up crushing on famous celebrities, but in Rob Kardashian's case, his childhood crush was the last person anyone would have expected: his sister, Kim Kardashian West.
Yes, you read that right. The youngest Kardashian sibling was once infatuated with his big sister and revealed this awkward revelation during a 2016 episode of Rob & Chyna.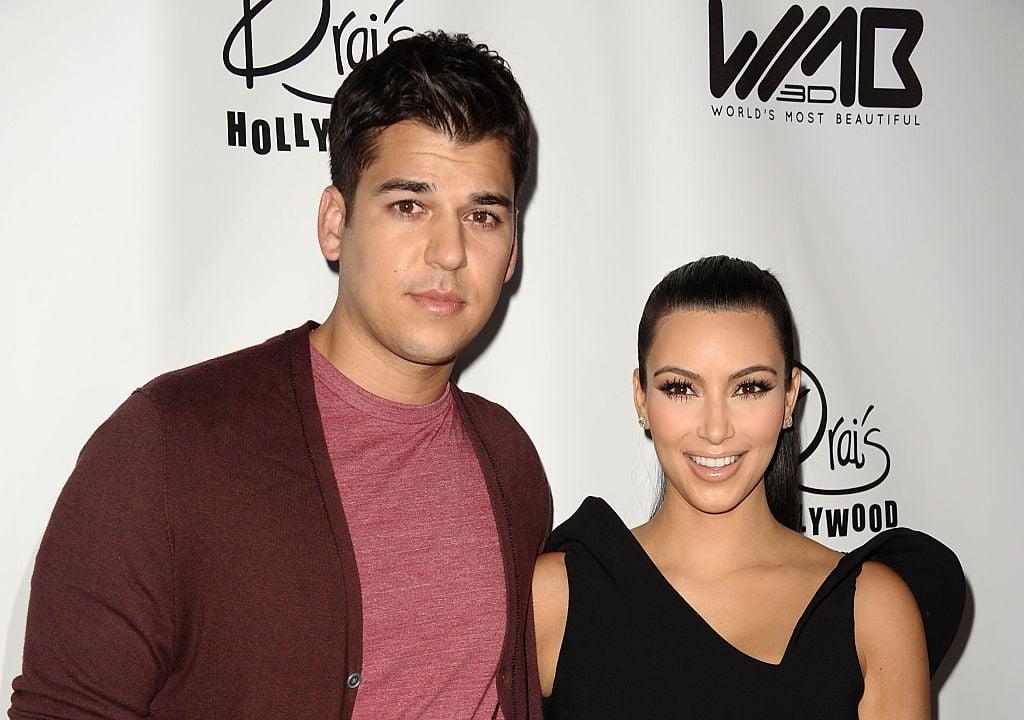 Kim Kardashian West was one of Rob Kardashian's childhood crushes
It's no secret that Kardashian West has been many people's celebrity crush throughout the years. Ever since rising to fame, thanks to Keeping Up With the Kardashians, the reality star's admires' list hasn't stopped growing.
From Kardashians stans to fellow A-listers, many have confessed to having a crush on the KKW mogul. Even Rob Kardashian has found himself smitten with his big sister and made this shocking confession back in 2016.
The unexpected revelation came during a clip from an episode of Kardashian and his ex-fiancée, Blac Chyna's, short-lived E! series, Rob & Chyna.
The video started with Kardashian sharing that Chyna had a thing for Ricky Martin when she was younger. "Livin' la vida loca!" the model said, belting out the singer's 1999 hit.
Chyna then put Kardashian in the hot seat, revealing that Jennifer Lopez was his childhood crush.
Now here's where things get interesting.
After name-dropping J.Lo, Chyna threw in, "And Kim Kardashian," which took many by surprise. Kardashian awkwardly grinned before owning up to having a crush on his big sister, simply saying, "That is also pretty accurate." Chyna then added, "These are facts."
As you can imagine, the internet was horrified by Kardashian's confession and immediately took to Twitter to share their thoughts.
"Just when you thought they couldn't possibly be any dumber, Rob Kardashian goes and reveals that his childhood crush was his sister Kim," a Twitter user wrote.
Another commenter tweeted, "So Rob used to have a crush on Kim? I can't keep up with the kardashians anymore!"
Experts say Rob Kardashian having a childhood crush on Kim Kardashian was 'normal'
Though fans were weirded out by Kardashian having a childhood crush on his older sister, experts say that that feeling could've been "normal" for The Arthur George sock designer.
According to licensed psychotherapist Stacy Kaiser, it's easy for children to developed crush-like feelings toward an older sibling they idolize.
"Sometimes when kids are young, they idolize an older sibling and they think that that idolization is something different," Kaiser told Daily News in 2016. "So it may feel like a crush — that he wants to be like her, that he's drawn to her, that he thinks she's special. In that case, that is normal."
Though Kaiser isn't sure if Rob had a "true crush" on the SKIMS founder, it's possible he may have just had an "experience or feeling that wasn't filtering correctly through his brain."
Rob Kardashian isn't the only one in the family who's had a crush on Kim
Two years before Kardashian revealed his childhood crush was his sister, another member of the Kar-Jenner clan confessed to having a thing for her — well, sort of.
During a 2014 episode of Keeping Up With the Kardashians, Brody Jenner — Caitlyn Jenner's youngest son — claimed that the KKW mogul once kissed his older brother, Brandon Jenner.
After getting teased about having a crush on Kardashian by Kris Jenner, Brody put his brother on the spot, revealing, "That was [Brandon] and Kim, you are forgetting that. They kissed back in the day!"
As expected, the momager and viewers were left shocked by this secret but didn't dwell on it for too long.
The Kardashians really do keep it all in the family.