Does Rob Kardashian Still Have a Sock Line?
The Kardashian-Jenner family is arguably one of the most well-known families in the world. Each of the five daughters has developed their own career path, from Khloe Kardashian's Revenge Body to Kylie Jenner's billion-dollar Kylie Cosmetics brand. Several years back, Rob Kardashian launched a sock line — but we don't hear much about it anymore. Is it still around?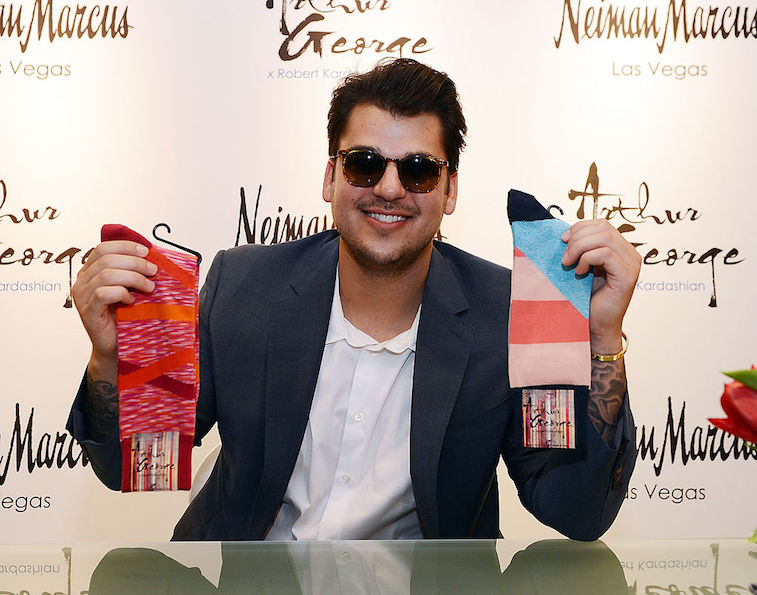 Kardashian launched a sock line back in 2012
When Keeping Up With the Kardashians took off, it opened up a new level of fame for each of the Kardashian-Jenner children. The women in the family went on to have extensive careers in modeling, cosmetics, and more, but Kardashian wasn't interested in any of those endeavors. He wanted to do something in the clothing department and felt that a sock line was just the ticket. In 2012, he launched Arthur George, a luxury sock line named after the middle names of both him and his father, Robert Kardashian. The line was more low-key than anything his sisters had done, but it was right up his alley.
Arthur George is still afloat — but Kris Jenner now owns 50%
Today, the sock line is still going strong — but not without the help of part-owner, Kris Jenner. According to W Magazine, in November 2018, Kardashian gave his mother 50% of the company in exchange for her investing capital to keep the line afloat. The court documents reportedly say that Jenner invested money into Kardashian's sock line to prevent it from going under. Jenner "gained a 50% share in the company" from her infusion, the documents read. Jenner has always been a fan of Kardashian's sock line, and his sisters have gone out of their way to support it on social media as well.
Kardashian has shied away from the spotlight in recent years
Kardashian isn't as public about his life as his sisters are, which may be why not everyone stays up to date with his sock endeavor. Over the years, Kardashian started to gain weight and his mental health hit a low. As a result, he retreated from the spotlight and has made few appearances in the public eye ever since. He made the news when drama ensued with his ex, Blac Chyna, and he posted revenge porn of the rapper on Instagram. However, he has once again taken himself out of the limelight; he's always wanted to live a different life from his sisters.
He has reportedly been working to better himself
Kardashian went through a rough patch that lasted several years, but those close to him have said he's finally doing well. Khloe Kardashian recently revealed that he's been working out more and trying hard to get his life back on track. Scott Disick, Kourtney Kardashian's ex and a longtime friend of Rob Kardashian's, said the same. It could be a while before we see or hear from Kardashian again, but the most important thing is that he's doing well both mentally and physically. And thankfully, it looks like his sock line is here to stay.