Robert Downey Jr., Chris Evans, and 6 Other Marvel Actors on Instagram
Even though Marvel Studios rescheduled the release dates of new movies in the Marvel Cinematic Universe (MCU) due to the coronavirus, fans don't have to wait to see more from their favorite Marvel stars. Why? Because Iron Man actor Robert Downey Jr. and plenty of other stars from the MCU are on Instagram.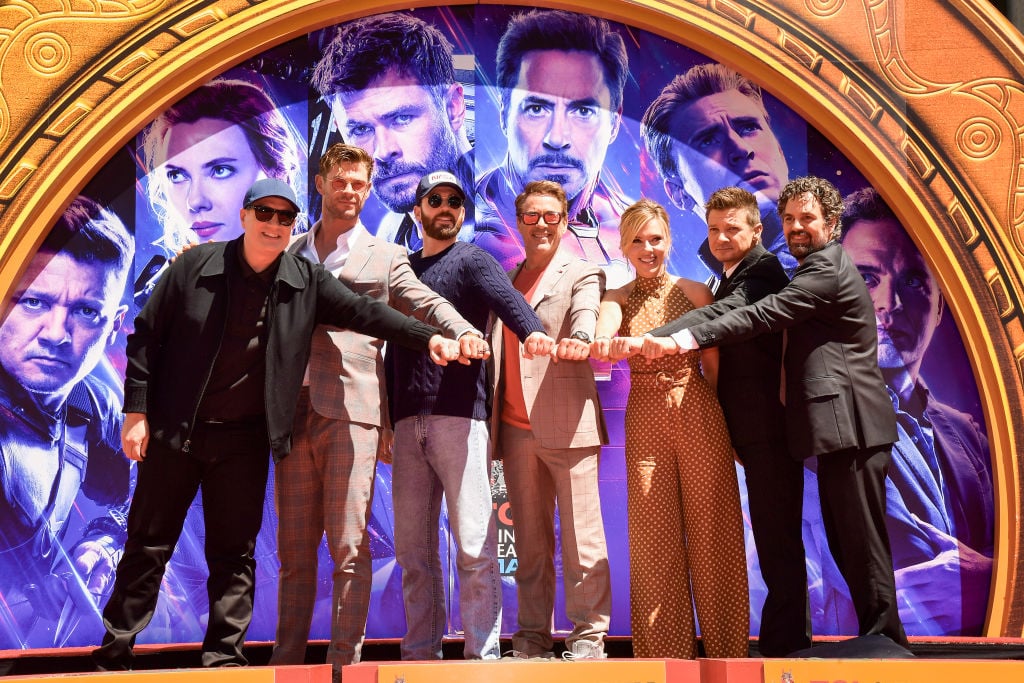 Brie Larson
Carol Danvers aka Captain Marvel played by actress Brie Larson regularly gives her 6.6 million Instagram followers a glimpse inside her life. Not only has she posted photos from major events like the Oscars but she's been known to share epic throwback photos from her childhood. And, of course, there are some behind-the-scenes snaps of as Captain Marvel. 
Mark Ruffalo
Expect a mix of family photos, behind-the-scenes snaps, and famous faces in Hollywood to show up on Mark Ruffalo Instagram grid. Whatever he posts, people want to see it because he has 17.7 million followers and counting. The actor played Bruce Banner aka the Incredible Hulk in the MCU and fans continue to wonder what's in store for the superhero. 
Robert Downey Jr.
As we wrote in the headline, Robert Downey Jr. is indeed on Instagram. And he's among the MCU actors with a major presence. His Instagram is basically a love letter to his superhero character, Tony Stark aka Iron Man, which is why it's not surprising he has a whopping 46.3 million followers. 
Chris Evans
A new addition to Instagram is Captain America actor Chris Evans. Having been acting on Twitter for years, the Massachusetts native made joined Instagram and made his first post on May 1, 2020. As of May 13, 2020, he's posted four times, two of which are of his dog. 
Chris Hemsworth
Like Downey Jr., Chris Hemsworth who is known for playing Thor in the MCU, has a serious Instagram following with 42 million followers. In between promoting his latest roles, Hemsworth posts videos, photos of his family, workout snapshots, and adorable photos of his dog. 
Jeremy Renner
Known for playing Hawkeye in the MCU, Jeremy Renner's Instagram doesn't disappoint. The actor shares behind-the-scenes photos, snapshots of his fellow Avengers: Endgame cast members including a few of Scarlett Johansson who doesn't have Instagram. 
Gwyneth Paltrow
Gwyneth Paltrow played Pepper Potts, CEO of Stark Industries and Tony Stark's longtime love interest since the first Iron Man movie premiered in 2008. Paltrow not only gushes about Downey Jr. on Instagram but she shares photos from her lifestyle brand, Goop. Expect snapshots of her meals, photos of her family, and many other celebrities to grace her Instagram posts. 
Tom Hiddleston 
Loki actor Tom Hiddleston hasn't posted a ton since he joined Instagram in 2016 — as of publication he has 44 posts — but when he does take to the app he doesn't disappoint. He's shared everything from selfies with other MCU actors to behind-the-scenes snaps from his time on Broadway. Plus, in early 2020 he gave Marvel fans a sneak peek at some of the prep work that comes with playing Loki. 
Follow any or all of the aforementioned Marvel stars on Instagram to get to know more about the actors when they're not playing superheroes or villains in the MCU.