Robert Downey Jr.'s Iron Man: A Brief History of Tony Stark's Computer Program, J.A.R.V.I.S., as Played by Paul Bettany
Superheroes need cool tech. It's practically a given in superhero movies these days. Since the days of James Bond, action movies have had impressive gadgets and the Marvel Cinematic Universe (MCU) is no different. Each and every superhero and the villains they battle have some form of fancy gadgetry or a seemingly magical tool. Captain America (Chris Evans) has his shield, Thor (Chris Hemsworth) has his hammer, and Hawkeye (Jeremy Renner) shoots arrows with built-in explosives. And, of course, Tony Stark (Robert Downey Jr.) has the practically indestructible suit he wears to become Iron Man. 
But the program called J.A.R.V.I.S. helps Stark keep the suit running smoothly so he can fight bad guys and save the world. Almost like a sidekick,  J.A.R.V.I.S. is there to help Stark keep tabs on the suit. While fans of the MCU were first introduced to  J.A.R.V.I.S. only as the computer program created by Stark, actor Paul Bettany lent his voice to the character. Ahead, find out more about  J.A.R.V.I.S. and Bettany. 
Tony Stark created J.A.R.V.I.S.
As anyone who has watched 2008's Iron Man or any other movie in the MCU involving Iron Man, Stark is a billionaire who happens to also be a genius inventor. At his sprawling cliffside mansion in Malibu, Calif., Stark tinkers with his creations in a secure and very fancy workshop. While he tweaks his Iron Man suits and arc reactors, Stark uses his computer system, J.A.R.V.I.S., along the way. 
What could J.A.R.V.I.S. do? 
J.A.R.V.I.S. stands for Just A Rather Very Intelligent System, according to Fandom. Named after Edwin Jarvis, butler to Stark's father Howard Stark, J.A.R.V.I.S. started out as the inventor's computer system. As the Marvel movies went on, J.A.R.V.I.S. got more upgrades.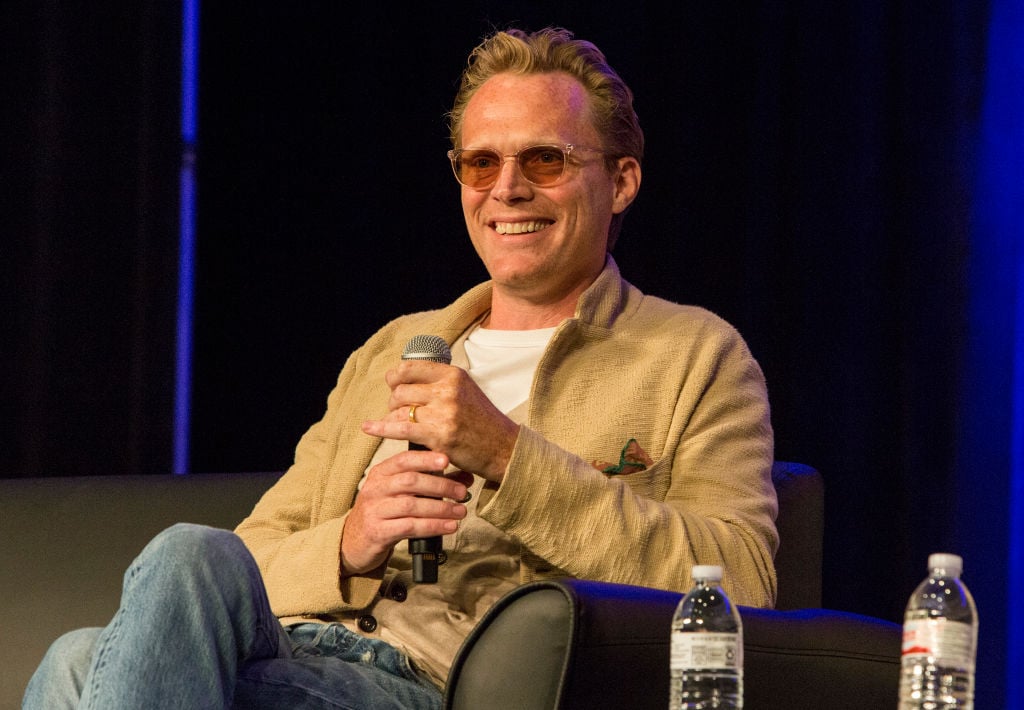 RELATED: MCU Fans Jokingly Exposed Paul Bettany As a Robot in a Behind-the-Scenes Photo
As an artificially intelligent system, J.A.R.V.I.S. managed the security at Stark's home as well as Stark Tower. Stark also had J.A.R.V.I.S. installed in his Iron Man suits so he could utilize it while fighting villains or saving lives. Not only that but J.A.R.V.I.S. would notify Stark if the suit was malfunctioning or if it was low on power. 
Paul Bettany first voiced J.A.R.V.I.S. in 'Iron Man'
An OG cast member, Bettany first voiced J.A.R.V.I.S. in the movie that launched the entire MCU; 2008's Iron Man. Stark asked J.A.R.V.I.S. questions about anything and everything and in an English accent he'd offer up a reply. 
RELATED: Before 'WandaVision' You Can See Paul Bettany In This Drama
According to Bettany's acting credits on IMDb, he continued to lend his voice to the character in Iron Man 2, The Avengers, and Iron Man3. By the time Avengers: Age of Ultron hit theaters in 2015, the actor's role as J.A.R.V.I.S. went from voiceovers to appearances on screen as the superhero, Vision. Bettany is set to reprise the role in WandaVision, an upcoming Disney+ series from Marvel.