Robin Thicke Admits He Got a 'Little Cocky' After the Success of 'Blurred Lines' and It Hurt His 'Crumbling Marriage'
Robin Thicke had a roller coaster year in 2013. On the one hand, the celebrity's song "Blurred Lines" dominated the summer and became that summer's go-to anthem. On the other side, controversy about the song's borrowed production, questionable lyrics, and Thicke's public downfall showed a different side. Eight years on, the singer finally opened up with a little introspection on how the song helped spur his low-point and the ensuing quest for self-improvement.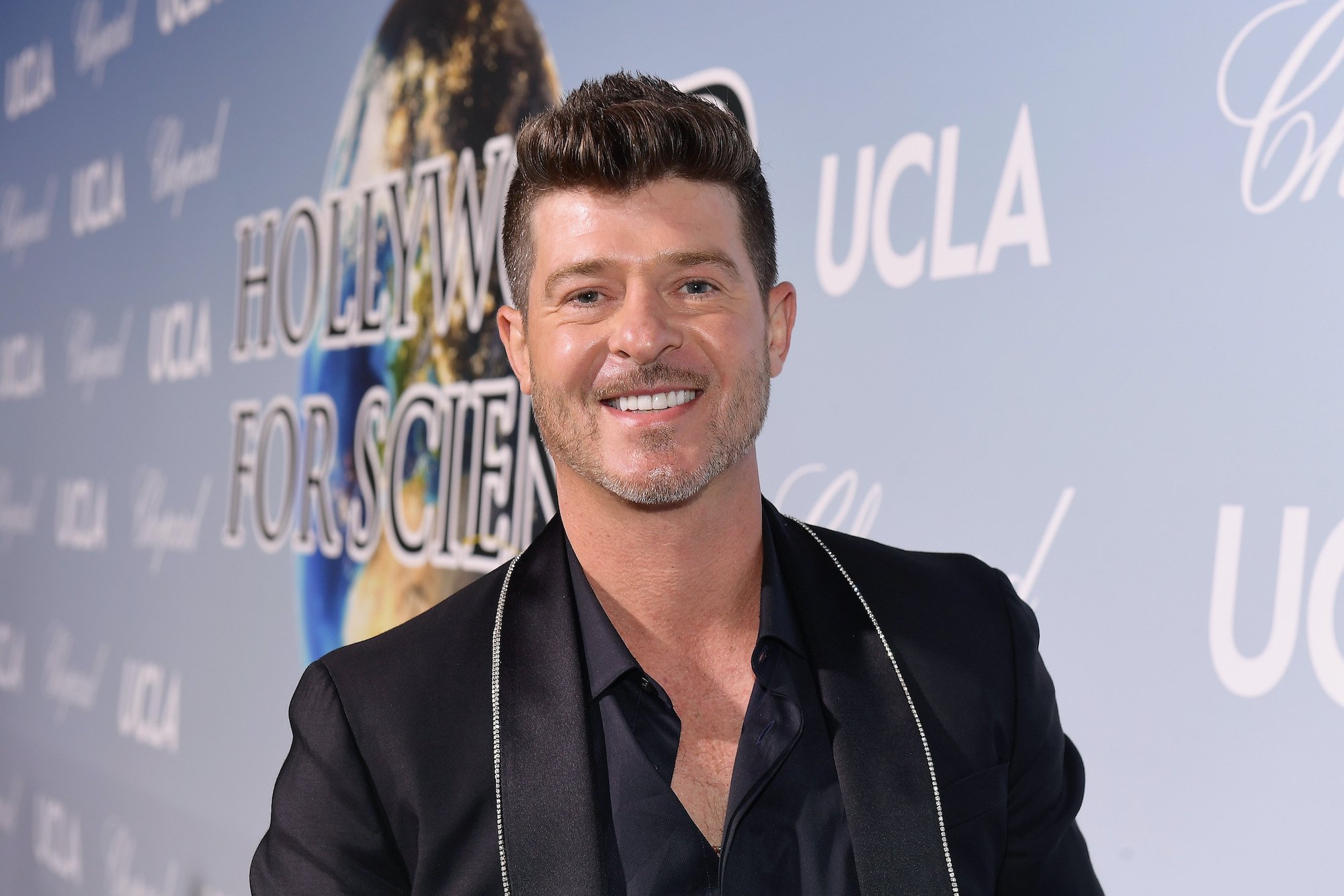 Robin Thicke's privileged upbringing
Thicke didn't have the same path as many musicians. While many come up from the bottom, hone their talent in the realm of the unknown, and pray for the right balance of luck and success to come their way, Thicke had a leg up on the competition by virtue of his dad. He acknowledged this during a recent interview with Dax Shepherd's Armchair Expert podcast. 
"Well you know it's funny, as you were saying, growing up in a semi-privileged life and wanting to be a soul singer, I probably needed these things to happen to justify my music … Now my life is justifying my music finally." 
With more personal music coming and his father's death still in the recent past, Thicke is ready to turn a new leaf. After all, his highest moment professionally coincided with his lowest moment personally.
The summer of 'Blurred Lines'
"Blurred Lines" was a definite hit. It was featured on a hit Target campaign and played at nearly every sporting event. As Yahoo! notes, one particularly infamous moment, in which Thicke performed at the MTV VMA's while Miley Cyrus grinded on him, became a quick meme that still haunts him to this day.
While Thicke was already a famous musician, "Blurred Lines" brought out the worst in him. He told Shepherd about his struggle. He spoke about the success of the song on Armchair Expert:
"You get a little cocky. You start thinking everything you touch is gold. Then you stop focusing on the details, and then you just start saying yes to everything because the check is big … More than that, I think I just wanted it for so long, and then when it came, I was already in a crumbling marriage. We were already at our end of the road."
2013 was the year of "Blurred Lines," but it was also the year of self-destruction regarding Thicke's personal life. After speculation about the singer's infidelity hit the tabloids, Thicke vehemently denied that their marriage was in trouble.
Not long after, Thicke was accused of abusing their son, Julian, according to Billboard. When Patton finally filed for divorce, he infamously released Paula, a public love letter to his ex-wife in which he begged her to give another chance. 
The quest for peace and love
Thicke acknowledges "Blurred Lines" as the harbinger for many of his problems. Add to that the fact that his father died in late 2016, and Patton was barred from attending his funeral, and it's safe to say their relationship was strained. Both have since moved on to other people.
Now back in the spotlight with a new album and a spot on The Masked Singer. However, Thicke is ready to admit his role in his downfall and move on. Thicke always wanted to be a singer, but he wanted to be one who could change the world with love. 
"I had such great intentions when I got started. I was a hippie. I was all about love and equality and positivity and hope… Then all of a sudden, I lost the message. I lost it."
It's not too late. Now that Thicke is trying to reconcile how his past misdeeds affected his present, perhaps he can have a moment's peace, look back at the monster it created, and use that to become the singer he wanted to be as a young child who saw the singers of his day and wanted to have a similar impact when he grew into a superstar. Until he does, however, there will always be questions about his past.
RELATED: The Real Reason Robin Thicke and Paula Patton Called It Quits