Robin Thicke Says the Biggest Change in His Life Post-Addiction Is 'Being Able to Laugh at My Imperfections'
Robin Thicke is many things—a multi-talented musician, recording artist, and a judge on a popular reality TV show. But while Thicke is in a good place now, he had several years of darkness to contend with.
He went through some life events that would test any person. Throwing the pressures of superstardom and fame on top of that only made dealing with them more difficult.
Unfortunately, Robin Thicke attempted to use pills and booze to remedy his problems only to find they made things worse. Now, he's passed all that, and he's achieved a newfound sense of clarity. He recently said what's enabled him to do that is laughing at himself. 
Robin Thicke's earlier success propelled him to music superstardom
The son of legendary actor Alan Thicke, Robin Thicke first gained fame as an R&B superstar. While he's had many hits throughout the years, his biggest smash was 2013's Blurred Lines.
While the song was controversial due to its edgy lyrics, it was a successful hit. Robin Thicke had a seemingly successful marriage with Patton and everything seemed to be going well for him. His marriage faltered, however, and the duo divorced. Robin Thicke then lost his beloved father to a heart attack.
Combining these challenges reportedly drove Robin Thicke to pursue a path of substance addiction that he sadly went down. 
Life hit Robin Thicke hard
Robin Thicke appeared on Dax Shepherd's podcast, Armchair Expert, to talk about his life, career, and experiences with addiction. The singer had a rough few years.
He dealt with a growing addiction issue that only ballooned as he attempted to deal with many of his other problems. His infidelity led to a split between him and Patton. 
Robin Thicke told Shepherd that one thing he's now attempting to focus on with his newfound sobriety is growing more comfortable with aging. He said that his self-image is a constant process: 
"I'm still working on my self-image. Yeah, I'm too extreme with myself. I either love it or I hate it. I gotta find a steady horse in the middle. I"m getting to a neutral ground. Well, I finally have shredded off a lot of the weight this last year because of not drinking and just taking better care of myself.
Since quitting his addictive habits, he has found that being able to laugh, especially at himself, is critical. 
Robin Thicke Says the Biggest Change in His Life Post-Addiction Is 'Being Able to Laugh at My Imperfections'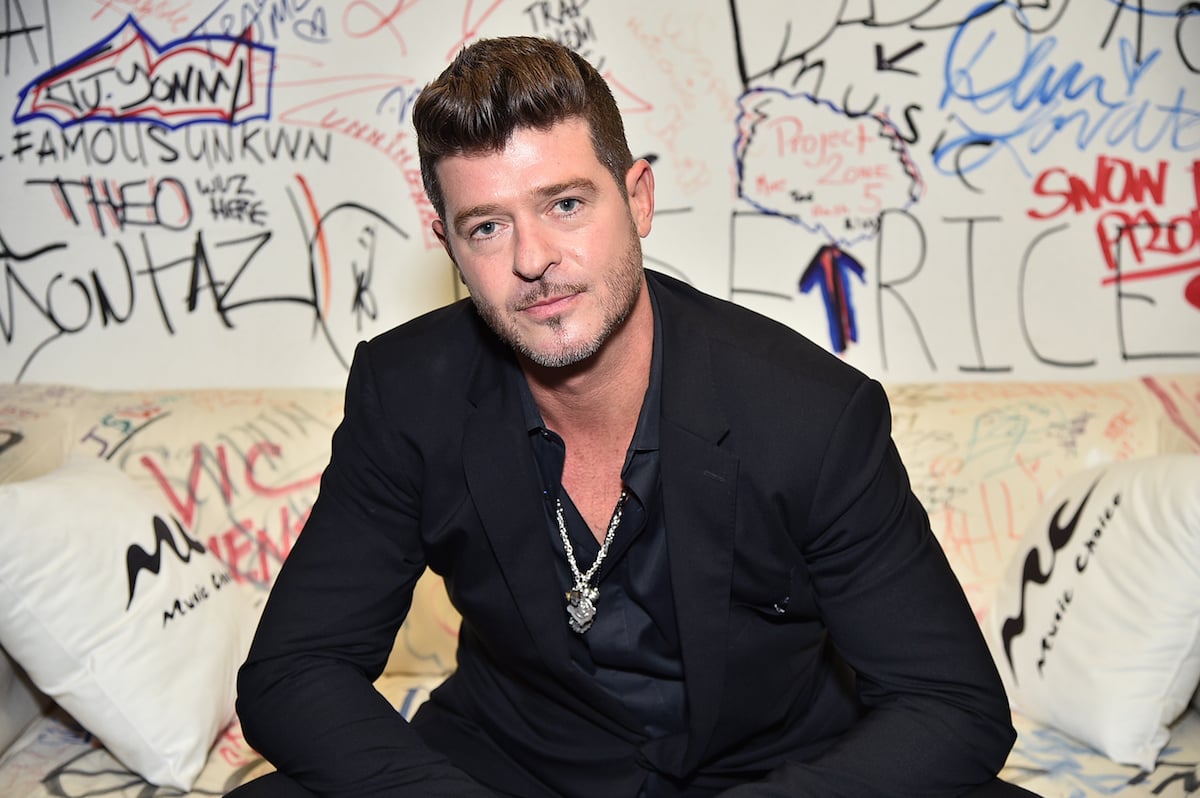 So what has allowed Robin Thicke to stay humble and grounded after exorcising his own demons from his life? Being able to look at himself with a sense of humor: 
"But really the best thing, like I said, is just being able to laugh at my imperfections. And that's been the biggest change. I just wanted to be so cool and so perfect and so fly that I didn't want them to know I had a limp in my knee. Now I'm like, you know what, I'm a dad, just letting it all wash off. And I'm holding onto whatever bit of cool I have left for dear life."
He added he was done playing to people's perception of him, and instead was going to stop trying to be cool: 
"That's what I realized. When I was trying to be cool, I was actually turning people off. I didn't realize it. If I just would've been myself and I would've slowed everything down. But I had to be something all the time. There's freedom in letting it all go, man."
Robin Thicke had had plenty of struggles, but it sounds as though he's come out the other end of it with plenty of perspectives. He's embracing his role as a father and not taking himself too seriously. 
RELATED: 'Growing Pains': Alan Thicke's Career Hit a Low Point Right Before His Audition