Robin Thicke's 2021 Album With Pharrell Features New Music From the 'Blurred Lines' Era
Robin Thicke caused controversy with 'Blurred Lines' — and his new album features music from the same era.
Despite his success with hit songs like 'Blurred Lines,' pop star Robin Thicke wants to move on. A lot has changed since the song dominated in 2013. The song's questionable lyrics combined with a legal dispute about the authorship coincided with the worst moments of Thicke's life.
Looking back on where it got him, however, Thicke wants to reexplore himself and move on while embracing the sound that made him a hit. To do so, he went back to those sessions with mega-producer Pharrell Williams.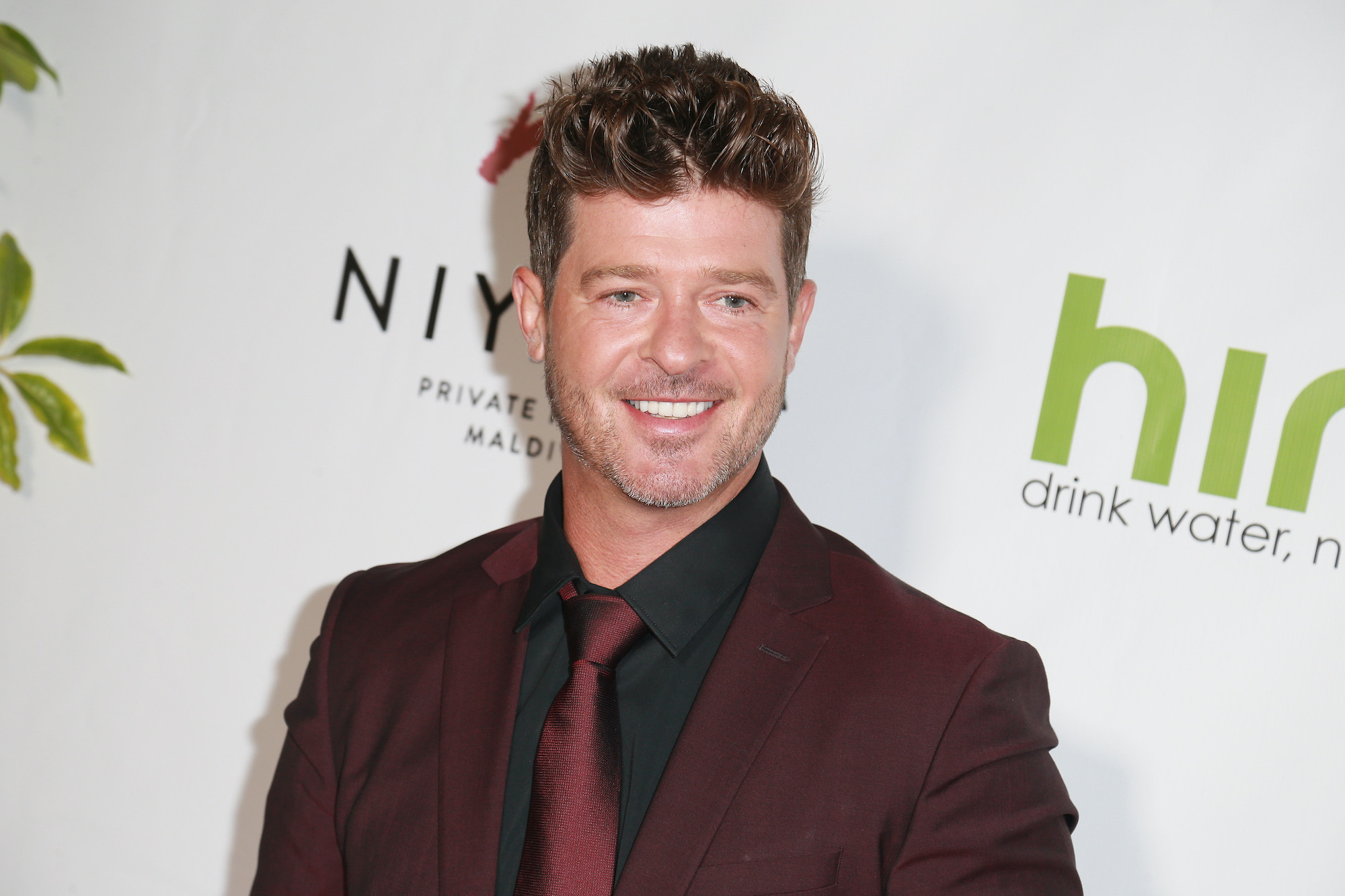 The complicated history of 'Blurred Lines'
Thicke's professional relationship with Pharrell Williams goes back years. However, their 2013 smash hit both secured their status as a power-duo and gave them a healthy dose of infamy. While the song was a definite hit, its questionable views on consent combined with a very similar sound to Marvin Gaye fans made it a complicated song to many. Even Williams has since decried its messaging. 
Add to that his tumultuous relationship with ex-wife Paula Patton and, as Rehabs noted,  public struggle with addiction, it's easy to see why the songster wants another chance to set the record straight. However, with the other work behind them, Thicke found time to finally work on songs that he and Williams started during that time and update them for his new, more nuanced outlook on his life. 
Thicke opens up
"Well, actually, we started this record in the same sessions as 'Blurred Lines' back in the day. We did three days and we wrote three songs. This was one of them. And then we got together four years ago, went back into the studio, added horns, some guitar, added a cooler intro, and just made the record come alive," he told Dax Shepherd on the podcast Armchair Expert.
It wasn't just about the music to Thicke. This record marks a return to form, as well as the dawn of a new chapter without some of the people who helped get him where he is today. With that in mind, Thicke opened up about what it's like to suddenly lose the people he could always depend on for his previous albums. 
After writing the songs and performing them in their base form, Thicke lingered on them until he got his life in order and was ready to bring back the sound that made him equally famous and infamous. However, after a heavily anticipated album in 2013 with parties, fanfare, and crowded social engagements, Thicke is keeping a low-profile this year thanks to his new outlook and the ongoing ramifications of the last year's pandemic. 
"First time I put an album out and there's no celebration, there's no party, there's no friends around. There's no Andre, no dad. It's all very new. And sometimes it's a little sad, but I keep putting my energy into my kids and into my friendships," he told Shepherd.
As People Magazine notes, Thicke's famous father died in 2016 of a heart condition, and the Andre that he speaks of was Andre Harrell, the Uptown Records founder, performer, and producer who helped Thicke secure his signature sound. Harrell died in May of 2020 after years of heart problems. He was only 59. As such, Thicke wanted to pay tribute to the man who helped put him on the map. 
Paying it forward
Thicke's public relationship woes and experiences with addiction are nothing new to anyone who has followed his career. Now, he's the first person to speak about these issues and discuss how they took his life over. After losing a friend and a father, he realized all the missed opportunities his former life enabled. 
"Time that I missed with Andre, the times that I missed with my dad because I was drunk or hungover or I didn't like the way I looked…  now I don't want to ever be like that again and miss an opportunity to spend quality time with the people I love," he told Shepherd. 
It would appear as though Thicke is trending in the right direction. While his past behavior may have led to ongoing scars on both his reputation and his own well-being, his new, candid approach to facing them shows a different side of the 'Blurred Lines' singer. Hopefully, it gives him the peace and closure he desires as he mourns the fallen people who helped get him where he is.