Robin Williams Had a Heartwarming Response When 'Patch Adams' Cast Real-Life Cancer Patients in the Film
Robin Williams used 'Patch Adams' as a chance to make child cancer patients see a brighter future if only for a short time.
The entertainment industry is full of entitled celebrities who often use their A-list status to make outrageous demands before participating in projects. For example, singer Barbra Streisand demanded that her toilet bowl be filled with rose petals. Gary Busey asked the crew of Quigley to get rid of all mirrors for a particular scene.
Celebrated comedian Robin Williams, however, was a tad different and it's reflected in his movies and personal life. The star always took advantage of his celebrity to include everyday people whenever he could in his projects. The Mrs. Doubtfire actor had a heartwarming response when Patch Adams casted real-life cancer patients in the film.
'Patch Adams' cancer patients likened Robin Williams to his onscreen character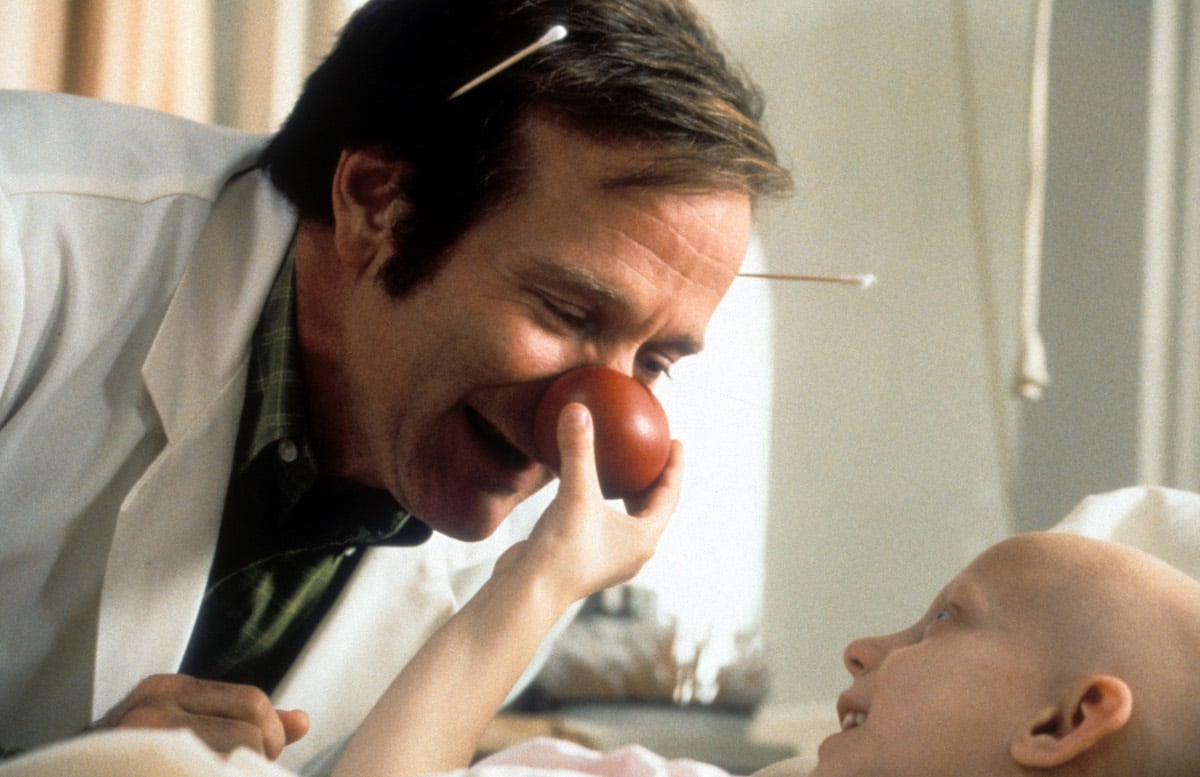 Based on a real-life story, Patch Adams follows Hunter "Patch" Adams, who, at the brink of committing suicide, is committed to a mental institution. There, he learns of the effects of laughter on sick patients and devotes himself to helping cancer patients find a new purpose in life.
Interestingly, the film cast real-life cancer patients for the authentic experience. As many of the survivors recall, working with Williams was more than a wholesome experience. One of the patients, Cameron Brooke Stanley, told ABC7 how Williams would not stop making the children laugh even after the cameras stopped rolling.
Stanley, who was seven years old, was initially cast as an extra but received a speaking role when she auditioned for it. "He didn't really act like this big star," she said. "He just acted like one of us. I mean … even during lunchtime, we would all be sitting out on a table outside, and he would run over, 'Hey, did you try the lemonade? Oh my gosh, it's so good."
Williams also visited Make-A-Wish kids
Williams' generosity and kindness extended beyond the Patch Adams set. The actor also visited various Make-A-Wish children to brighten their days. As the Daily Mail reports, Williams arranged for a fan of his, Jessica Cole, who suffered from an incurable brain tumor, to see him through the Make-A-Wish foundation.
The actor even made the necessary arrangements to fly out to see Jessica when she became too ill to travel, chartering a private plane to North Carolina. Jessica's father, Mark Cole, said she initially had trouble identifying Williams, but when he began doing his Mrs. Doubtfire impressions (which Jessica was a huge fan of), she immediately lit up.
Cole recalled the actor spending the whole day with his daughter making jokes and playing cards while watching a Carolina Panthers game. Jessica, unfortunately, passed away two weeks after meeting Williams.
Williams was also a long-time supporter of the St. Jude Children's Research Hospital, appearing in many of their campaigns. The star generously gave his time to raise funds and awareness for childhood cancer, using his humor and laughter to bring joy to patients' lives.
Williams' death shook the world
On August 11, 2014, fans received shocking news of the passing of one of comedy's legends. Williams' death took the world by storm as he was always described as a bubbly personality. The star, however, had his demons as he was battling Lewy Body Dementia. This caused him to have anxiety, insomnia, depression, and cognitive impairment.
Although doctors credited the actor's sophisticated brain for helping him withstand the condition for a long time, it was only a matter of time before it took over. Williams' death was ruled a suicide.
His Patch Adams co-star Philip Seymour Hoffman died six months later due to combined drug intoxication. Both actors had a huge fan base who mourn them to this day.