Rock and Roll Hall of Fame Class of 2022: '80s Music Fans Are Excited About the Ceremony
Fans of 80s music are thrilled with the Rock & Roll Hall of Fame class of 2022. Groups like Duran Duran and the Eurythmics have '80s music aficionados excited for the induction ceremony.
This week, the Rock & Roll Hall of Fame class of 2022 was announced. With Dolly Parton and Eminem, '80s music hitmakers Duran Duran, Eurythmics, and Lionel Richie will officially be inducted later this year. Fans were thrilled to see this year's class, particularly those who grew up with songs like "Sweet Dreams" and "Rio."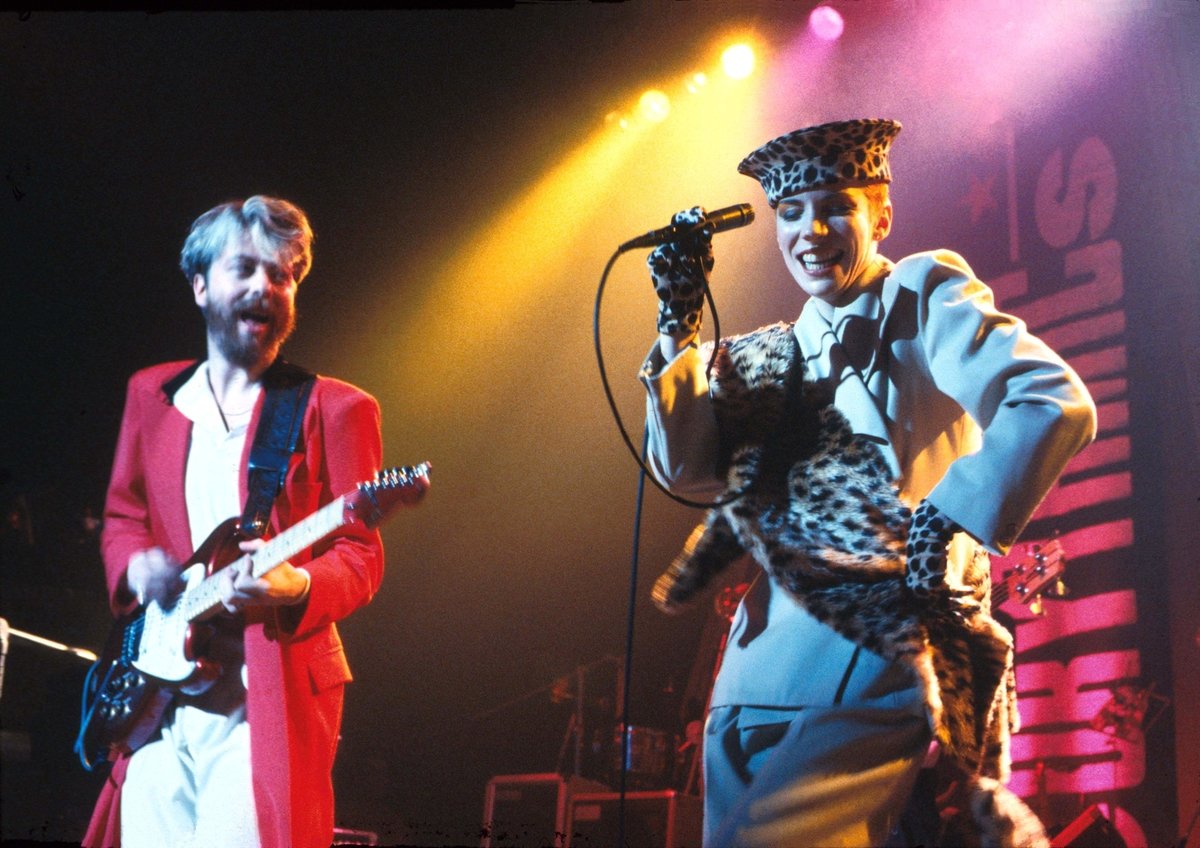 Rock and Roll Hall of Fame induction ceremony 'is going to be a helluva party'
Although some will protest any artist outside of the traditional "rock" genre getting in, many fans were happy to see '80s groups receive the credit they deserve. Synth and new wave groups like Duran Duran and the Eurythmics have fans and supporters ready to celebrate like it's 1985. 
In a Reddit thread about the Hall of Fame inductees, fans shared their joy at their favorite groups being inducted.
One wrote, "Glad to see the bias against new wave artists of the 80s is starting to fade with Duran Duran and Eurythmics getting in." Another fan shared the sentiment. "I am happy they got in, I love them both!" 
Those who identify as '80s babies hopped into the conversation. "This 80s girl is very happy!!!" 
Another fan noted both groups had hits into the '90s as well. "Duran Duran and Eurythmics were pioneers, top notch songwriters, and absolutely A-list in the 80s and even early 90s."
A fan excited about the induction ceremony wrote, "This is going to be a helluva party." 
Duran Duran fans react, "much deserved after a tremendous career"
Although 2022 was the first year '80s new wave band Duran Duran appeared on the Rock & Roll Hall of fame ballot, they were eligible for years. In the fan voting portion of the ballot, their fans made their voices heard, giving the "Hungry Like a Wolf" group a landslide victory with almost 1 million votes. 
Fans were thrilled on a Duran Duran Reddit thread the day after the induction announcement was made.
A passionate fan wrote, "They've been making incredible new music for four decades. They could have rested on their laurels and raked in dough touring as an 80's greatest hits band, but they are artists that need to create, and take chances, and sometimes stumble, but they put themselves out there, over and over."
They continued, "I'm a lifelong fan and am so damn thrilled to see them get this honor…This is so freaking cool."
On a different thread, a fan wondered who would induct the group? They suggested, "I think The Killers would be a great, if a little on-the-nose choice, considering they were heavily influenced by DD."  
Another fan responded with a different suggestion. "Mark Ronson would be utterly perfect for the occasion!"
The Rock & Roll Hall of Fame induction ceremony will take place on Nov. 5 in LA
For fans wanting to party with their favorite '80s groups, the Rock & Roll Hall of Fame induction ceremony will take place on Nov. 5 at the Microsoft Theater in LA.
While on-sale information is not yet available, it appears that becoming a member of the museum may help fans score early tickets. The official website says, "Pro tip: Become a Member by June 30th for early access to Induction Ceremony opportunities."
Additionally, SiriusXM VOLUME, channel 106, and Rock & Roll Hall of Fame Radio, channel 310, will be broadcasting music and conversations from the new class.