Roger Federer Has Some High Fashion Friends
In many ways, Roger Federer and Anna Wintour can be viewed as the absolute peak of their collective worlds. For Federer, he is part of a three-headed monster that has dominated tennis in some capacity for well over a decade. For Wintour, her brash personality and status as a fashion icon with Vogue magazine have made her an internationally recognizable name.
These unrelated fields of interest may not seem to be the making of a wonderful friendship, but the pair have recently become extremely close, and here's the story of how that happened.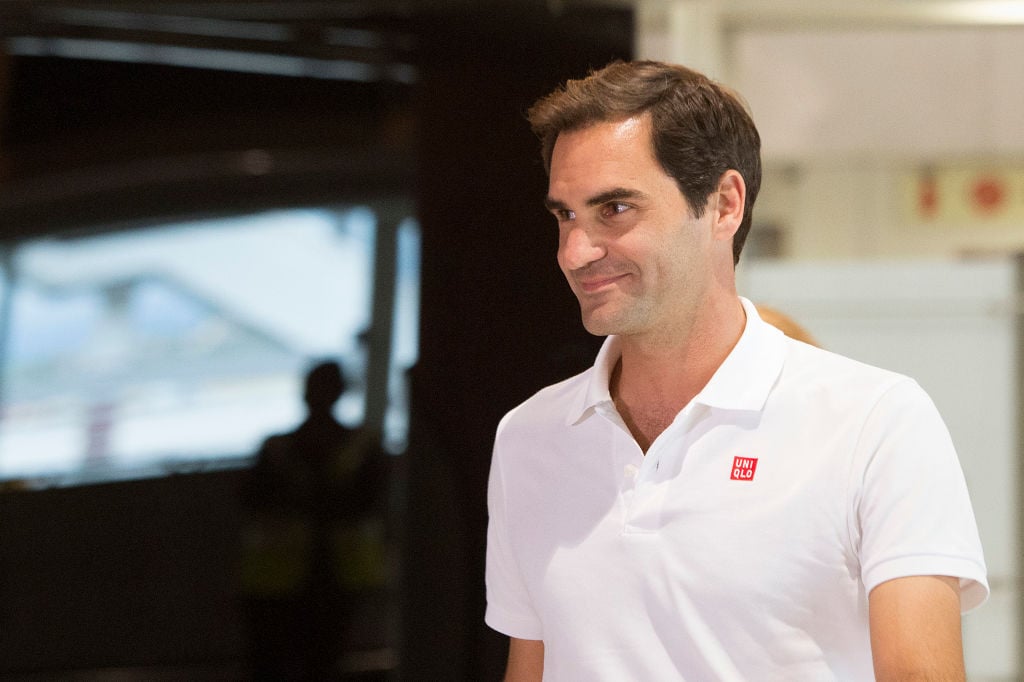 The Anna Wintour Story
Few things connect Wintour and Federer other than their status as celebrities. Wintour got her start writing about fashion for a variety of magazines before landing at British Vogue and eventually American Vogue. Her passion for the fashion world came through with every word she wrote. The sassy takedowns and famous hair-trigger made her a favorite among readers and those inside the fashion world.
Wintour, whose signature look features sunglasses and a distinct haircut, has been a pioneer of not only fashion writing but the movements that come and go in the world. Long dismissive of fashion that is expensive for the sake of being expensive, Wintour was a major proponent of high low fashion. Her reputation was solidified thanks to the book and eventual film adaptation of The Devil Wears Prada, which was inspired by Wintour's overall persona. 
The Roger Federer story
Federer, on the other hand, began to make his name in 1998 in men's professional tennis. Despite a career that dates back over two decades now, he is still one of the most dominant players in the world with Novak Djokovic and Rafael Nadal close behind. His agelessness and ability to come up against a new generation of competitors nearly half his age have made him an iron man, and this unwillingness to go away may explain his friendship with Wintour.
Federer has the world record for most men's Grand Slam titles with 20. Despite approaching 40 years of age, he has not lost a step, either. The tennis world may now be in hiatus, but Federer continues to disallow anybody to take his throne. He is also among the savviest businessmen in sports, with his worth expected to reach billionaire status by the end of 2020.
A match made in heaven
Wintour is an avid tennis fan, and her vocal support of Federer dates back before either of them knew one another. The pair met at the U.S. Open in 2005, according to Wintour, after a friend of hers arranged the meeting. Federer is not her only tennis friend, however. The fashionista also counts Serena Williams as one of her buddies.
The friendship has endured. A 2013 recap of the event at the New York Daily News detailed her arrival at a Moet & Chandon anniversary party to support her friend. She did so in a way that borders on self-parody.
"The best part of the night was when Anna arrived to support her friend and Moet ambassador Roger Federer," a source told the paper. "She was looking for a place to sit down in the noisy packed room, but when she saw her only option was a seat that had been blown up, she decided to stand and was clearly not happy."
Despite this, Wintour and Federer remain close friends. Wintour is constantly seen cheering on Federer at events across the world, and according to The Daily Mail, she has even tried to give him advice about his on-court fashion. According to her, however, he didn't listen.
Out for lunch
At the 2019 Australian Open, Federer and his wife, Mika, were seen conversing with Wintour at a Melbourne restaurant. Never known for her smile, Wintour beamed as she spoke to the tennis great. She detailed her love for him in a piece for Tennis.com, stating her rejection of the label "fan."
"'Fan' is quite an understatement," she wrote. "I have flown across the world for his tournaments; I've endured agony when he's been a set down and ecstasy when he's stormed back; I have even missed more than the occasional fashion show – all for the privilege of witnessing Roger play what is surely the greatest tennis of all time,"
Federer and Wintour remain close friends to this day. As the tennis great goes into the twilight of his career, he knows that he has a fan, friend, or whatever Wintour wants to call herself sitting there cheering no matter where he is.