Roman Reigns & 'Money In The Bank' 2021: Predictions, Spoilers, & News
Roman Reigns will be featured on tonight's 'Money in the Bank' competition. Here's what we know about his appearance.
Roman Reigns is a polarizing figure in the WWE. Some fans love him — other fans hate him — but there's no in-between when it comes to him. Tonight, he'll be featured on the Money in the Bank event on the WWE Network. Here are some predictions, spoilers, and news updates regarding tonight's event.
[Spoiler Alert: Potential spoilers for Roman Reigns at tonight's Money in the Bank event are up ahead.]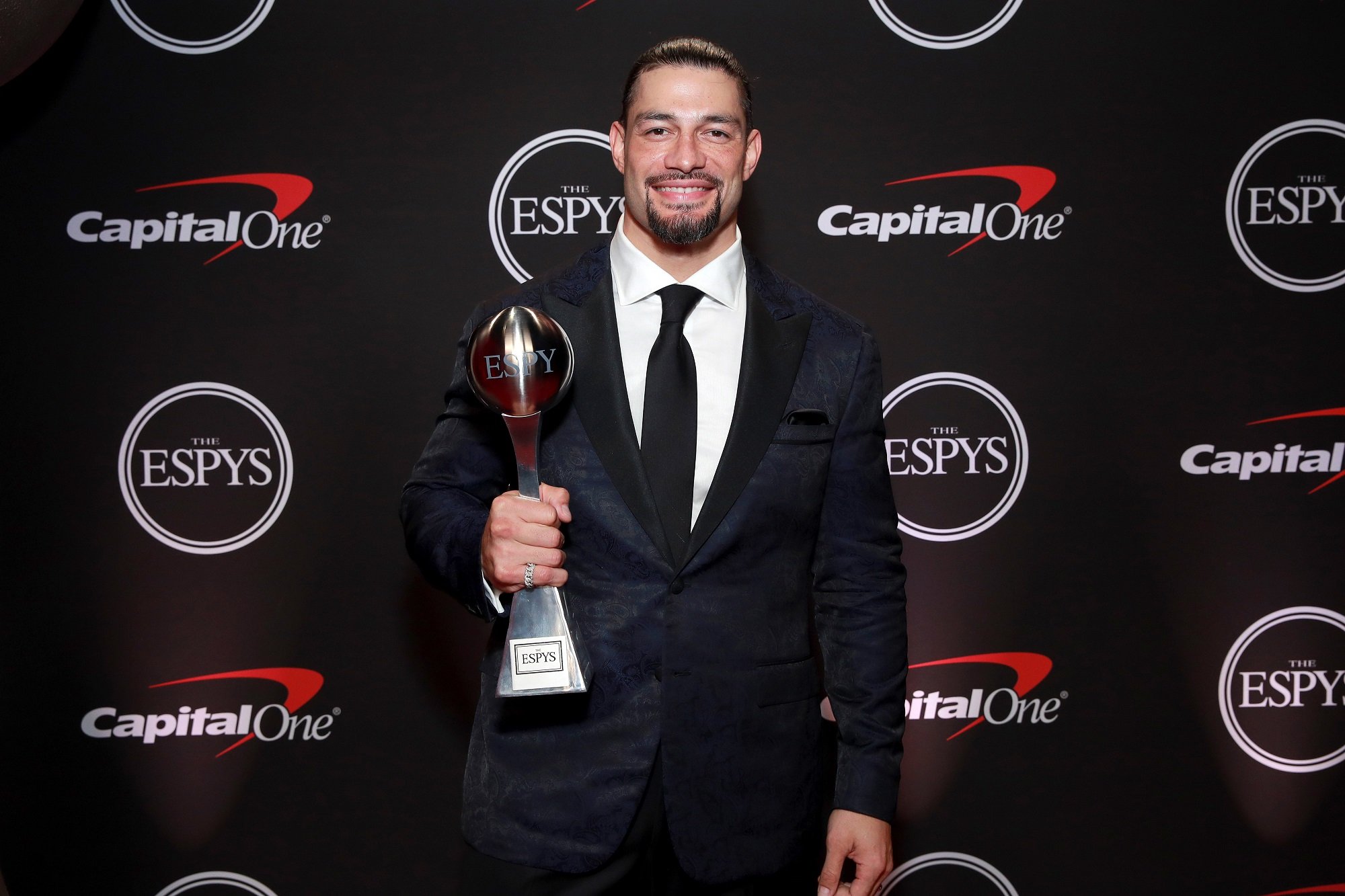 Roman Reigns is predicted to retain his title
Bleacher Report believes that Roman Reigns will hold on to his Universal Championship title. According to the outlet, the WWE wants him to break Brock Lesnar's 503-day record of holding the title.
"Too much has been put into Reigns and this new version of his character to throw it away just yet. While he's held the title for nearly a year, it still doesn't feel like it's been all that long," they said. "It's likely Reigns could surpass Brock Lesnar's 503-day reign. Even if that isn't in the cards, he will keep the belt until at least SummerSlam, as that's the bigger show."
However, there will be a "fight" for the title. Edge isn't going to go down easy, for sure.
He'll face off against John Cena next
Rumors about the nature of John Cena's battle against Roman Reigns have existed since Cena announced his return to the WWE. Cena's return, according to another report for Bleacher Report, is set for an episode of Raw or SmackDown.
Regardless of when Cena ends his feud with Reigns, it doesn't look to be a long-term battle. Cena previously made clear that his return to the WWE would only be a short-lived one. And all this feud will be doing is setting the stage for future battles for Reigns.
It's believed that Reigns will either fight Bobby Lashley, Sheamus, or Apollo Crews next.
What did he say about his legacy?
Recently, Roman Reigns was asked about his legacy. And he seemed to be very confident in how he would be remembered.
"There's been nobody to ever carry the WWE product as I have over the past year and I stand on that," he said to CBS. "You can throw anybody out. We can try and be nice and say, 'Oh, Bayley! She just got hurt. She was the best.' Come on, let's not lie to ourselves. The Tribal Chief has carried the WWE for well over a year now and there's no denying it."
We'll all see tonight if Roman Reigns continues his legacy after Money in the Bank.