Ron Howard Called the Feud Between Tom Hanks and Henry Winkler 'Disappointing'
Tom Hanks and Henry Winkler had a falling out during the filming of 'Turner and Hooch', which put pal Ron Howard in an awkward spot.
Oscar-winning director and former TV star Ron Howard has made a lot of famous friends over his decades in Hollywood. Headlining ABC's Happy Days from 1974 to 1980, Howard became close friends with co-star Henry Winkler, who played the uber cool Arthur "the Fonz" Fonzarelli.
Beginning to collaborate with Hollywood icon Tom Hanks in 1984 for the film Splash, Howard and the two-time Academy Award winner also formed a tight bond over the years. Yet things got a bit awkward when his two buddies had a falling out over a 1989 movie.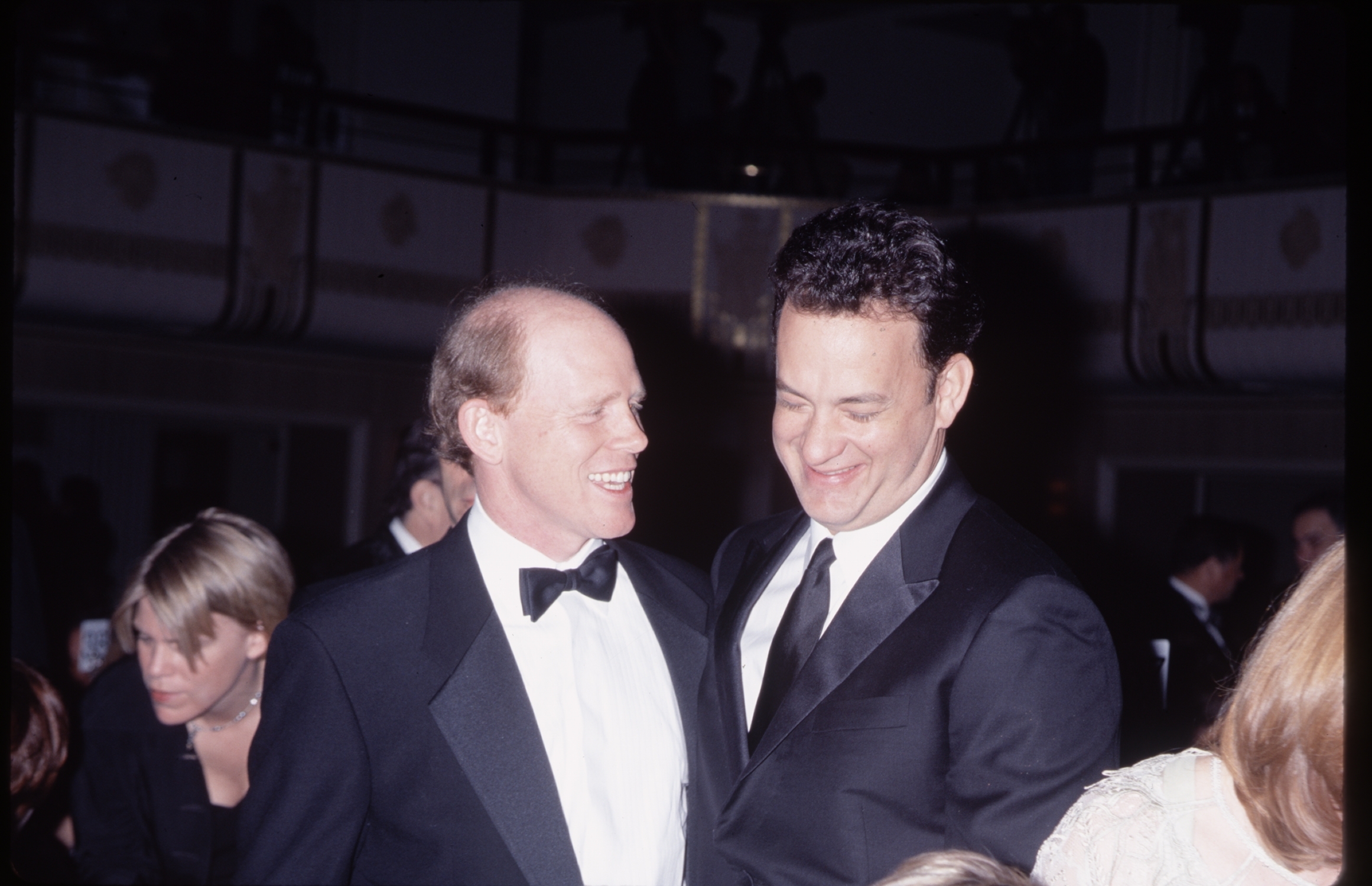 'The Fonz' gets fired
Hanks starred as Scott Turner in the 1989 action-comedy Turner & Hooch, playing a detective trying to solve a murder with an incredibly large and rambunctious dog (Hooch). Winker served as director on the film, but ended up getting his walking papers after less than two weeks.
In an interview on Watch What Happens Live with Andy Cohen, the former Happy Days star spoke in vague terms about the incident.
"I was directing that movie for 13 days and then I was called into Jeffrey Katzenberg's office," Winkler recalled in 2019. "[Katzenberg said] 'Do you have everything with you? Go home.'"
Telling Cohen that he "got along great, great with that dog – Love that dog," Winkler conspicuously left out Hanks' name. "I don't even remember the title of that movie," he remarked.
Ron Howard called the incident 'unfortunate'
When recently asked about the conflict between his two close friends, Howard admitted it was a regrettable skirmish.
"It was disappointing," the Apollo 13 director told The Guardian in September 2020. "I'm friends with them both and both men felt compelled to come to talk to me about it. It was just one of those unfortunate things where they really had a working style that did not fit. I know it was painful for both of them and I was able to lend an ear, if not offer any solutions."
Winkler has since backpeddled a bit, saying he was just having "fun" during his sit-down with Cohen. Howard remarked that the two consider bygones to be bygones all these years later.
"They've both been invited to my birthday parties," Howard revealed. "It's been a lot of years, two men with a lot of water under the bridge."
'Andy Griffith' star isn't a fan of Tom Hanks' impersonations
While he's never allowed Hanks' impressions of him to cause a rift, the Howard is quick to criticize the actor when he tries his hand at impressions.
"I think his imitations [of me] are terrible!" the former Andy Griffith star said. "But they're sort of infectious. I now find, when I'm directing him, I direct Tom the way he portrays me on talkshows. But we have a lot of laughs about it."
Working in show business since the young age of 6 years old, Howard has grown accustomed to the ins and outs of Hollywood.
"I grew up as a child actor, been working all my life, and I love it," he said. "But it does create a kind of bubble. So I look for projects that lead me to life experiences I wouldn't have otherwise had – and on my own I'm an introverted, risk-averse individual. But, when there's a story to be told, it gets me out of the house, talking to people, learning things. And then I just go."