Ronnie Ortiz-Magro Shares Clickbait About Angelina Pivarnick's Alleged Divorce, 'Jersey Shore' Fans Confused
Ronnie Ortiz-Magro is sharing links to articles about Angelina Pivarnick's alleged divorce — here's what we know about the 'Jersey Shore: Family Vacation' star's clickbait.
Ronnie Ortiz-Magro may not be part of Jersey Shore: Family Vacation anymore, but that's not stopping him from sharing news about his co-stars. Ortiz-Magro recently shared an article concerning Angelina Pivarnick and Chris Larangeira's alleged divorce. Now, many Jersey Shore fans are confused — what's going on with Pivarnick's marriage, and why is Ortiz-Magro posting about it on Instagram?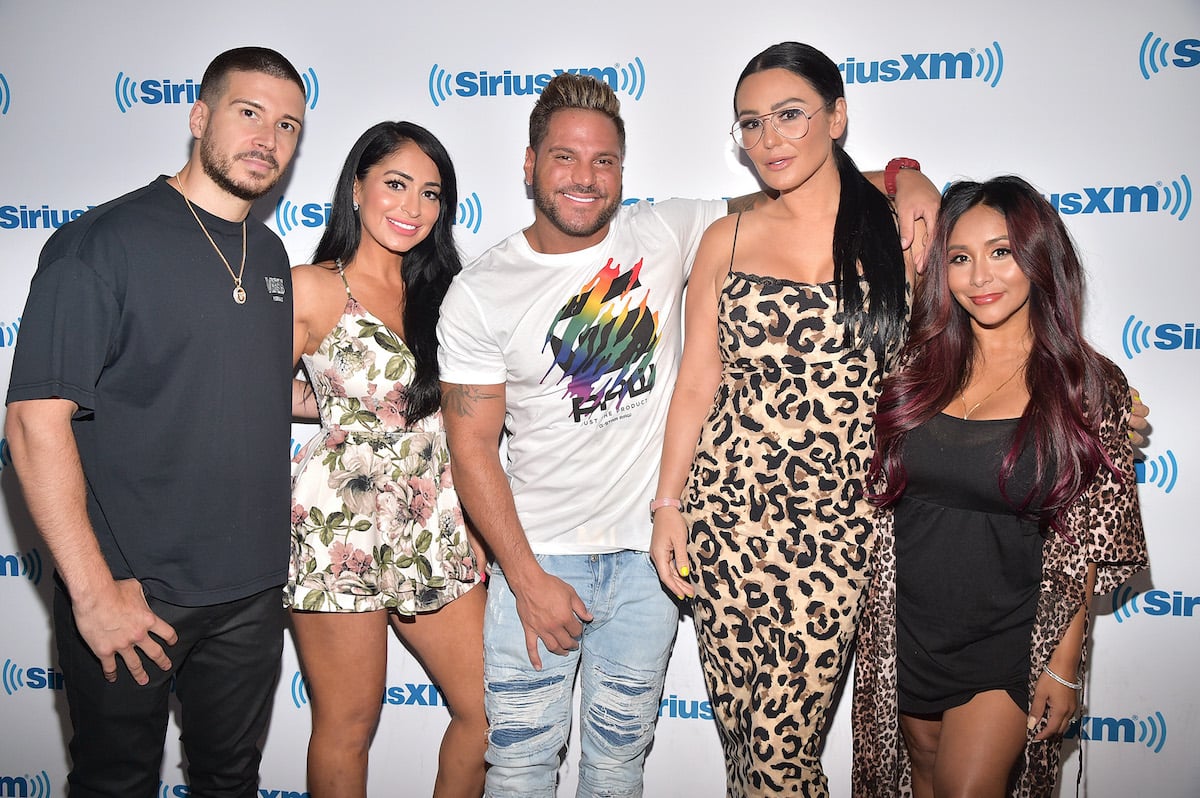 Ronnie Ortiz-Magro shares alleged news of Angelina Pivarnick's divorce 
On June 14, Ortiz-Magro shared a post on his Instagram of Pivarnick and Larangeira. "Angelina releases official DIVORCE statement," the reality star captioned the photo. He also included a broken heart emoji and a #LinkInBio. 
Ortiz-Magro shared the same image to his Twitter and Instagram Stories, including a "Swipe Up" link in the post. The CelebBuzz article Ortiz-Magro is promoting rehashes what Pivarnick said during "The Party's Back" episode of Jersey Shore: Family Vacation. 
At the time of publication, Ortiz-Magro isn't allowing comments on the post. It's unclear how the rest of his Jersey Shore co-stars feel about their former roommate sharing the article, including Pivarnick. Representation for Pivarnick did not respond to a request for comment regarding Ortiz-Magro's post at the time of publication. 
What's more, many fans are confused why Ortiz-Magro would share an article that doesn't pertain to him. Most are especially confused because Ortiz-Magro has stepped down from the MTV show. 
Ronnie from 'Jersey Shore' has fans thinking he's trying to 'bring Angelina Pivarnick down' 
Fans on Reddit have a lot to say about Ortiz-Magro's Instagram post. Many of them call his actions clickbait, assuming the reality star is getting paid for the number of views he solicits with his post. 
"Isn't it kinda weird Ronnie is posting about her relationship?" one Jersey Shore fan asked on Reddit. "It's like he's trying to bring her down?? Kinda messed up."
"They just post these ads regardless," another user commented. "It's clickbait. Makes them money. He's not doing it in a shady way. They all do this."
"I went on her page and she's not even posting about the divorce so why is Ronnie?" another fan asked in the Reddit thread. Meanwhile, other Jersey Shore fans don't understand why people are making a big deal out of Ortiz-Magro's post, considering the times Pivarnick has shared similar articles. 
"Am I the only one that doesn't think this is a big deal?" the fan said. "Angelina has posted so much clickbait swipe-ups about Mike ["The Situation" Sorrentino] and Ron in the past." Ironically, Sorrentino's wife called Pivarnick out about sharing these types of clickbait articles in the first episode of Jersey Shore: Family Vacation Season 4. 
'Jersey Shore: Family Vacation' episodes will reveal more about Angelina Pivarnick and Chris Larangeira's relationship 
At this time, Pivarnick is keeping her relationship with her husband under wraps. The reality stars are reportedly still together and working on their marriage. 
"Right now, we're just living life," Pivarnick told In Touch Weekly. "That's all I can say right now. One thing I've learned since being married is communication is a big thing in a relationship. If you don't have that, sometimes sh*t hits the fan."
A source close to the Jersey Shore roommates also tells the outlet Pivarnick is encouraging fans to tune in to Jersey Shore: Family Vacation to see how the rest of the story plays out.