Rosamund Pike: Why Her Netflix Movie 'I Care a Lot' is Getting 'Gone Girl' Comparisons
The new Netflix movie I Care a Lot starring Rosamund Pike is already garnering many comparisons to the actress' 2014 film co-starring Ben Affleck, Gone Girl. Netflix released a trailer for I Care a Lot on Jan. 14, showing Pike in a similar haircut to her Gone Girl character Amy Dunne. But the I Care a Lot trailer comparisons with Gone Girl for reasons other than Pike's physical appearance.
Read on to see why people are comparing I Care a Lot and Gone Girl.
[Spoiler alert: This article contains spoilers for Gone Girl]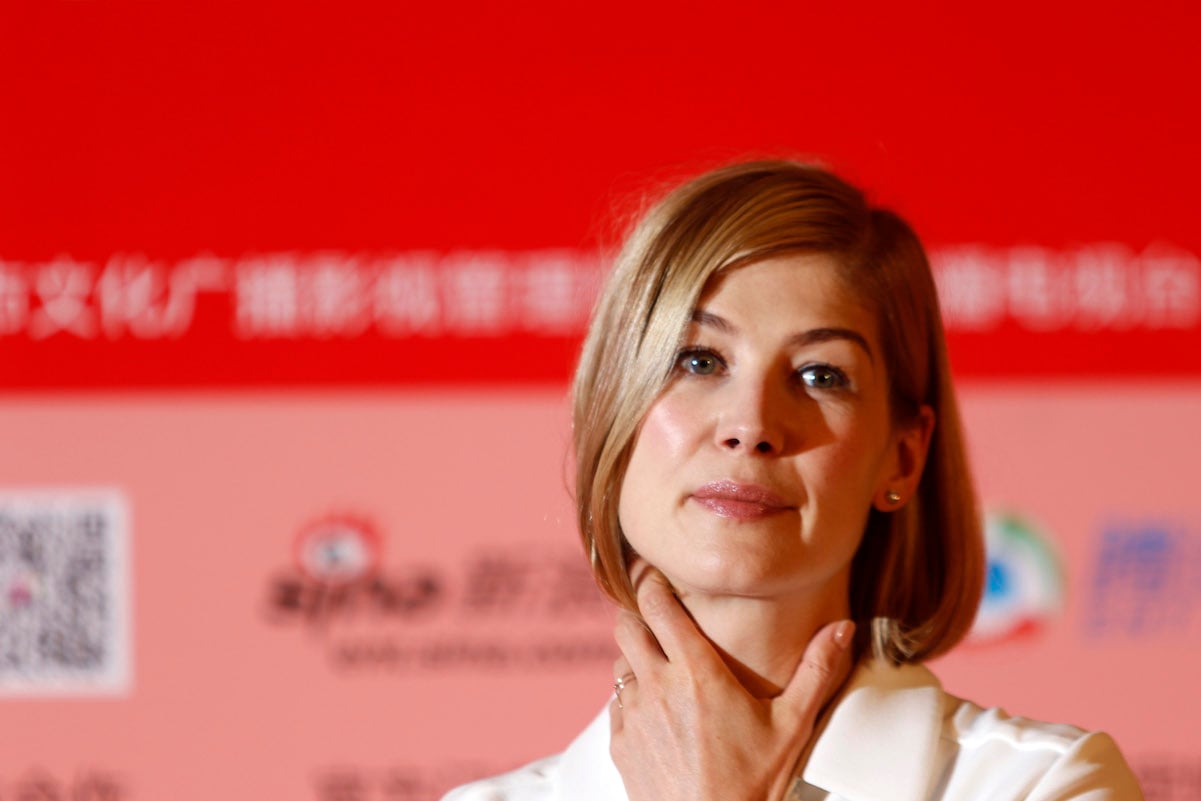 What was Rosamund Pike's movie 'Gone Girl' about?
The 2014 film, directed by David Fincher and written by Gillian Flynn (who wrote the book the movie was based on as well), stars Pike and Affleck in a psychological thriller showing a "cool girl" framing her husband for murdering her. In the end, Amy traps her husband into staying with her when she publicly returns to him.
Gone Girl includes fun monologues detailing Amy's plan to scam her husband, and shows how Amy goes from being what she thought men wanted to fully and unapologetically being herself.
The cast includes Pike, Affleck, Neil Patrick Harris, and Tyler Perry, among others, with Reese Witherspoon producing.
What is the new movie 'I Care a Lot' about?
In I Care a Lot, instead of conning husbands, Pike's character, Marla Grayson, targets the elderly for her detailed schemes.
"My name is Marla Grayson," her character says in a voiceover in the new trailer. "I'm just someone who cares." Marla looks at a wall full of elderly people the audience can assume she has conned already or is planning on targeting next.
The trailer shows how Marla tricks the elderly into giving her guardianship over them, then sells their houses and profits from the sale. But her plan apparently goes awry when one client brings along added trouble for Marla.
This film stars Pike, Peter Dinklage, Eiza González, Dianne Wiest, and Chris Messina.
Why are the two movies being compared?
Pike's newest film is already making fans and critics connect Gone Girl with I Care a Lot, per Autostraddle.
From what we have seen from I Care a Lot so far, it appears that both this film and Gone Girl focus on main characters portrayed by Pike who are attractive scammers. Besides the obvious blonde bob haircut worn by both Amy and Marla, Pike's character in I Care a Lot already has a clever and cunning monologue just like Amy's in the trailer and a plan to trick others.
Amy's endgame in Gone Girl was originally to humiliate and frame her husband, but her plan changes when she sees him become the man she originally fell in love with. Marla's endgame goal from the trailer seems to be making a lot of money and preying on the vulnerable. Yes, the characters are likely different off the bat, but the similarities make us definitely want to tune into the upcoming Netflix film.
I Care a Lot streams on Netflix Feb. 19.