Rosario Dawson Revealed That She Surprisingly Has Monster Truck Driving Experience
Rosario Dawson may be one of the most underrated actresses working in big movies today. She has a lot of talent, as she has worked in many different genres.
She played a heroin abuser in the adaptation of Rent, she played Night Nurse in the Netflix Marvel shows, and soon, she may be playing Ahsoka Tano in the upcoming season of The Mandalorian.
But her talents are more than just acting related. In fact, she actually has some monster truck driving experience.
Rosario Dawson in 'Zombieland: Double Tap'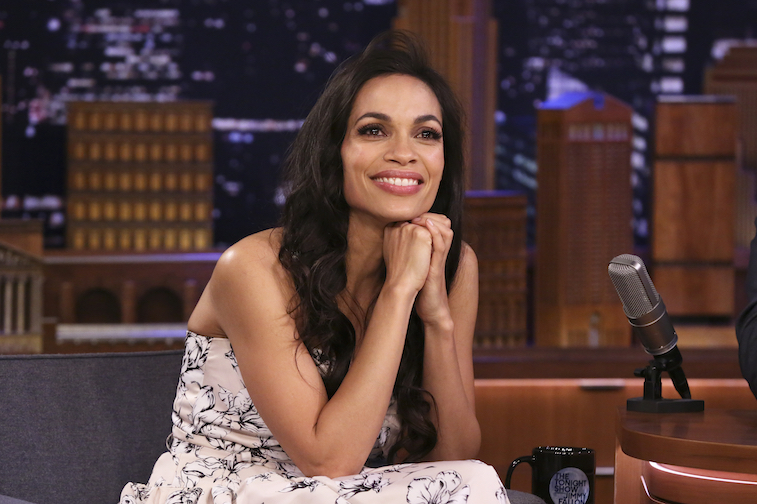 In this long-awaited sequel to Zombieland, Dawson earned herself a major role in the film. Zombieland: Double Tap picks up many years after the original movie. Tallahassee, Columbus, Wichita, and Little Rock are still together, surviving, and doing their thing.
However, Little Rock, who's now a grown woman, wants to explore the world, and so, she runs away.
Tallahassee, who sees himself as a father to Little Rock, couldn't allow that, so he, Columbus, and Wichita go and try to find Little Rock. Along the way, they stumble into Nevada's bar. Nevada, who's played by Dawson, quickly hits it off with Tallahassee.
But soon, Nevada's friends, Albuquerque and Flagstaff, return to the bar in their monster truck. Albuquerque and Flagstaff die from a zombie attack, so the survivors take the monster truck to try to find Little Rock. 
Fast forward a bit and there's a big zombie attack on the base where Little Rock is now staying. This base is full of pacifists who refuse to hurt the zombies, so it's up to the cast that we know and love to save the day. That's where Dawson's monster truck comes in. Everyone runs out of bullets and they're trapped in a corner.
Then, Dawson swoops in with her monster truck, gets everybody on board, and then uses the monster truck to run over all the zombies.
How Rosario Dawson got to drive a monster truck
As Dawson said to Conan O'Brien, who was interviewing her, she got a chance to drive a monster truck while making the movie. She doesn't really talk too much about it, but it was likely to get her prepared for the role. It's also possible that she got to drive the monster truck for fun.
Like Dawson said, Kevin King, the person who built and owned the monster truck used in the movie, did all the stunts for the movie as well. With that said, it's very common for stunt drivers to do all the stunts in movies instead of the actual actors.
But still, at the very least, Dawson was able to try her hand at driving that monster truck.
What Rosario Dawson is up to nowadays
Her biggest future role, if confirmed, will be as Ahsoka Tano in the second season of 'The Mandalorian.' This is a big deal for a lot of reasons. Not only is 'The Mandalorian' part of the Star Wars franchise, but Ahsoka, as a character, is also a very popular character with a long history.
If you've never seen 'The Clone Wars' TV show, then you may not have heard of Ahsoka until now. Regardless, with Dawson's potential casting as that character, it may mean that Dawson will have a long and lucrative career in the Star Wars franchise. Ahsoka's life is long and linked to many characters that Star Wars fans know and love, such as Obi-Wan Kenobi and Anakin Skywalker.
That said, that's not the only big thing that she's gotten herself into. Dawson is actually in a relationship with the former Democratic presidential candidate and current senator from New Jersey, Corey Booker. They haven't tied the knot yet, but it may just be a matter of time.