Ross and Matt Duffer Confirm a Time Jump for 'Stranger Things' Season 5
Stranger Things 4 Volume I just premiered on May 27, 2022, with volume II following on July 1, 2022. However, the show's creators, Ross and Matt Duffer, are already looking ahead to season 5. The brothers announced Stranger Things Season 5 would be the final season of Netflix's hit original series, and now, it's time to dive into what that looks like.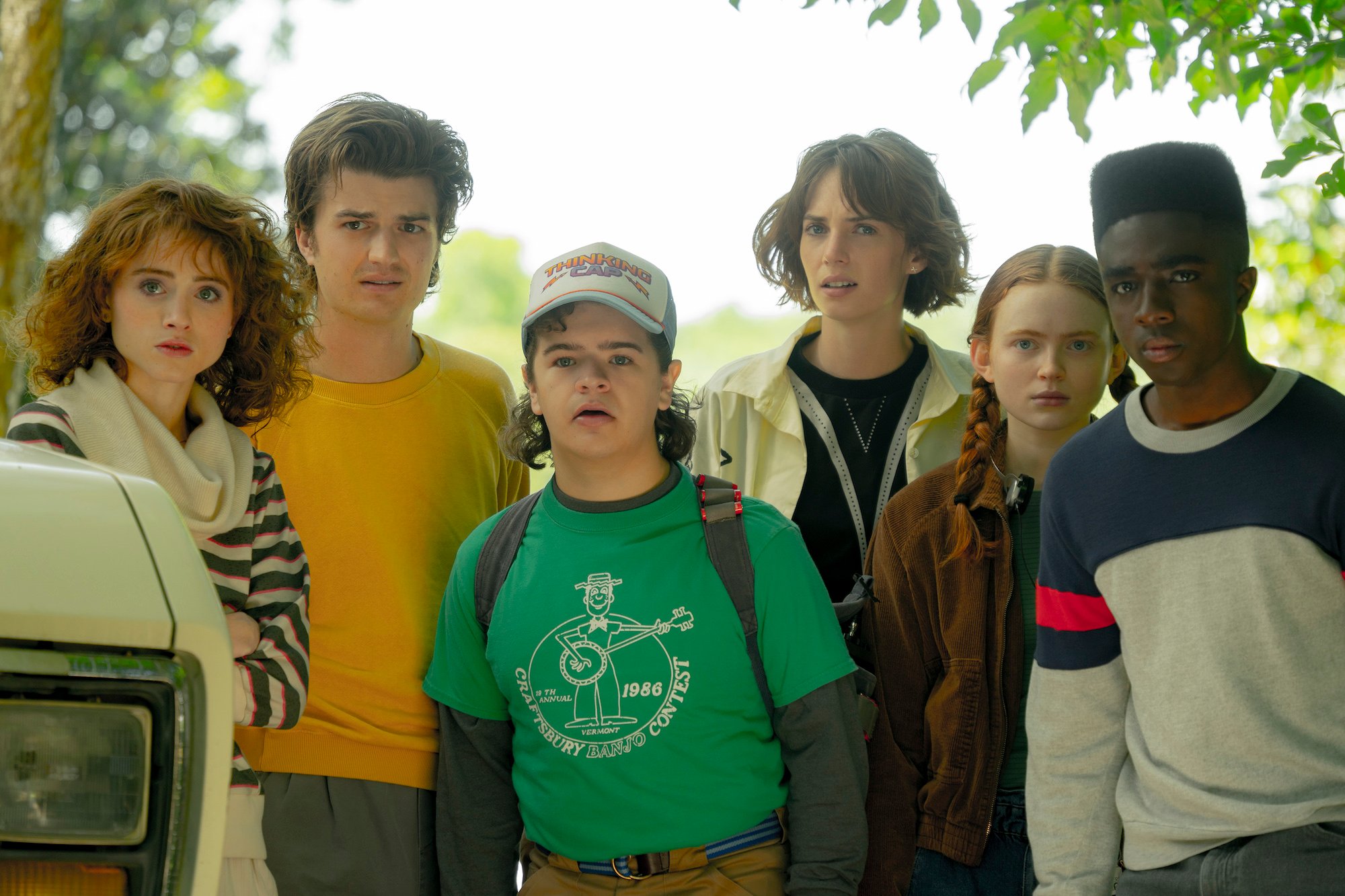 The cast's ages were a concern for 'Stranger Things' Season 4
The coronavirus (COVID-19) pandemic caused a delay in the filming and production of Stranger Things Season 4, and almost three years passed after season 3. With such a young cast, many worried their real-life ages would interfere with their ability to play characters in high school. Caleb McLaughlin, who plays Lucas, turned 20 during Stranger Things Season 4 filming, but his character is only a freshman in high school. Joe Keery, who plays fan-favorite Steve Harrington, turned 30 in 2022. Several fans wondered if the Duffer brothers would use de-aging technology to make the cast seem younger than their actual ages but thankfully decided against it. Others wondered if Stranger Things Season 4 would feature a time jump. However, season 4 picks up around six months after the end of Stranger Things Season 3.
'Stranger Things' creators Ross and Matt Duffer confirm a time jump for season 5
The Duffers recently spoke to TVLine about the plans for Stranger Things Season 5. While they haven't set an official start date yet regarding filming, they gave fans an idea of where they sit regarding the overall storyline.
"I'm not sure we're ready to say yet a start date for shooting, but a lot of it is pretty well mapped out. We learn a lot every time we make a [season]. We've learned a lot just working with all of our new actors and the ones that we've worked with for a long time over this year, so I'm sure it'll change a little bit from that outline. The ending is the hard thing. That's obviously the stressful thing. We really want to stick the landing," Matt Duffer explained to TVLine.
However, the one aspect they do seem to know revolves around whether or not Stranger Things Season 5 will feature a time jump.
Ross Duffer told the publication, "I'm sure we will do a time jump. Ideally, we'd have shot [seasons 4 and 5] back to back, but there was just no feasible way to do that."
Fans think a time jump for 'Stranger Things' Season 5 might work perfectly
The Duffer brothers aren't the only ones who believe a Stranger Things Season 5 time jump could work great for the characters in Hawkins, Indiana. Fans also agree that a flash-forward in time might help with everything from the storyline to the issue surrounding the actors' ages. 
Youtuber @StrangerUniverse pointed out in a recent video that a time jump for Stranger Things Season 5 could potentially help with the issue of the actors' ages.
"Could it be that season 5 will be the winter of 1988 and take place during Christmas and New Year's? It's what everyone wanted for season 4 after all! Maybe if they want to extend the gap in the story itself, it could be the winter of 1988 for the gang's senior year of high school. If our favorites lose in season 4, they could assemble one last time to end the threat of the Upside Down once and for all. It would be interesting to see how they fit Christmas into all of this."
Regardless of what decision the Duffers make, fans have plenty of time to ponder over the possibilities. We likely won't see Stranger Things Season 5 until late 2024 at the very earliest.