Royal Expert Says Harry and Meghan Are 'Throwing Shade' At Princesses Beatrice and Eugenie Over Royal Duties
Prince Harry and Meghan Markle have been living outside the United Kingdom for more than a month, but the two are back home and about to wrap up their final chapter of royal duties. The couple officially announced their departure from the royal family in January, and since then, the rumors have been swirling. But one royal expert claims that Harry and Meghan might be taking things out on two unsuspecting family members: Harry's cousins, Princess Beatrice and Princess Eugenie.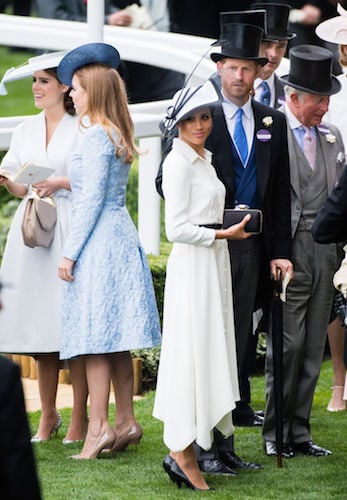 Drama has plagued Harry and Meghan since they wed
When Harry and Meghan first started dating back in 2016, anyone could have guessed that their relationship would spend a lot of time in the press. But what the two likely didn't realize is how differently they would be treated compared to Prince William and Kate Middleton. The press instantly starting digging into Meghan's family history, and it took almost no time for her difficult past with her father and half siblings to be uncovered.
Since then, Meghan has been at the center of a media storm. She is constantly the focus of negative press, and it's made it difficult for Harry and Meghan to live a fulfilling life.
There is confusion about their current relationship with the royal family
It's hard for anyone to know what it's really like between the Sussexes and the rest of the family. The queen released a statement in January about the couple's departure and essentially gave her blessing. But since then, those close to the royals have said they don't see Harry and Meghan being on very good terms with the family.
There have been reports that the royals are at odds, especially over the queen striking down the couple's ability to trademark Sussex Royal. However, it's hard to know exactly where the relationships stand. 
One royal expert claims the two are 'throwing shade' at Beatrice and Eugenie
Royal expert Omid Scobie seems to think that Harry and Meghan now have a problem with two unrelated royals: Princess Beatrice and Princess Eugenie. The two princesses are sisters and first cousins of Harry, and their royal lives are quite different than Harry and William's lives. Beatrice and Eugenie have royal titles, but they're not official working royals. Though they do appear at royal engagements (such as Trooping the Colour), they are not responsible for attending nearly as many events as Prince Charles' kids are.
Scobie said that some think Harry and Meghan are displeased with the fact that Beatrice and Eugenie can take on private engagements without becoming working royals. "Some people have accused them of perhaps throwing shade at Princess Beatrice and Eugenie because they work and take on engagements privately," Scobie told Express. Harry and Meghan were senior royals though, which means their duties were far different from their cousins'. 
Harry and Meghan had originally planned to still work for the queen
If Harry and Meghan are throwing shade, it could be because Beatrice and Eugenie can still hold jobs. They can wear what they want and are even allowed to have social media, all while still making the occasional royal appearances. This is essentially what Harry and Meghan wanted, but they are not allowed to do so. It makes sense that they might be frustrated with the double standard, though there has been no confirmation that there is actually a feud between the Sussexes and Harry's cousins.