Royal Experts Claim Prince William and Kate Middleton's Last Visit Was Not Covered So It Would Not 'Overshadow' Queen Elizabeth
Prince William and Kate Middleton had to cover up a recent royal engagement to avoid clashing with Queen Elizabeth. Before the coronavirus lockdown, the Duke and Duchess of Cambridge visited an NHS center in London. The engagement coincided with a statement released by Queen Elizabeth, and royal experts say the Cambridges kept the visit low-key to prevent it from overshadowing Her Majesty.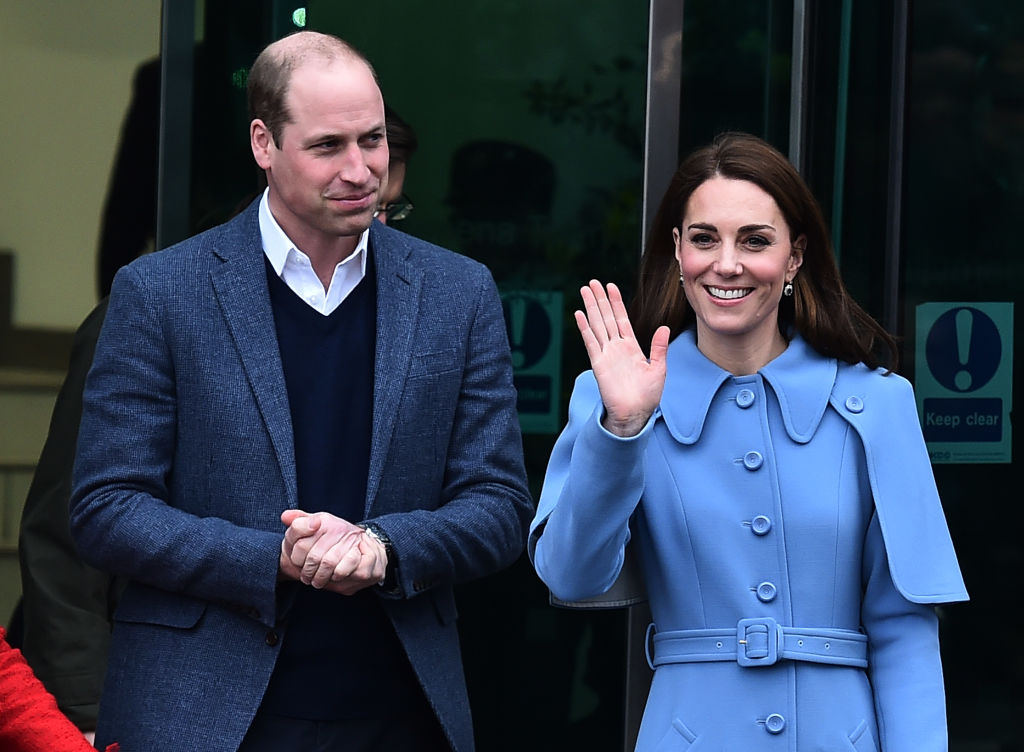 Inside Prince William and Kate Middleton's secret NHS visit
Days before the UK announced a lockdown, William and Kate, Duchess of Cambridge, visited an NHS center in London. The pair met with frontline workers and offered their support amid the current crisis.
A few days later, the Cambridges posted about their visit on Instagram. The couple shared a photo of themselves meeting with some of the staffers at the facility and praised them for their hard work.
"Catherine and I were proud to visit staff working at NHS 111, to pass on our personal thanks, along with those of my grandmother and father, to staff working around the clock to provide care and advice to those that need it most," Prince William captioned the pic.
William added that the NHS is doing its best to prevent the spread of the coronavirus in the UK. He also assured fans that frontline workers need as much support as anyone during the crisis.
While it was great to see Prince William and Kate supporting medical workers, they were reportedly forced to delay the coverage of their visit to avoid conflicting with Queen Elizabeth.
Queen Elizabeth's statement conflicts with the Cambridges' event
When scheduling engagements, the royals normally do their best to avoid conflicting events. But during a crisis, it can be difficult to coordinate visits with important government announcements.
Such was the case with Queen Elizabeth's recent message to the nation amid the coronavirus pandemic. According to Express, Chris Ship and Lizzie Robinson of ITV News revealed that Her Majesty released the statement around the same time as Prince William and Kate's visit.
"Kate and William's visit happened last Thursday but we couldn't report on it until last Friday," Robinson shared. "If you remember last Thursday was the day that the Queen gave her message of solidarity to the nation. I think the timing was so important. If they had put out the Kate and William visit that day, there could have been a real clash."
Robinson added that the royals did not want Prince William and Kate's visit to "overshadow" the Queen's message. Instead of creating a conflict in the media, the royals kept the Cambridges' visit low-key.
Queen Elizabeth is staying at Windsor Castle with Prince Philip until the coronavirus pandemic is under control. Her Majesty will likely refrain from speaking in public until the crisis is over, though she might make an appearance if things get any worse.
Kate Middleton and Prince William step up
With the UK under lockdown and the royals in self-isolation, William and Kate have increased their visibility to the public. According to Express, royal experts believe William will become a "placeholder" for Her Majesty until the coronavirus pandemic is over.
"He's third-in-line to the throne and in robust health like his brother, and COVID-19 is unlikely to be any serious threat for him or his wife or children. He will do a great job," royal author Nigel Hawthorne shared.
To that end, Prince William and Kate recently shared photos of their behind-the-scenes work. The Duke and Duchess of Cambridge posted two shots of them working inside their home at Kensington Palace, offering a rare look into their private lives.
The two used the photos to raise awareness about mental health during the crisis. They are currently working with several charitable organizations in the field and want to ensure that everyone is doing their part to support each other.
William is third in line to the throne and will inherit the crown after his father, Prince Charles. Given William's standing within the ranks of the royal family, it makes sense that Queen Elizabeth would rely on him to be her "placeholder."
William and Kate under lockdown
Although Prince William and Kate Middleton are still working behind closed doors, the UK is currently under lockdown. According to People, Prime Minister Boris Johnson recently released new rules in a bid to prevent the spread of the coronavirus.
"From this evening I must give the British people a very simple instruction — you must stay at home," Johnson stated. "Because the critical thing we must do is stop the disease spreading between households."
Businesses that do not sell essential items will be closed for an extended time. People are also prohibited from appearing in public in groups of two or more individuals (outside of immediate family).
The UK has also canceled upcoming weddings and baptisms, a move that might affect Princess Beatrice's upcoming wedding. For those who do not abide by the rule, Johnson warned that police officers will be doling out fines.
William and Kate are currently in self-isolation at their country estate, Anmer Hall. The couple is with their three children, Prince George, Princess Charlotte, and Prince Louis.
The royals have not commented on Prince William and Kate Middleton's recent visit to the NHS center in London.