Royal Fans Think Meghan Markle Is Pregnant Again Because of the Way She's Hiding Her Stomach in New Photos
Royal fans are convinced that Meghan Markle displayed this tactic the last times she was pregnant.
Now that Prince Harry and Meghan, Duchess of Sussex have left their royal duties behind for a life in Canada, the speculation about whether the couple will be expecting a second child has simmered a bit. With the Sussexes out of the spotlight, there are fewer moments to scrutinize, but their recent flight to Canada gave fans a glimpse into a behavior Meghan has shown before when she was pregnant.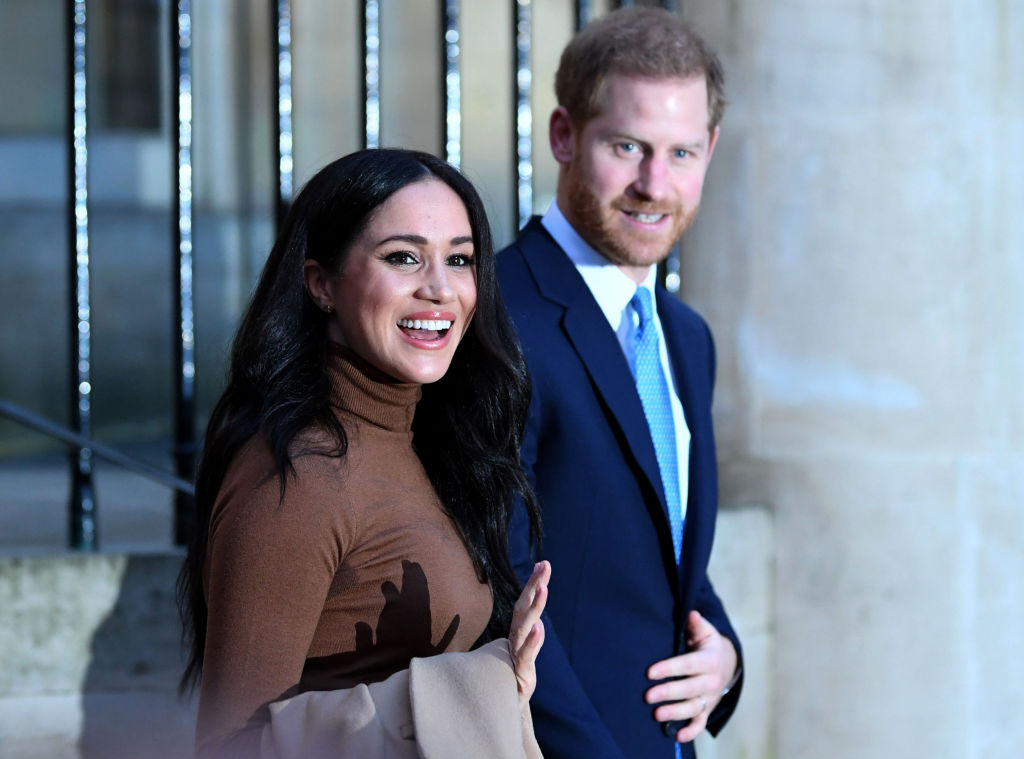 Prince Harry and Meghan announced their decision to 'step back'
In January, Prince Harry and Meghan made the surprising announcement that they planned to take a "step back" from their duties. Queen Elizabeth met with Prince Harry, Prince William, and Prince Charles to figure out the specifics of the Sussexes' plan and signed off on their request, though it meant the couple would give up their HRH titles and public funding.
After the queen's supportive statement, Prince Harry delivered an emotional speech at a January event, explaining why he and Meghan felt this was the best option for their family.
"The decision that I have made for my wife and I to step back is not one I made lightly. It was so many months of talks after so many years of challenges. And I know I haven't always gotten it right, but as far as this goes, there really was no other option," Harry shared in a speech he delivered in London.
Prince Harry and Meghan took a commercial flight
After coming under fire in 2019 for preaching about the environment and then taking private jets for their travels, the couple chose a commercial flight for their recent trip. Prince Harry and Meghan were photographed together for the first time since they made their big move away from the royal family when they stepped off a commercial flight that landed in Victoria Airport in British Columbia.
Meghan carried a Prada duffel in one hand and clutched a black leather laptop case or portfolio as they exited the plane. They were all smiles after what appeared to be a business trip to the U.S., traveling without baby Archie, who was believed to have been with grandmother Doria Ragland.
The two reportedly visited Stanford University in Palo Alto, California where they engaged in a "brainstorming session" with professors, though the details of these sessions are unknown.
Is Meghan pregnant again?
Royal fans haven't had many opportunities to lay their eyes on Meghan lately, but some are convinced that the Duchess of Sussex is pregnant again based on the placement of her baggage when she left the plane.
Fans picked apart the images of Harry and Meghan and believe that the way the duchess carried her laptop case might indicate she's trying to cover up a baby bump. To many, it was reminiscent of when Meghan carried two purple folders under her arm when she and Prince Harry stepped off a plane in Australia — the same day they announced they were pregnant with their first child. At the time, Meghan appeared to try and conceal any signs of her pregnancy with the placement of the folders.
One fan tweeted about the new photos of the Sussexes: "Pregnant again? Does the folder say it all?" and another fan noted: "… remember the last time she got off a plane carrying a folder she was pregnant with Archie she got off the plane yesterday carrying a folder or computer almost the same way…"
Of course, pregnancy speculation about Meghan is an ongoing bit of gossip, so this latest analysis might not be so accurate — but certainly, now that they're living a life out of the spotlight, if and when they're expecting, they can carry on in a more relaxed environment.