Royal Fans Think Meghan Markle Pushed Prince Harry Out of the Way in PDA Video
A moment captured on video between Prince Harry and Meghan, Duchess of Sussex shows a sweet PDA gesture, but some fans and critics believe it demonstrates Meghan being selfish and controlling. A dispute kicked off on Twitter over whether Meghan was touching Prince Harry gently on the back out of love or because she wanted him to step aside.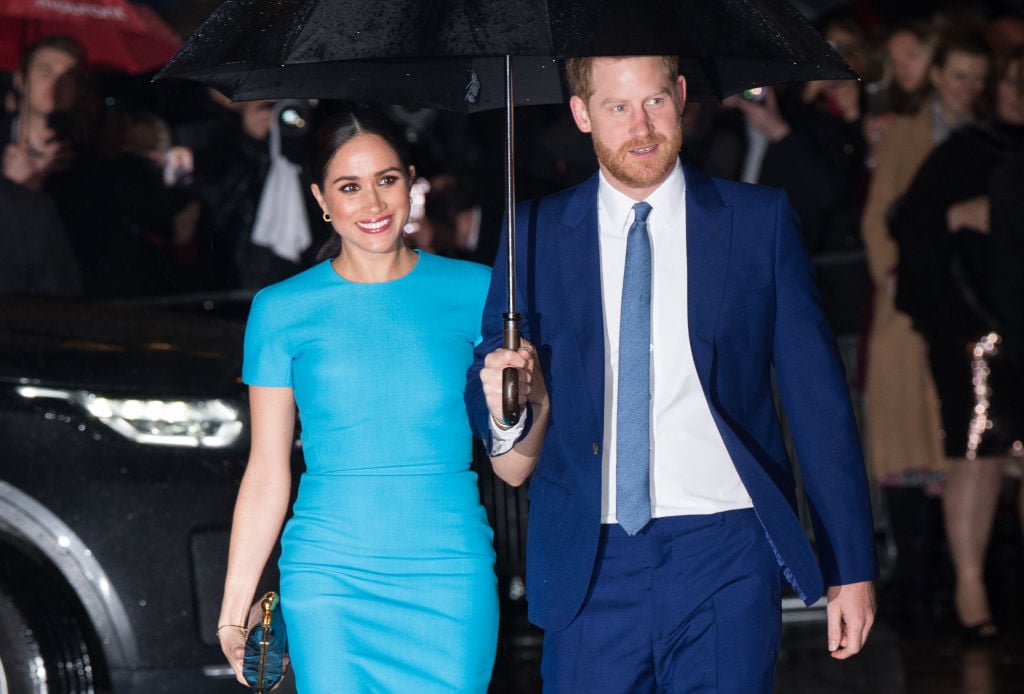 Meghan and Harry's PDA was on display
Prince Harry and Meghan attended the Endeavour Fund Awards on Mar. 5, where they met with award attendees and chatted them up at the event. A video that showed Meghan placing a hand on Harry's shoulder appeared to be a bit of subtle PDA, but some royal fans thought she was actually signaling him to move aside.
Daily Mail reporter Rebecca English posted the video to her Twitter account, captioning it, "some familiar Harry and Meghan PDA'S tonight." Not everyone saw it quite that way, however, as they believed she was non-verbally telling him to step aside so she could speak with the guest.
Critics took aim, but others defended Meghan
A debate waged on, with fans and critics commenting on Twitter. One Twitter user noted: "That isn't PDA. That was Meghan interrupting their conversation, pulling him back so she could step in front of him to take over the conversation. I don't care, it's their marriage and I will never judge about that. But the video is clear, please don't mislead or sugar coat."
Another fan agreed, tweeting: "I don't see that as a PDA. she's always touching him and guiding him, see how he gives way to her here… this happens constantly. I don't like that…it's not a PDA…it's quite controlling."
Still others tweeted: "That's not PDA! That's the familiar push him out of the way which she has always done" and "Always pushing herself in front of Harry."
There were some who defended the Sussexes, however, with one fan tweeting: "So many body language specialists here. All these comments seem like we're not all watching the same video. I just see a couple that clearly love and respect each other. Maybe the problem is that too many people aren't familiar with what that looks and feels like?"
Another person tweeted: "She's clearly nudging past him to introduce herself to the next person. She isn't trying to take control, she's trying to not be rude. They need to greet everyone and only have so much time."
Their body language was revealing
Body language expert Judi James noted that Meghan's look at the event was "a much more showbiz looking version" of her, telling Express that Meghan's "dazzling smile completed the look."
"Harry's eyes gleamed with delight and his wide, upturned smile that bared his upper teeth and rounded his blushing cheeks suggested happiness and pride as he led his wife by the arm," James added. "This appearance as a couple looked all about sending signals of unity and happiness."
"This suggests the move away from the royal firm was a decision they both endorsed and that they both gained strength from," she noted.