'Rumors': Cardi B Had a 'Whole Vision' About Working With Lizzo
Lizzo's first single in a long time is finally here. The artist teamed up with another powerhouse artist, Cardi B, for "Rumors," which dropped on August 13, 2021. It's the first time they've worked together. But Cardi B's wanted to collaborate with Lizzo for a while. Here's what she said about it.
Lizzo and Cardi B collaborated on 'Rumors'
Following the success of Lizzo's 2019 album Cuz I Love You, the artist took a step back from releasing music. She announced her new era in August 2021. And many fans were delighted to learn that the first single, "Rumors," features a rapper known for their frequent collaborating: Cardi B.
Lizzo and Cardi B teased their new song on social media. The former even returned to Twitter after more than a year off of the platform and changed her name to lyrics from the song: "All the rumors are true." Additionally, both artists published a teaser from the music video (above).
Speaking to Vanity Fair ahead of the "Rumors" release, Lizzo noted that the song has a message, but it isn't "too preachy." "I'm always very conversational, and the conversations that I have with people right now, you're going to hear it in the music," she explained. "It's hard not to reflect the times—but also I like to make music that feels good."
Cardi B wanted Lizzo in the 'WAP' music video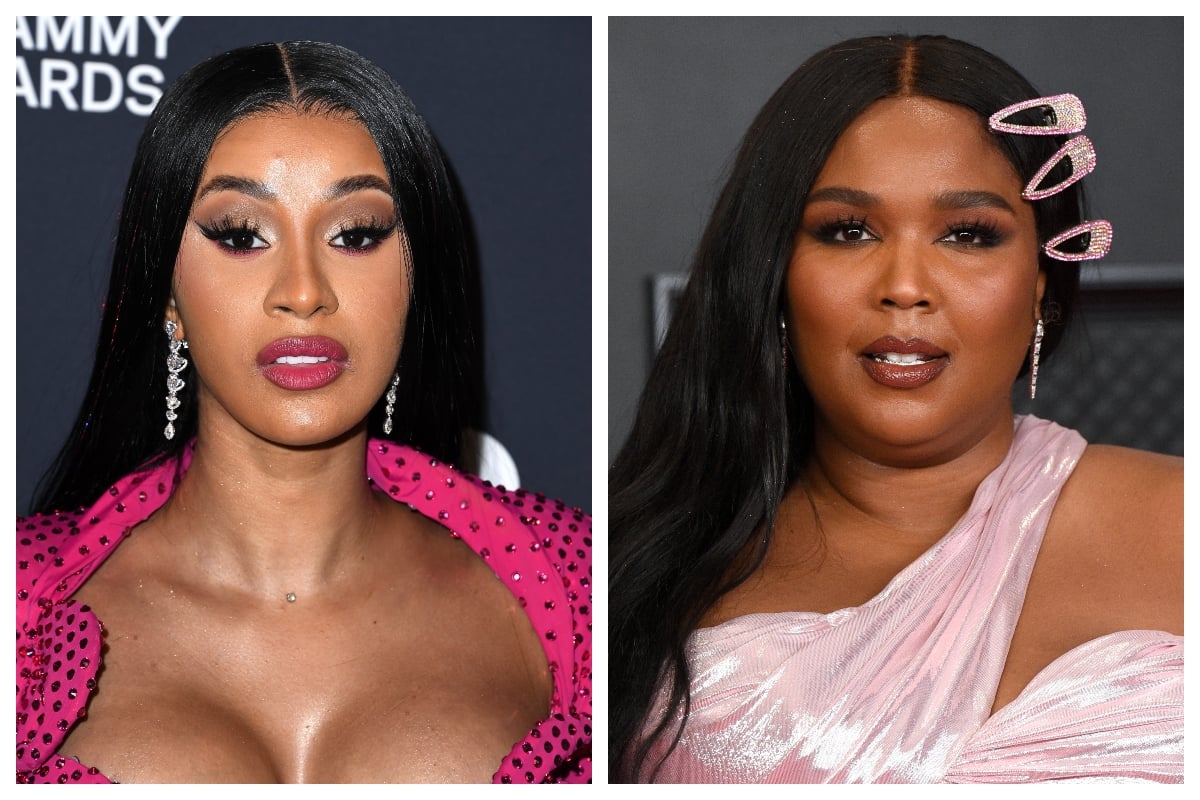 In 2020, Cardi B dropped her biggest single to date: "WAP," featuring Megan Thee Stallion. If the song itself didn't earn enough attention — debuting at the top of the Billboard Hot 100 and scoring many award nominations — the star-studded music video sure did.
Those who ultimately cameoed in the video include artists like Normani, Rosalia, Mulatto, and Rubi Rose. However, Cardi B shared with Hot 97 that there was at least one other musician she wanted in the "WAP' video who couldn't make it work due to scheduling conflicts.
"I'm cool with Lizzo and everything. Like, we've been sending DMs to each other and all that," she told the radio station (via Glamour). "But she was on vacation, and she wasn't in town. I was like, 'Oh my gosh,' because I had a whole vision about how I want to see Lizzo and everything."
What did Cardi B tweet about collaborating with Lizzo?
Cardi B's appreciation for Lizzo continued in February 2021. The former tweeted a handful of photos of the latter, writing, "These pics do it for me." A fan replied, "Now drop that collab with her." Cardi B's response? "Can I do a song first [that] I can put her on."
Another fan pressed the issue, tweeting, "YESSS WE WANT A COLLAB." While Cardi B was clearly interested in the idea, she pushed back against the constant badgering. "Ok but stop pressuring me to do stuff. I can't even show love to people with 100 [accounts shouting] collab collab collab," she replied.