Rumors Ignite Over This Picture of Colin Macy-O'Toole and Anastasia Surmava From 'Below Deck Med'
If there is anyone fans want to see live happily ever after it's Colin Macy-O'Toole from Below Deck Mediterranean. The beloved deckhand is not only a fan favorite but he also has throngs of women across the country hoping to get a chance to score a date with him.
He told Showbiz Cheat Sheet it isn't uncommon for mother's to try to fix up their daughters with him too. "I get a lot of moms who direct message me on social media," Macy-O'Toole laughs. "They always say, 'I never do this, don't tell my daughter.'"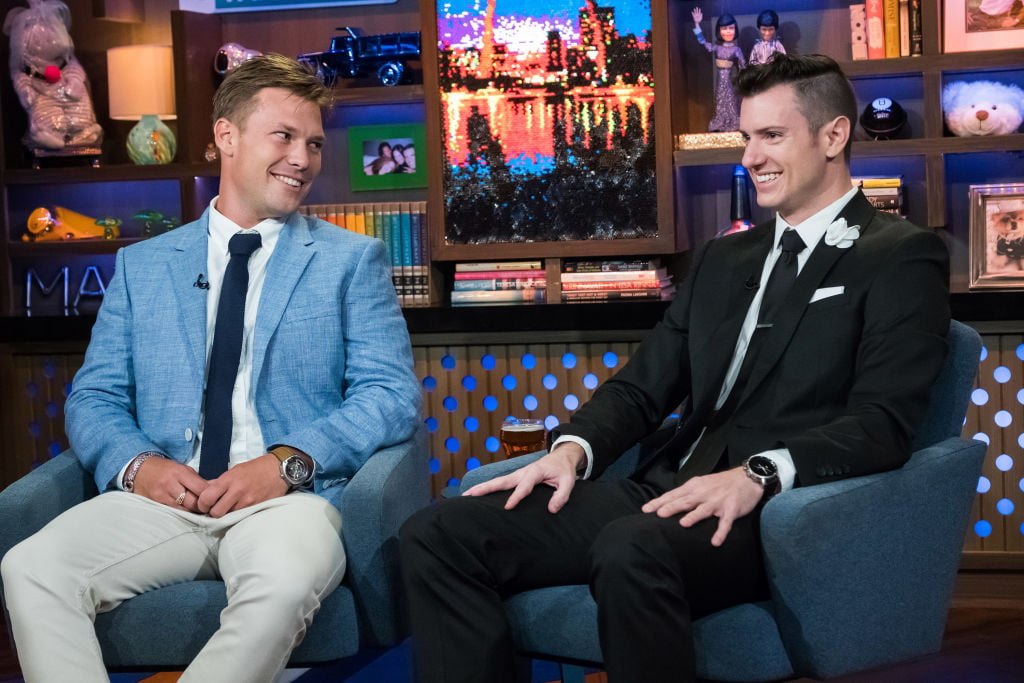 Fans also haven't been shy about being in love with Macy-O'Toole too. In fact, some think he needs his own dating show. "Colin Macy-O'Toole need his own dating show!!" one fan wrote when Watch What Happens Live with Andy Cohen tweeted, "Which Bravolebrity deserves their own dating show?"
Although he mentioned he was seeing someone from his local area when he was on WWHL, Macy-O'Toole just posted a picture with Chef Anastasia Surmava that has fans losing their collective minds.
They really seem to like each other
When Surmava appeared on WWHL, she seemed to be all about Macy-O'Toole. She was upfront about having a crush on the deckhand, plus the audience agreed the two would make a very adorable couple. One caller referred to Macy-O'Toole as the male version of Sandra Bullock and "America's sweetheart of yachting" during the WWHL After Show.
Macy-O'Toole was later in the hot seat when he appeared on WWHL. A fan wanted to know if he asked Surmava out after she revealed she had a crush on him. "Uh, no I have not," he said. When host Andy Cohen asked if he was seeing anyone, that's when he teased with a little intel. "Long Island girl, that's all I'm saying," he said.
Surmava told the crew she had a boyfriend when the season began. It isn't Macy-O'Toole's style to try to bust up a relationship so he kept things in the friend zone.
This photo heats up the rumor mill
Macy-O'Toole shared an image that shows Surmava cuddled up to him. "Come hang with your favorite crew on an all new #belowdeckmed tonight at 9/8c on @bravotv!" he shared without tagging Surmava.
The minute he posted the picture, fans went wild. On Instagram, Surmava responded, "My bb " Other Below Deck crew like stews Aesha Scott and Laura Betancourt seemed into it as they shared heart-styled emojis.
Even though the post is playful, fans are anticipating some big couple announcement. "My wife told me she had a feeling y'all 2 were together," one fan wrote. "That's so awesome!!!! Happy for y'all. " Another fan hoped, "Are you guys together??? Please tell me you are!!"
Macy-O'Toole received similar responses on other social media too. Over on Twitter, his post generated comments like "so when is the wedding" and "What's the tea Colin y'all dating?" On Facebook, Macy-O'Toole received more of the same type comments. So are they or aren't they? Macy-O'Toole and Surmava aren't saying. Check out the entire Below Deck Med crew tonight on Bravo at 8/9c.