Rumors Swirl that 'Stranger Things' Season 4 Filming is Finished
Could Stranger Things Season 4 filming be officially complete? We don't want to get our hopes up, but a recent tweet has implied that the fourth season of the Netflix series has wrapped. While no confirmation from Netflix about filming has been released yet, some outlets like Netflix Life believe that announcement is coming soon.
Here's what we know so far.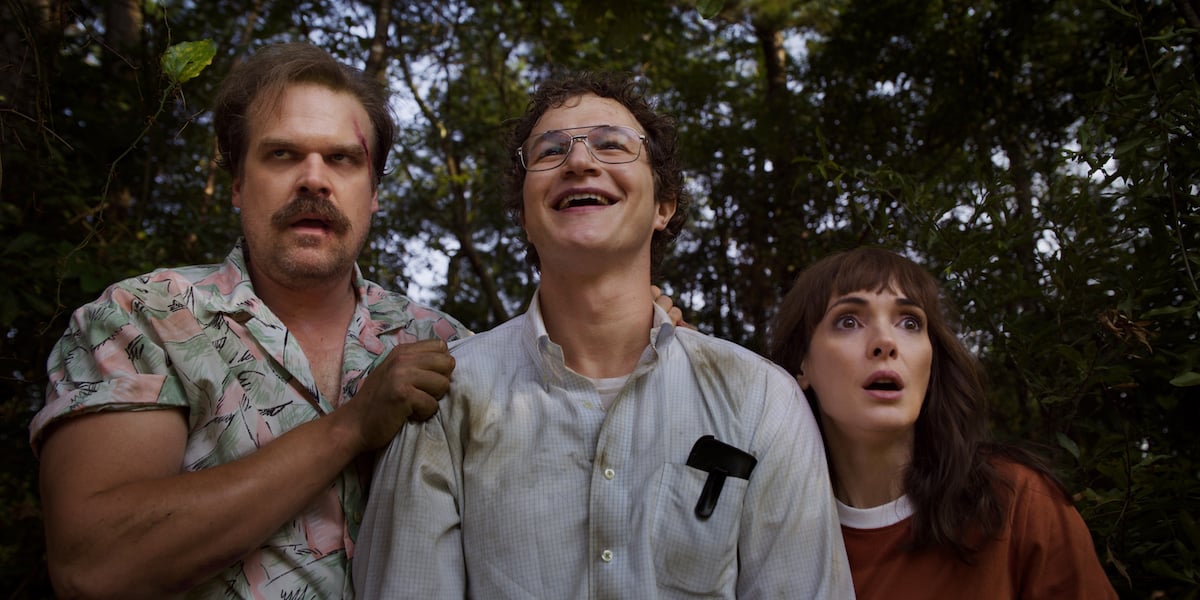 Rumors have it 'Stranger Things' Season 4 filming has officially wrapped
Fans of the show are still waiting for an official announcement from Netflix; rumors are swirling that filming for Stranger Things Season 4 has finally wrapped up. Netflix Life stumbled on a tweet from the @StrangerNews11 Twitter account stating as much.
The Twitter account is not verified but is dedicated to keeping up with all the updates and news regarding the filming of the hit Netflix series. They've previously been accurate in their reporting and seem to have excellent intel about the behind-the-scenes scoop.
The timeline also lines up with previous comments from executive producer Shawn Levy. In an earlier interview with Collider at the beginning of August, Levy had this to say when asked if season 4 had finished filming, "This is me trying not to blink. I have been, along with the brothers, we have been tag teaming and directing it as recently as now. So not quite done filming. Imminently."
RELATED: 'Stranger Things' Season 3: What Movies are Referenced?
How long has season 4 been filming?
Due to coronavirus (COVID-19) protocols, the filming of Stranger Things Season 4 was met with significant delays. Filming for the show originally began in January of 2020 in Lithuania but was quickly halted by March of that same year. Because of the pandemic, filming wasn't able to resume until much later in 2020.
Before filming stopped, though, a teaser trailer was released in Feb. 2020 showing Chief Jim Hopper, played by David Harbour, in a snowy Russian landscape. Fans breathed a sigh of relief as it was now confirmed Hopper didn't die in the final of season 3.
RELATED: 'Stranger Things' Writers Share List of Every Movie That Possibly Influenced Season 4
When can fans expect the fourth season on their screens?
So far, we know that Stranger Things Season 4 will premiere sometime in 2022. However, there have been numerous fan theories on when exactly that will be. Some fans think it'll be closer to March or April, some fans believe Valentine's Day, and some even think we could get the show as early as New Years Day 2022.
Previous seasons have shown us that the show likes to premiere close to the exact date occurring in that season of Stranger Things. For example, season 2's events happened around Halloween, and the show premiered at the end of October. Season 3's timeline included the Fourth of July, and the season was released on July 3, 2019.
With Netflix's global fan event, TUDUM happening on Sept. 25, 2021, it's been confirmed we'll get some information about Stranger Things, but what exactly remains to be seen. The event promises exclusive news, sneak peeks, and celebrity appearances from a list of over 70 shows on the platform. Luckily, Stranger Things is one of the shows listed. Until then, fans will just need to keep their eyes peeled for any and all new information.