'RuPaul's Drag Race' Queens Take Performances Online During Their Coronavirus Self-Quarantine
It may not be the same as a 'RuPaul's Drag Race' viewing party, but it's the next best thing. Here's how a few performers are staying connected during social distancing.
Social distancing is a little more fabulous, thanks to these drag performers. From virtual drag shows to live streaming video games, here's what some RuPaul's Drag Race contestants are doing to stay connected during the coronavirus (COVID-19) surge.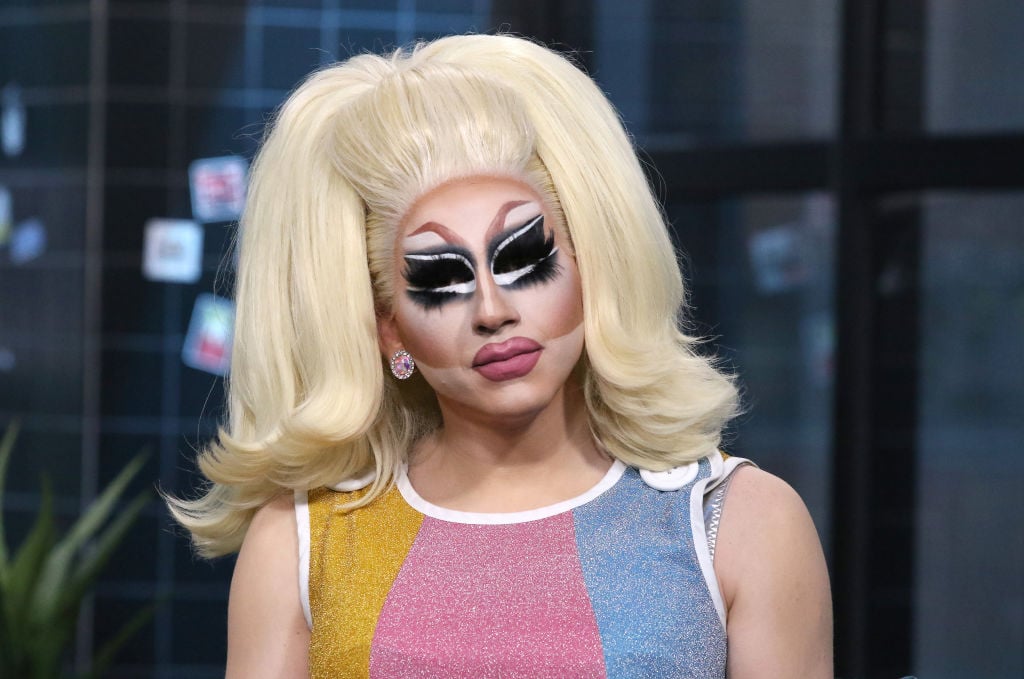 Some 'RuPaul's Drag Race' queens are releasing content during the coronavirus surge
From Broadway to Coachella, live performances have taken a sizable hit due to the coronavirus outbreak (COVID-19). Even those within the drag industry have been impacted by social distancing and the cancellation of live performances. As a result, some former RuPaul's Drag Race contestants took to social media, connecting with fans across the globe. 
Former RuPaul's Drag Race contestants appeared on Miley Cyrus' daily Instagram Live, "Bright Minded." That includes All-Stars 3 contestants Trixie Mattel and Milk, who both shared makeup tips with the "Malibu" artist. Trixie Mattel also has her own video game-related live streams, where she raises money for charity. 
Aside from her Twitter updates, Miz Cracker continues to post videos for her "Review With a Jew" YouTube series. On the RuPaul's Drag Race Twitter account, fans can also find updates and tips for staying healthy during the pandemic. 
What's going on with the season 12 contestants during their time self-quarantining?
Thankfully, new episodes of RuPaul's Drag Race season 12 continue to premiere on VH1 on a weekly basis. Unfortunately, the contestants haven't been able to perform in live shows, due to the large crowds. (Some fans have even gone on to call this season "cursed," due to the disqualification of one contestant that happened during the premiere episodes.) 
Some current contestants shared their daily routines with the RuPaul's Drag Race Twitter account. Jackie Cox is organizing her drag, writing new shows, catching up with friends on the phone, and listening to podcasts. Rock M. Sakura is working, texting, drawing, watching anime, and doing squats. 
There will be a digital drag show, featuring 'Drag Race' alumna 
Some contestants may not be able to perform face-to-face with fans. That doesn't mean they'll stop performing. Recently, some queens shared they'd participate in a virtual drag show, spanning a few days in March and April. 
That includes Drag Race alumna Shea Couleé, Raja, Latrice Royale, Valentina, BenDeLaCreme, Jaida Essence Hall, Jackie Cox, Heidi N Closet, Jan, Rock M. Sakura, Blair St. Clair, Tammie Brown, Nicky Doll, Baga Chipz, Cheryl Hole, A'Keria Chanel Davenport, and Silky Nutmeg Ganache. 
"This might be something we want to put on [regularly] because certain areas of the country or the world can't get to a show or it might be too expensive to get there," Trinity the Tuck said during an interview with Entertainment Weekly. 
"People of drag and the LGBTQ community are extremely resilient," she continued. "We have to be. We've always been that way, and this is going to show one of the ways we can take a bad situation and turn it around and make something positive out of it."
Individual show descriptions and tickets for this virtual drag show are available now on the Stageit website. Episodes of RuPaul's Drag Race season 12 premiere on a weekly basis on VH1.