'RuPaul's Drag Race' Alumni, Miz Cracker and Kim Chi, to Be the First Drag Queens Featured in a Super Bowl Advertisement
With the next season of RuPaul's Drag Race premiering this February, the Emmy-award winning reality series certainly isn't getting blitzed by the Super Bowl. In fact, two queens are making an appearance during this year's event, starring in an advertisement for Sabra hummus. This is how Kim Chi and Miz Cracker became the first drag queens in a Super Bowl ad.
Sabra Hummus has an advertisement during the 2020 Super Bowl
She's thin, white, salty, and one of the fan favorites from RuPaul's Drag Race season 10. In the commercial, Miz Cracker tries to put on a helmet, while still protecting her hair. Finalist for Drag Race season 8, the lovable Kim Chi sits beside her, snacking on hummus, asking if Miz Cracker is ready.
"Chickpeas, I was born ready," Miz Cracker replies. "Hair We Go" the advertisement reads, as the Sabra Hummus logo appears on the screen. It may just be a commercial that's a few seconds long, about hummus, but this is a huge win for the LGBTQ+ community and other contestants of RuPaul's Drag Race.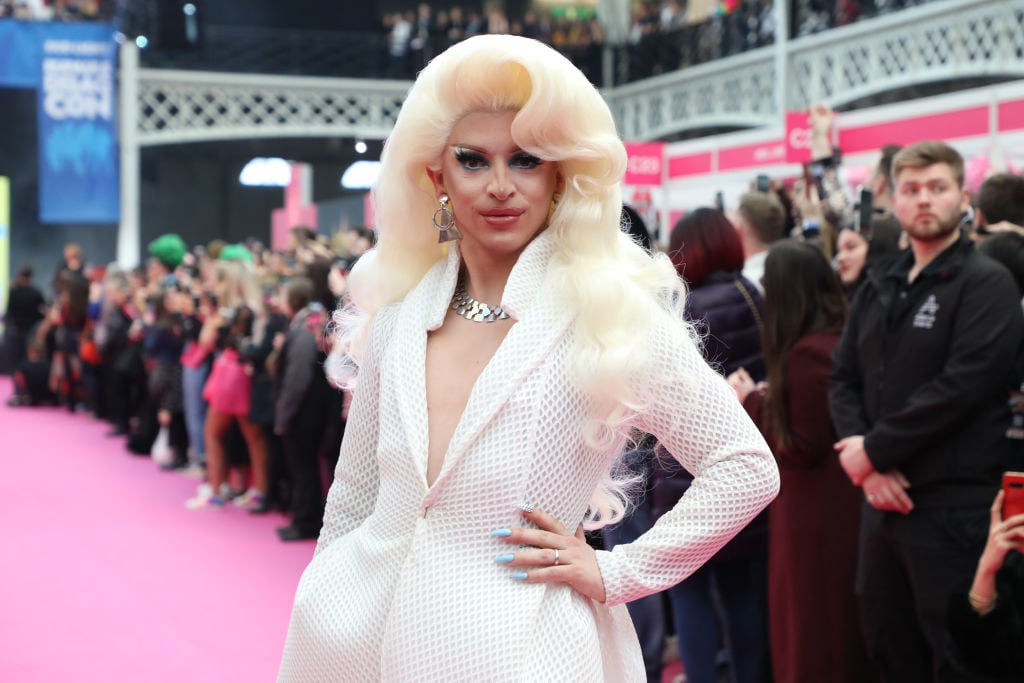 Kim Chi and Miz Cracker became the first drag performers in a Super Bowl advertisement
Dressed in red, these drag performers made Super Bowl history, becoming the first drag queens in an advertisement for this event. According to LGBTQ Nation, "It's a silly teaser for a possibly even sillier ad, but the significance of it is no joke. The Super Bowl regularly gets over 100 million viewers, making it one of the most-watched television events each year."
"Ten years ago if you would have said there would be a queer artist of color in a Super Bowl ad, you would have laughed at it," Kim Chi said during an interview with AdAge.
This isn't the first time queens from this series broke boundaries for the LGBTQ+ community. During 2019, Aquaria, Violet Chachki, and RuPaul became the first drag performers to walk the pink carpet at the Met Gala.
Kim Chi previously partnered with Lush Cosmetics for a campaign with Drag Race contestants like Shea Couleé. Miz Cracker starred in her own YouTube series "Review with a Jew," which eventually became "Jewtorials" on World of Wonder's streaming platform, WOW Presents Plus.
Some fans shared their love and support for these former 'RuPaul's Drag Race' contestants
This Super Bowl will include some of the most inclusive advertisements to date, featuring celebrities like Jonathan Van Ness of Netflix's Queer Eye and "Old Town Road" performer Lil Nas X, as reported by Them.
The contestants shared the advertisements on this Instagram, while Sabra hummus posted it to YouTube. Almost instantly, fans of the drag performers shared their support, congratulating them on this project.
"I've never watched the Super Bowl but you bet I'll be there for the ads. Can't wait to cheer on team Cracker. I love sport," one Twitter user said.
"I'm gonna be the weird straight at the super bowl party equally excited about the game AND the drag queens. I can't wait for the weird looks when I yell out OMG IT'S [MIZ CRACKER,]" another Twitter user wrote.
RuPaul's Drag Race season 12 premieres on Feb. 28, 2020. Until then, fans can see Miz Cracker and Kim Chi's respective seasons on VH1.com.