How 'RuPaul's Drag Race' Season 11 Contestant, Nina West, Caught Rihanna and AOC's Attention
Things just got elevengendary. Nina West, a former contestant on RuPaul's Drag Race season 11, is getting attention from celebrities like Rihanna, Scott Hoying, and Congresswoman Alexandria Ocasio-Cortez. Learn more about the drag queen and philanthropist, here.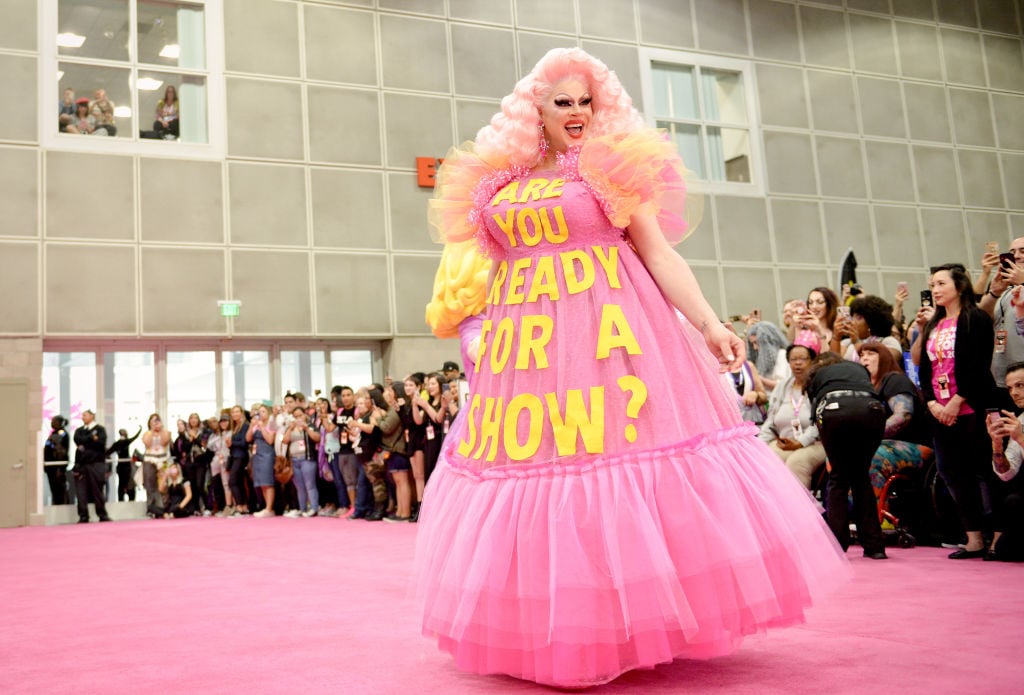 Nina West was a contestant on 'RuPaul's Drag Race' Season 11
From playing Sarah Huckabee Sanders, to winning the "Dragracadabra" challenge, to reading other contestants, Nina West became a fair contender for the title of "America's Next Drag Superstar." That is, until she was eliminated, following a lip-sync battle with Silky Nutmeg Ganache. Nina West placed sixth in the competition.
"I think I am in the middle of the renaissance of Nina West and I am just enjoying every bit of it as it happens," Nina West said in an interview with Queerty. "I have had tremendous milestones, and I hope to continue to surprise myself and fans. The thing I am most proud of is representing my hometown of Columbus, Ohio with such pride."

Why everyone loves Nina West
Aside from her runway looks and slapstick humor, Nina West made a name for herself with her visibility. Within some of the first episodes of RuPaul's Drag Race, Nina West discussed her college experience and the adversity she faced. When she wanted to run for Denison University's student government, she received homophobic threats.
Since then she's grown into an LGBTQ+ icon and advocate. Her Instagram page is filled with messages of kindness and inspiration, some photos being captioned #gobigbekind and #gobigbekindbeyou.
The drag queen even started her organization, entitled The Nina West Foundation, which works with central Ohio LGBTQ youth and families. This charity is an extension of her 2015 foundation, The Nina West Fund at The Columbus Foundation, which supported local nonprofits that provided services for the LGBTQ community, including Kaleidoscope Youth Center.
She received messages from multiple celebrities, including Congresswoman Alexandria Ocasio-Cortez
After Nina West's elimination, fans rushed to social media to show their support for the drag queen and their sympathy for her elimination. A few surprising faces showed up on Nina West's Instagram, too.
Scott Hoying, from Pentatonix and Superfruit, shared a video on his Instagram story, expressing his outrage at the elimination. "Nina West getting eliminated from Drag Race is almost the last straw for me," Hoying said.
Congresswoman Alexandria Ocasio-Cortez also posted to her Instagram story in response to Nina's elimination. The biggest surprise for Nina West was singer and Fenty Beauty owner, Rihanna followed her on Instagram.
"SOS, please someone help me… thank you @badgalriri for this and so much more. What is this?! I am flying way above the clouds at this point. I cannot comprehend this at all," responded Nina West in an Instagram caption.
RuPaul addressed Nina's following during the RuPaul's Drag Race season 11 reunion episode, playing the Instagram clip of Alexandria Ocasio-Cortez. The RuPaul's Drag Race season 11 finale premieres May 30, 2019 on VH1.