Meet the Queens from 'RuPaul's Drag Race' Season 12
Tease your wigs and prepare your best snatch game — VH1's Emmy-award winning reality competition series returns for its 12th season this February. With so much charisma, uniqueness, nerve, and talent on this upcoming season of Drag Race, it's hard to keep track. Don't worry, though, we've got you covered. Here's our look into the cast of RuPaul's Drag Race season 12.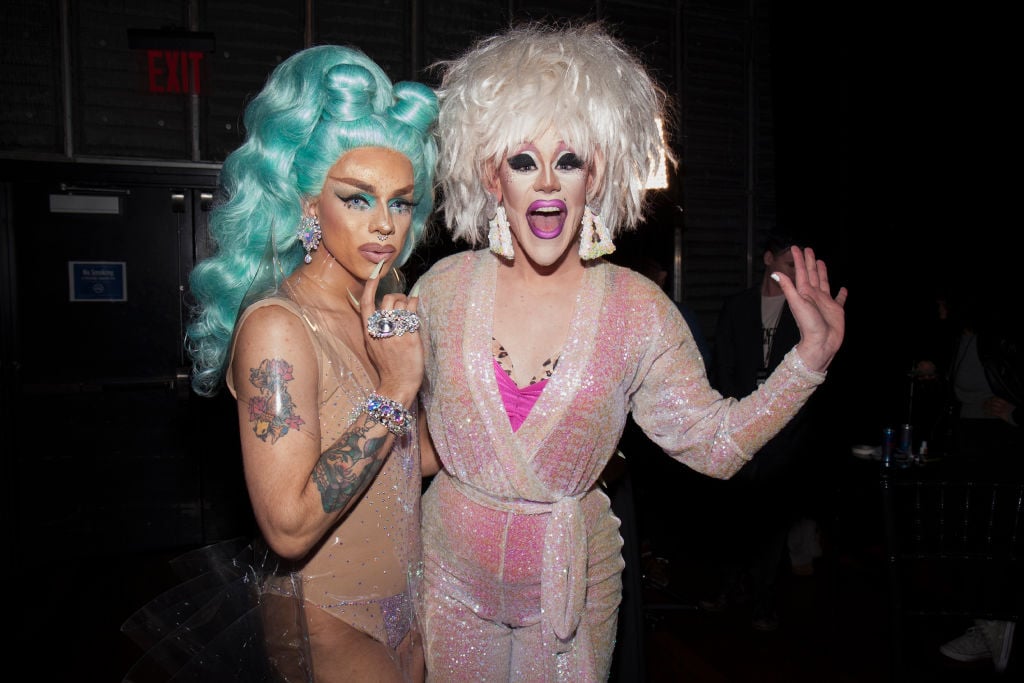 'RuPaul's Drag Race' returns to VH1 for season 13
Start your engines, RuPaul's Drag Race fans. After months of fans praying for a look into the All-Stars 5 cast and Celebrity Drag Race, RuPaul announced the next season of his reality show, premiering during February 2020. This season, the drag performers will be competing for $100,000, a one-year supply of Anastasia Beverly Hills cosmetics, a crown, and the title of America's Next Drag Superstar.
There are 13 queens on this season, with a majority of them hailing from New York City. The contestants are Aiden Zhane, Brita, Crystal Methyd, Dahlia Sin, Gigi Goode, Heidi N Closet, Jackie Cox, Jaida Essence Hall, Jan, Nicky Doll, Rock M Sakura, Sherry Pie, and Widow Von'Du.
Aiden Zhane
From the middle of nowhere, Georgia, Adien Zhane isn't afraid to be a little spooky, cooky, and unique. Entertainment Weekly reports this drag performer, "who paints like a cross between Marilyn Manson and Joan Crawford — filmed her entire Drag Race audition tape (lip-syncs and all) from inside her bedroom."
Brita
A well-known New York City queen, Brita has a reputation of being endorsed by celebrities, including Adele and Jennifer Lawrence. Before becoming a contestant on Drag Race, she even performed on Saturday Night Live as a backup dancer for Katy Perry.
Crystal Methyd
"I've always been so feminine, so I'm going to bring that into whatever I'm wearing. I like to be a monster or cartoon character, I want people to not really understand what's happening," Crystal Methyd, from Springfield, Mo., said during her interview for Entertainment Weekly.
Dahlia Sin
Just like her drag mother, and RuPaul's Drag Race alumna, Aja, Dahlia is a little bit banjee but 100% ready for this competition. She started off doing more "creepy" looks, before transitioning into the sexy, outgoing drag performer she is today.
Gigi Goode
As one of the youngest members of this cast, Gigi Goode shares that she's inspired by fashion and loves dressing up more than anything. From Los Angeles, Gigi says that a lot of the times she's lost and delusional, but she loves to perform and lipsync nonetheless.
Heidi N Closet
She's bold, loud, and outgoing, but that's just why fans love her. As a southern belle currently living in Ramseur, N.C., Heidi N Closet is the self-proclaimed merge between old-school pageant drag and new-school flair.
Jackie Cox
She has a big heart and huge wigs to match. Jackie Cox is from New York City, but also celebrates her heritage and highlights minority groups along the way. She also a little bit nerdy, even sharing her love for Star Trek and I Dream of Jeannie.
Jaida Essence Hall
"If you feel like, today, you want to be the Grinch, then, baby be the Grinch. Drag is all about expression. Whatever I'm feeling, I just let it out in drag," the outgoing and spirited Milwaukee native, Jaida Essence Hall said, according to Entertainment Weekly.
Jan
Her first drag name is a little longer, sharing the same name as a backpack company if you know what she means. But we're not going to do that. Jan is from New York City, and as the drag daughter of Alexis Michelle, she loves to perform.
Nicky Doll
Oh, she's international fish! Currently living in New York City, Nicky Doll brings all the best of French fashion to the runway. As she said during the "Meet the Queens" segment, this performer is very inspired by the trends of the 1990s, "with a little twist of villains from anime."
Rock M Sakura
If you were the mix together anime, high fashion, Trixie Mattel makeup, and comedy, you'd get Rock M Sakura. From San Fransisco, this drag artist stated that she's inspired by anime, K-pop, and J-pop and that, of course, comes across in her looks.
Sherry Pie
"Drag shows have gotten away from being a community thing to raise up our community and to poke fun at our community. At a good drag show, you should laugh and cry, and [asking for donations] is our serious moment," Sherry Pie, a lively New York City drag performer, stated during an interview for Entertainment Weekly.
Widow Von'Du
This diva calls herself "the original plus-sized Barbie" and she's got the attitude and high-fashion outfits to match. From Kansas City, Mo. Widow Von'Du is a pageant beauty and recording artist with a love for music.
Season 12 of RuPaul's Drag Race premieres Friday, Feb. 28 at 8 p.m. EDT on VH1.