'RuPaul's Drag Race' Season 12 Episode 1 Recap — The First 'Big Opening'
The wait is finally over, kitty girls. RuPaul premiered the latest season of the Emmy-award winning reality series Feb. 28. With over an hour of drama and gags, it's hard to keep up but, don't worry, we've got you covered. Here's our "Ru-cap" of the first episode of RuPaul's Drag Race season 12.
This article contains major spoilers from the first episode of RuPaul's Drag Race season 12. Read at your own risk!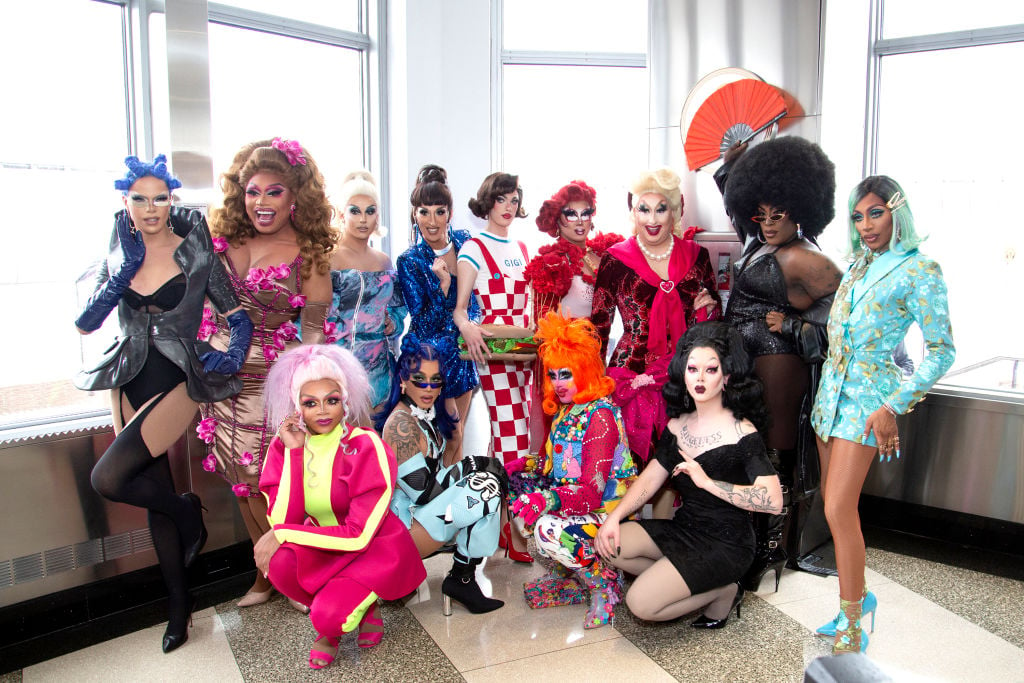 We pledge allegiance to the drag
It's about that time, ladies. Now more than ever, America needs the charisma, uniqueness, nerve, and talent of season 12. These queens plan to bring it, introducing themselves as they walk into the Werk Room.
There's Brita, an outgoing New York City queen and the self-proclaimed "Polynesian princess" of the season, Nicky Doll, an immigrant from France with an eye for fashion and a touch of New York City charisma, the witty, Persian, "cool aunt" of the season Jackie Cox, Widow Von'Du, a "nasty," loud, and proud girl from Kansas City, Heidi N. Closet, who announced herself with a Shakira-Super-Bowl-Halftime-esque sound, the 21-year-old fashion diva from Los Angeles Gigi Goode, and the contestant who comes dressed like a literal clown (in a good way,) Crystal Methyd.
After saying their hellos, the queens quickly release that there are only seven contestants. That suspicion is reaffirmed by RuPaul herself, who announces there will be two "big openings" this season. (Just like they did during season 6.)
The first challenge is a runway
Similar to season 7, the first challenge faced by the queens is a two-part runway. First, they'll showcase some spring looks, followed by this year's fall fashion. Some contestants are feeling more confident than others, but they all head to the fashion show, where RuPaul, Ravel, Michelle Visage, and Carson Kressley wait. There's also "Kim Kardashian West and Kayne," with Kim portrayed by former contestant Kimora Blac.
The frontrunners for the challenge are, according to the judge's reactions, Nicky Doll and Gigi Goode. Though her looks were presented well, Heidi N. Closet has a wardrobe malfunction and her wig comes off. She keeps going, though!
The queens then have to write and perform a rap for Nicki Minaj
The second challenge is for the queens to write, choreograph, and perform their own rap in front of Nicki Minaj. No pressure. Back in the Werk Room, Jackie Cox takes the lead a little bit, asking who has previous experience choreographing. Widow and Heidi both raise their hands and they're now in charge of the dance-portion, even though Widow isn't too excited about it.
They each write their rap and head to the main stage to practice but no one is really taking charge. Widow gets frustrated and hands the baton to Heidi, who eventually helps work the song out.
The next day, Heidi explains she didn't even have time to practice last night because she had an allergic reaction and was rushed to the emergency room. She's fine, but nervous about the routine. The conversation quickly shifts to Nicky Doll and Jackie Cox, who discuss their time overseas and the implications of being gay there.
The celebrity guest judge for the premiere of 'RuPaul's Drag Race' season 12 is Nicki Minaj
The queens head to the mainstage to perform "I'm That B*tch" and it's pretty iconic. Heidi does a few flips, Jackie has quirky and clever lyrics, Gigi has a double entendre hidden in her verse. Then, the queens change and the category is: sparkle.
The queens then get critiqued by Nicki Minaj and the rest of the judges. Michelle has a problem with Jackie's beard, and Nicki Minaj says that she "hates" Heidi's hair and makeup. Other than that, Widow and Gigi get great critiques. While the judges deliberate, Nicki even gets to
Finally, it's time for the lipsync. The queens are getting picked off one by one to be safe until it's down to Gigi and Widow. Then RuPaul gives a twist: instead of being the bottom two, these contestants are the tops of the week. No one is being sent home. Instead, Widow and Gigi will lip-sync to find out who wins and earns $5,000.
The song is "Starships" and Widow Von'du is giving us splits, moving splits, backward splits, leg bends, and, honestly, our whole life. Gigi is doing okay but in the end, Widow is the winner of the lip-sync. The contestants dance off the stage, leaving a mirror message for remaining queens.
New episodes of RuPaul's Drag Race premiere on a weekly basis on VH1.