Russell Westbrook Moonlights as a Car Dealership Owner
Russell Westbrook has always been a different type of NBA player. His relentless ability to get a triple-double at will has drawn the former MVP both scorn and praise, depending on who's talking.
Off the court, this different brand might be even more apparent. From his fashion sense to his personality. Westbrook runs differently. One of his lesser-known side businesses helps to highlight his strange proclivities.
Russell Westbrook takes the court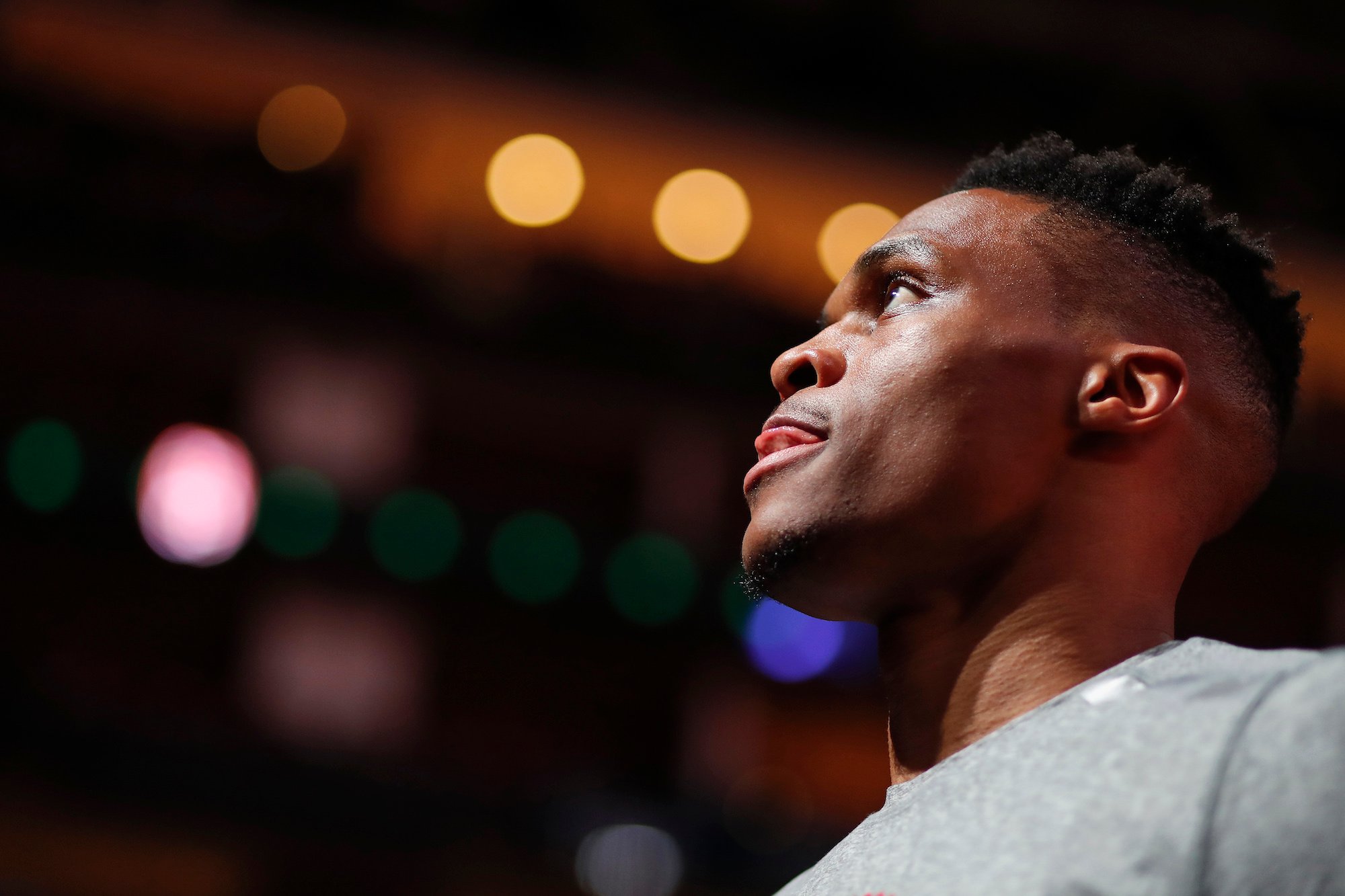 Westbrook first shot onto the national spotlight playing next to Kevin Love at UCLA. That duo sparked excitement across the country and sent both names to the top of the NBA scouting list. Westbrook was drafted by the Seattle Sonics days before their relocation and rebrand in Oklahoma City, and for the next 11 years, he was the heart and soul of the franchise. 
Westbrook's eccentric stylings matched with Kevin Durant's smooth game to make them one of the most exciting young basketball teams. The following year, however, when the team drafted James Harden, everything changed. With three stars in the making all in their early 20s, the Thunder were believed to be champions in the making.
This was supported by their trip to the NBA Finals in 2012. However, things quickly unraveled as the team began to change. 
A change comes
Following their trip to the Finals, the team was unable to reach the terms of a contract extension with Harden and traded him to Houston during the preseason. With Westbrook and Durant, however, the team remained in contention when both players were healthy.
In 2016, the team was within a single win of the NBA Finals thanks to Westbrook and Durant, but when the team blew a 3-1 lead against the Golden State Warriors and Durant joined the opponent the following year, things were looking bleak.
However, Westbrook responded with a legendary season where he averaged a triple-double and took home MVP honors. After two more years, the Thunder basked in mediocrity.
However, Westbrook was traded to Houston Rockets to play, once again, alongside Harden. The team has looked dominant at its best, but when the season comes back, they are going to have a steep hill to climb if they want to contend. 
Aside from basketball, however, Westbrook has something else on his mind. 
Russell Westbrook's side career
Westbrook began advertising for Oklahoma car dealer Bob Nouri, according to Auto News, early on in his career. At first, they were just meant to be comedic commercials featuring the All-Star singing and shilling cars.
Eventually, that became something more significant, however. Westbrook formed a bond with Nouri, and that bond eventually grew into a professional relationship. Nouri told Westbrook how to get into the car industry, and when Nouri relocated to California, a new passion was born. 
In 2016, the soon-to-be MVP opened Russell Westbrook Chrysler-Dodge-Jeep-Ram. Inside its walls, which bear the point guard's name in big black letters, Westbrook embraced his roots and put an indoor basketball hoop to add a little character. According to Nouri, the hoops are a hit.
"The customer comes in while they're sitting there dealing with managers and salespeople, [and] the kids are playing," Nouri told Automotive News. "You'd be amazed how many customers, after they make their deals [and] while they're waiting to finance, go there and start shooting basketball."
Besides his original store, Westbrook bought three Hyundai stores in Orange County and an Alfa Romeo-Maserati dealership in Van Nuys. The stores are a success. The current crop of basketball players are expanding their business holdings well beyond the court, and this is Westbrook;'s personal calling. Not a passive observer, Westbrook is using this to help build his empire after basketball. 
"I like cars. It's a passion of mine," Westbrook told Automotive News. "It's a lucrative business … if you think of the long term and not thinking of making quick money. [It's] something for my kids down the line, for their kids. It's something that lives on forever. People need cars. It's a good business for me to be in."
Now in his thirties, Westbrook's longevity will always be a question. While his car dealership isn't his only safety net for life after basketball, it's a good one to have. Westbrook has passions far beyond the court, and his car dealerships show a different side the point guard that explains where his sensibilities lie when he isn't on the basketball court.