Russell Wilson Spent Over $150,000 on a Special Gift for His Teammates
When all was said and done, it cost Wilson over $150,000, but it has the possibility to be worth so much more than that for his lucky linemen.
Russell Wilson has it all. The celebrity quarterback has won a Super Bowl and appeared in another for the Seattle Seahawks. He has a great family and legions of fans. He also has one of the biggest contracts in the NFL. Wilson understands that to be able to do what he does, he needs a lot of teammates to help him on his journey. None of his teammates help him more than his offensive linemen.
Wilson saw to reward that help with a gift for each of them. But what exactly did he give them? When all was said and done, it cost Wilson over $150,000, but it has the possibility to be worth so much more than that for his lucky linemen. Here's what Wilson bought for his teammates. 
Why Russell Wilson needs a solid offensive line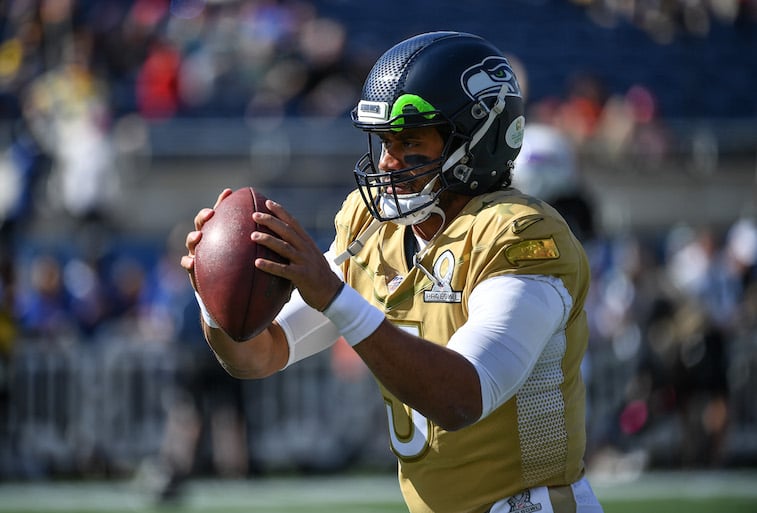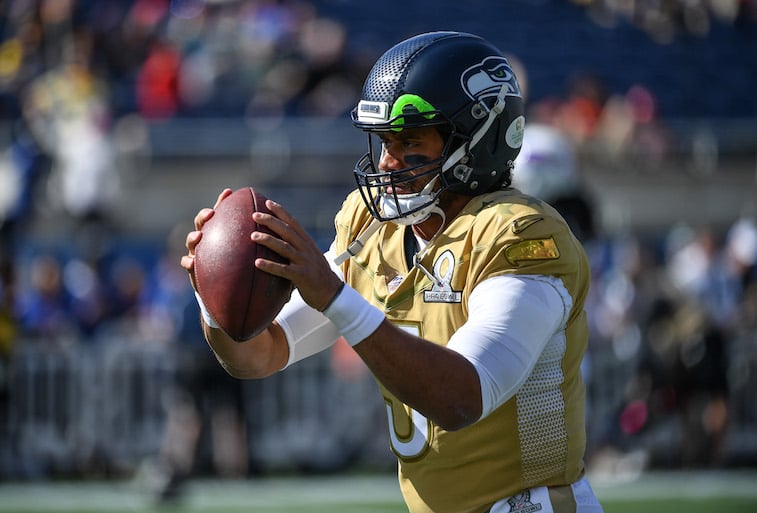 Wilson bought his gift following the 2018-2019 season. According to Football Outsiders, Seattle's offensive line ranked 12th in the league that year. They allowed 51 sacks, for an adjusted sack rate of 10.4%. That means Wilson's offensive linemen were in the top half of the league in terms of production. 
This is particularly important for Wilson because of his penchant for scrambling. Wilson is known across the NFL for being almost as dangerous on his feet as he is with his arm. When the pocket breaks down, he's liable to take off and run.
According to Pro Football Reference, Wilson rushed for 376 yards on 67 attempts in 2018 — not bad for a quarterback. Overall for his career, he's rushed for 3,993 yards on 720 attempts. Some of those represent an attempt to turn a busted play into positive yardage, but others are designed runs. That means a quarterback as mobile as Wilson needs a line that can keep him protected for as long as possible. 
Wilson's message to his offensive linemen
Wilson is a generous person, and there's no greater evidence of that than what he bought for his teammates. When it came to buying gifts, Wilson made sure to take care of his offensive lineman. He's done this in the past, previously buying them Bose soundbars. But he clearly wanted something more profound or long-lasting than the typical gift.
He wanted something that would grow in value. The LA Times reported that Wilson went above and beyond when honoring his brothers: 
"You sacrifice your physical and mental well-being to protect me, which in turn allows me to provide and care for my family…This does not go unnoticed and it is never forgotten.…

"When I sat down to think of ways to honor your dedication a dozen different ideas came to mind. Some were flashy, some were cool, but I wanted to give you something that had a lasting impact. Something that would affect the lives of you, your family, and your children."
Russell Wilson's special $150,000 gift to his teammates
So what did Wilson buy his teammates? $12,000 in Amazon stock for each. The purchase cost Wilson just over $156,000. If Amazon performs as well over the next 10 years as it has in the last decade, the gift could be worth over $176,000 for each of the linemen. 
The elite quarterback's gesture represented more than a gift. It's an investment in his linemen's future. The stock has the ability to make the linemen (and their families) much more money over a longer period of time. This isn't to say that other quarterbacks buying their offensive linemen presents aren't generous also. Certainly, those other players appreciate the jewelry or electronics. But Wilson's teammates now have the flexibility to cash out the stock or hang onto it and turn it into a veritable fortune.