Ryan Reynolds Hilariously Confirms Who He Thinks Would Win a Deadpool, Wonder Woman, and Black Adam Fight
An interviewer asked Ryan Reynolds who would win in a fight: Deadpool, Black Adam, or Wonder Woman. And the actor responded hilariously as always.
Superhero roles can sometimes override almost every other role an actor plays. So when Ryan Reynolds, Gal Gadot, and Dwayne Johnson starred in Red Notice together, several people saw it as Marvel's Deadpool and DC's Wonder Woman and Black Adam. One interviewer even brought it up, asking Reynolds which hero would win in a fight.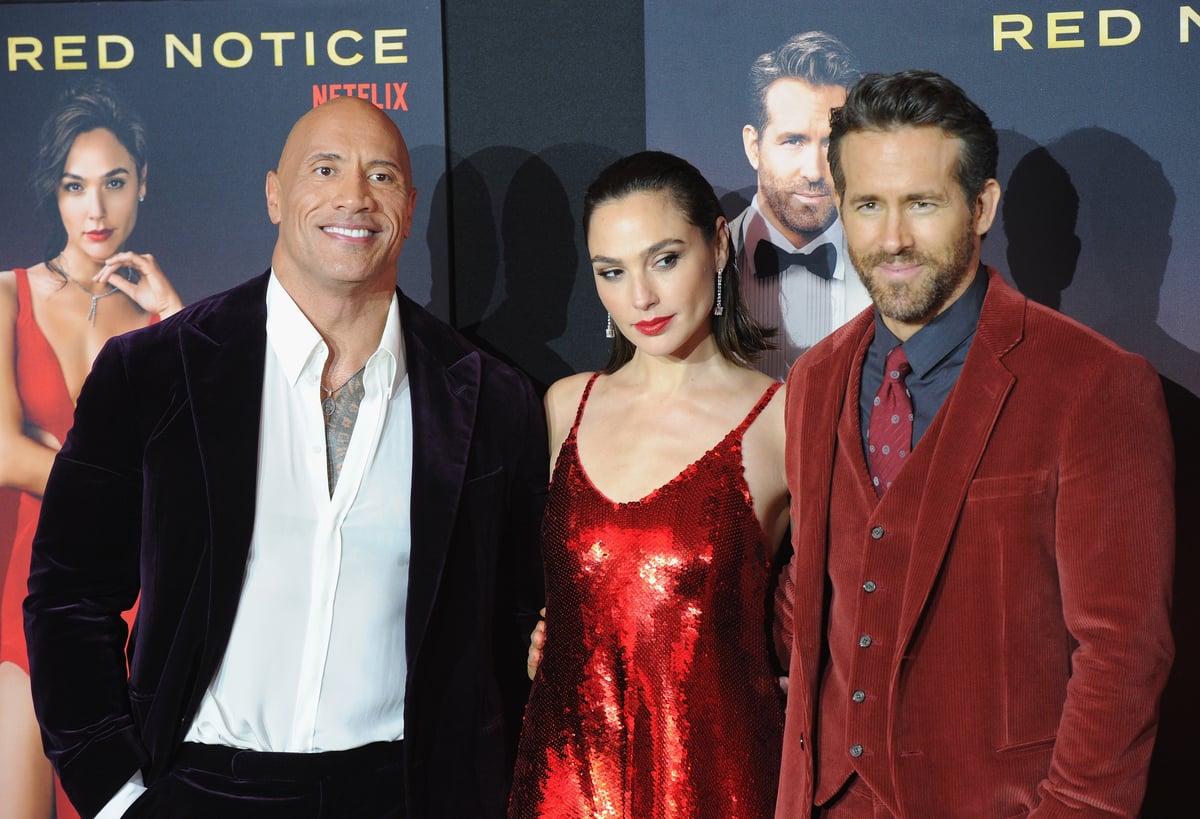 Ryan Reynolds joined the 'Red Notice' cast with Gal Gadot and Dwayne Johnson
Reynolds was the last of the three actors to join the Red Notice cast. Around that time, the film moved from releasing under Universal to Netflix.
Fans remember Reynolds as his too-perfect casting as the Merc with a Mouth Deadpool. Like his character, he had some flattering and somewhat weird things to say about his co-stars.
"[Gadot] can go toe to toe with pretty much anybody, even a skin-covered mountain like Dwayne Johnson," Reynolds told Elle.
Gadot exploded into the DC Extended Universe in Wonder Woman as Diana. She went on to star in Justice League and Wonder Woman 1984.
Dwayne Johnson has so far only appeared as his anti-hero in the Black Adam trailer. However, he looks to bring a brutal kind of hero to screen in summer 2022. The character shares the same abilities as Shazam, including flight, super strength, super speed, and control over electricity.
An interviewer asked Reynolds who would win, Deadpool, Wonder Woman, or Black Adam
An interviewer for Variety caught Reynolds at the Red Notice premiere and asked him who would come out victorious in a fight — Deadpool, Black Adam, or Wonder Woman.
Reynolds laughed for a moment before collecting his thoughts.
"Oh boy, I think the audience," he said. "The audience is going to win in that fight. Yeah, and whatever lawyer managed to figure out how to bring all those three together."
Another interviewer from Entertainment Tonight asked a similar question about the three in a fight. "Well, Black Adam, we don't really know," Reynolds responded. "We can't rush to judgment before all the facts are in there.
"It's going to be a weird fight," Reynolds continued. "I'm kind of unkillable. I don't know what Wonder Woman's status is there in the unkillable department, although she seems fairly unkillable. I'm just gonna go with Wonder Woman."
The superheroes have different abilities at play
While both Black Adam and Wonder Woman fight with the gods' power, Deadpool can't die. In fact, he dated the personification of Death in Marvel comics for a time.
The battle would come down to how you define 'winning.' The DC heroes could exchange devastating blows and withstand heavy hits. Deadpool would regenerate any damage he took.
While Marvel head Kevin Feige told ComicBook.com "never say never" in terms of a Marvel and DC crossover, it remains unlikely at best. A matchup among the heroes is not impossible, however.