'Deadpool' Star Ryan Reynolds Is One of the Most Famous Celebrities to Appear on 'Scrubs'
It is hard to believe that the hit series Scrubs premiered all the way back in 2001. The NBC show revolved around a close-knit group of professionals and friends that work at Sacred Heart Hospital.
Zach Braff, Sarah Chalke, Judy Reyes, and Neil Flynn are just a few members of the talented cast that so many people grew to love. Viewers and fans enjoyed the medical show for its unique comedy and compelling drama.
With the help of his co-workers and friends, J.D., the main character, is shown learning about life, friendship, love, and everything in between. After nine seasons Scrubs came to an end in 2010. Take a look back at some of the most memorable celebrities to have appeared on the award-winning show over the years. 
Who are some of the most popular celebrities to appear on 'Scrubs'? 
Viewers and fans of Scrubs have gotten to see some of the most talented actors and actresses over the years.
Right around the same time Friends was coming to an end, Matthew Perry made a guest appearance on Scrubs. Perry's character brought his usual energy to set as he took on the role of a character contemplating whether to donate his kidney to his father.
Aziz Ansari is probably most popular for his acting in Parks and Recreation, but he too has a history on the NBC comedy. In 2009 Ansari briefly contributed to the set before moving on to focus on his other projects. Ansari eventually went on to work on his own Netflix show.
Michael J. Fox and Colin Farrell are two other talented actors to come on the series. These are just a few of the many famous and acclaimed celebrities that took on guest appearances over the years.
Who is the most famous celebrity to appear on 'Scrubs'?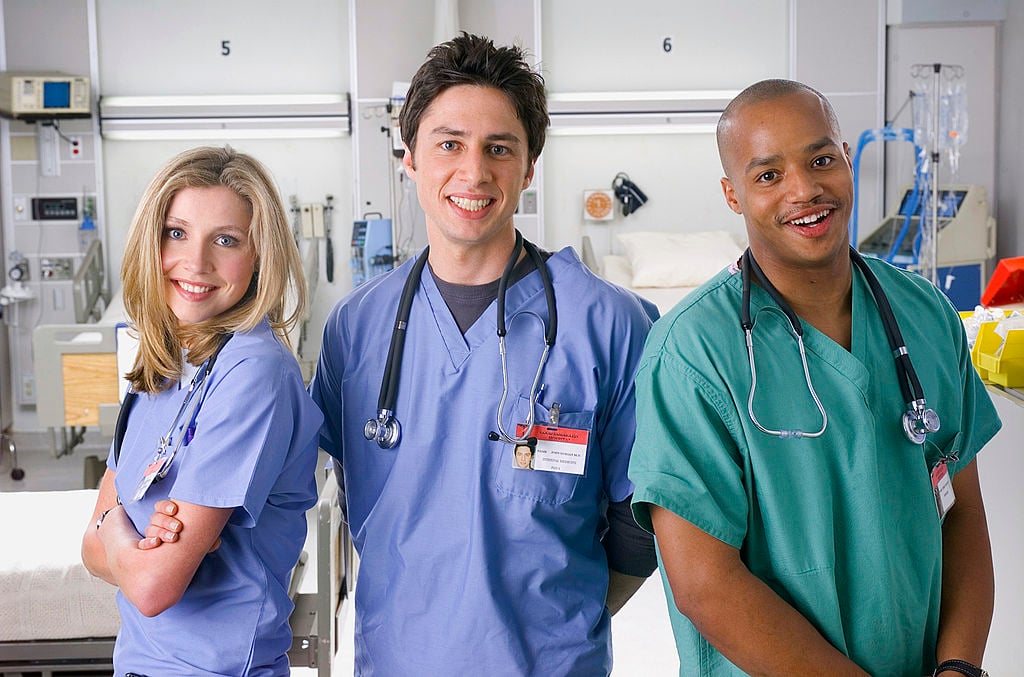 There have been a lot of impressive and talented actors and actresses to appear on Scrubs over the years, but there is one famous celeb who takes the cake. Ryan Reynolds may easily be the most popular celebrity to come on to the show.
In 2003 Reynolds was introduced on Scrubs as J.D.'S old friend from college. Though he only appeared in one episode, he definitely made an impact. Donald Faison, one of the show's main stars, was speaking about Reynold's time on Scrubs and said: "I like to think we had him on the show before he was a big, romantic comedy star or a big action star. It's always cool to see someone go from actor to movie star."
Though Reynolds wasn't unheard of when he appeared on Scrubs, his career has come such a long way since then. 
A look back at Ryan Reynold's journey to fame in Hollywood
Some of Reynold's fans may be surprised to learn that the actor is a Canadian native. Reynold's began working on his craft and career at a young age. Unfortunately, after not having much luck, he became to get disheartened. However, Reynold's fate and future seemingly changed when he met the famous actor Chris William Martin. 
Martin and Reynolds packed up their things and moved to LA together. Though it was a slow start for Reynolds, it definitely seemed like the right move. The young actor went on to perform in many major Hollywood films.
The Proposal and Deadpool are just two of the bigger productions that Reynolds is so well-known for. It is no wonder so many people may have forgotten or not realized his minor but memorable appearance on Scrubs. It will be interesting to see what Reynolds plans on doing in the future.